Last week, we showcased the most important news items in The Hearing Review during 2018. This week, we'll present the Editor's Picks for the 25 most important feature articles featured in Hearing Review during the past year, listed in chronological order.

The Remarkable History of Right-Ear Advantage, by James Jerger, PhD (January 2018 HR)
For good reasons, the auditory system of humans evolved with a right-ear advantage (or left-ear disadvantage) as speech processing required more of the brain. Dr Jerger takes readers on a remarkable journey of the auditory system and looks at some of the interesting implications of right-ear advantage in terms of binaural processing, speech understanding, and amplification.
Hearing Aids for Adult Mild-to-Moderate Hearing Loss: An Interview with Melanie Ferguson, PhD, by Douglas Beck, AuD (January 2018 HR)
Dr Ferguson and Dr Beck discuss the evidence for how hearing aids benefit adults with mild-to-moderate hearing loss, as well as Dr Ferguson et al's systematic review on the subject which was recently published in the Cochrane Database.
How Should Modern Hearing Aids Be Programmed for Verification with REM? By Erica D. Koehler, AuD, and Neil A. Wright, AuD (February 2018 HR)
You're not alone if you ask, "Should I turn off the advanced features when doing REM?"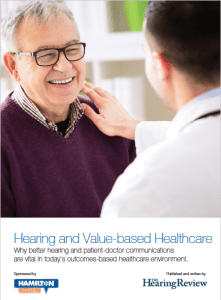 SPECIAL REPORT: Hearing Care and "Value-based Reimbursement" in Medicine, by Lena Kauffman (March 2018 HR)
John Bakke, MD, Barbara Weinstein, PhD, Gabrielle Saunders, PhD, and David Blanchard explain how the new world of "value-based" or "outcomes-based" reimbursement is changing medicine, and how it may end up revolutionizing audiology and hearing healthcare.
Real-life Applications of Machine Learning in Hearing Aids, by Oliver Townend; Jens Brehm Nielsen, PhD; and Jesper Ramsgaard, MA (April 2018 HR)
A look into the present and future of hearing aid processing and post-fitting adjustments for patients.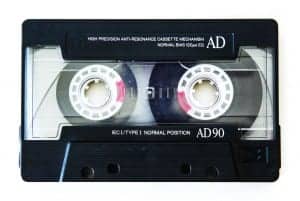 These Hearing Aids Make Everything Sound Digital! By Marshall Chasin, AuD (April 2018 HR)
In a "blind taste test," patients should not be able to tell the difference between analog and digital hearing aids. Here are some possibilities (and potential remedies) if the disparities do indeed actually exist.
Real-ear, Cognition, Speech-in-Noise, and More: An Interview with Todd Ricketts, PhD, by Douglas Beck, AuD (April 2018 HR)
Dr Beck interviews Todd Ricketts, PhD, of Vanderbilt University about how many people actually purchase hearing aids each year, what we can and cannot say about hearing loss and dementia, the RECD and speech in noise measures, and more.
Mythbusters' Myth #4: I Have to Discuss the Audiogram, by Mary Beth Jennings, PhD; Christopher Lind, PhD; and Nerina Scarinci, PhD
How often have we looked into the faces of our clients and their families as we describe the audiogram only to find anxious, blank, or confused faces staring back at us?
Survival Strategies in a Competitive Hearing Healthcare Market, by Robert M. Traynor, EdD, MBA (June 2018 HR)
Dr Traynor offers his perspectives on industry consolidation and the current major trends that could influence strategies of an independent practice owner.
WEBINAR: Depression, Hearing Loss, and Treatment with Hearing Aids, by Victor Bray, PhD, sponsored by Hamilton CapTel
An overview of important research into hearing loss, depression, loneliness, dual-sensory losses, and other chronic conditions, as well as an update about current research into treatment with hearing aids, assistive devices, and other options.
Clinical Speech Audiometry in the Age of the AERP, by James Jerger, PhD (July 2018 HR)
Dr Jerger explores two different ways to think about clinical speech audiometry relative to assessing total listening effort: 1) Altering the task from repetition to decision, and 2) Evaluating the response evoked by the decision via an AERP paradigm.
Cortical Neuroplasticity in Hearing Loss: Why It Matters in Clinical Decision-Making for Children and Adults, by Anu Sharma, PhD, and Hannah Glick, AuD (July 2018 HR)
With a better understanding of cortical brain changes associated with hearing loss, the potential to develop objective brain-based tools (ie, biomarkers) increases. Drs Sharma & Glick explain how the brain actually changes in response to sound.
Effects of Amplification on Cortical Electrophysiological Function, By Sridhar Krishnamurti, PhD, and Larry Wise, AuD (July 2018 HR)
A review of the possible use of speech-evoked CAEP as an objective hearing aid validation measure, data suggesting the clinical value of CAEPs for assessing cortical changes from amplification, as well how we might use this data in audiology services to demonstrate patient benefit.
Nine Risk Factors Associated with Dementia, by Dennis Hampton, PhD (August 2018 HR)
Revisiting the 2017 Lancet publication that includes hearing loss as a major risk factor for dementia.
eAudiology: Shifting from Theory to Practice, by Joseph Montano, EdD; Gina Angley, AuD; Colleen Ryan-Bane, MS; William Campbell, MClSc, et al (September 2018 HR)
A concensus statement that provides recommendations to hearing care providers for integrating eAudiology into their existing practice as a means to reach new patients, enhance patient care, and increase the value of their services.
Pediatric Amplification, Noise Management, and Incidental Learning, by Douglas Beck, AuD; Elaine Ng, PhD, and Maureen Doty Tomasula, AuD (September 2018 HR)
Should noise reduction algorithms be used in pediatric hearing aid fittings? Here is an examination of the rationale and arguments from the literature which generally support the use of advanced noise-reduction techniques and technologies for children.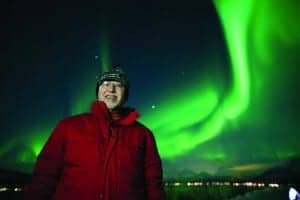 Using Audiology to Extend a Musician's Career, by Marshall Chasin, AuD (October 2018 HR)
An introduction to a special issue designed to helping musicians, and those who like to listen to music, extend their playing careers and listening enjoyment.
OTC: Let's Get on the Same Page! By Karl Strom (October 2018 HR)
Now that we've defined (at minimum) what an OTC hearing device should look like, maybe it's time to start defining a minimal standard for what a professional hearing aid fitting should look like.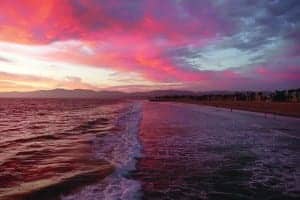 We're Going to Have to Move! By Dennis Van Vliet, AuD
Dr Van Vliet describes a recent clinical encounter in which the engineer-patient ultimately embraced and accepted his amplification.
Audiologic Considerations for People with Normal Hearing Sensitivity Yet Hearing Difficulty and/or Speech-in-Noise Problems, by Douglas L. Beck, AuD; Jeffrey L. Danhauer, PhD; Harvey B. Abrams, PhD, et al (October 2018 HR)
Hearing care professionals often encounter people who complain of hearing difficulties and trouble hearing in noise, but when tested, present with hearing sensitivity and thresholds that are within "normal limits." This article reviews the audiological evidence regarding this unique population.
Coupler and Real-Ear Performance between PSAPs and Hearing Aids, by Adam Voss, AuD, Kristi Oeding, AuD, A.U. Bankaitis, PhD, John Pumford, AuD, and Michael Valente, PhD (November 2018 HR)
Before jumping to the conclusion that any PSAP and/or OTC hearing device would be suitable for the many different types of hearing losses, we need to look at their coupler and real-ear performance data. This study suggests current PSAPs are suitable for mild losses only.
A Comparison of Automated Real-Ear and Traditional Hearing Aid Fitting Methods, by Paula Folkeard, AuD; John Pumford, AuD; Parvaneh Abbasalipour, MSc; Nicole Willis, and Susan Scollie, PhD
Several "autoREMfit" systems have been developed to assist in hearing aid fittings. This article evaluates the Audioscan VerifitLINK, that could be integrated into any manufacturer's software, and documents its performance in target matching during hearing aid fitting.
CEDRA: A Consumer Questionnaire to Detect Disease Risk Before Hearing Aid Purchase, by Donald W. Nielsen, PhD (December 2018 HR)
The free CEDRA questionnaire, which is designed to identify the risk of diseases with ear and hearing symptoms to help maintain consumer safety while dispensing hearing aids and other hearing amplification devices when licensed providers are not involved.
Evaluating Select Personal Sound Amplifiers and a Consumer-Decision Model for OTC Amplification, by Ron Leavitt, AuD, Ruth Bentler, PhD, and Carol Flexer, PhD (December 2018 HR)
OTC hearing devices are coming, but how should they function and for whom should they be recommended? Six case studies are presented, with the results showing that people with true moderate hearing loss may not be well served by what has been characterized as a "consumer-decides" model of care.
Development and Clinical Applications of the ORCA Repeat and Recall Test (RRT), by Christopher Slugocki, PhD, Francis Kuk, PhD, and Petri Korhonen, MSc (December 2018 HR)
Appreciating the unique difficulties related to speech understanding in noise and working memory is critical to tailoring individualized interventions in hearing healthcare. The Repeat and Recall Test shows promise as a tool for better hearing aid fittings.