Throughout our 14 years in the hearing industry, Audina has remained steadfast in our dedication to provide not only exceptional hearing instruments, but also a committed relationship with professionals that promotes extraordinary hearing health care. Our high-performance technology, user-friendly software, and first-class customer service are just a few ways we express our commitment to better hearing. When it comes to hearing solutions, all you need is right here at Audina Hearing Instruments.
Audina Hearing Instruments Inc
165 East Wildmere Ave
Longwood, FL 32750
(800) 223-7700
www.audina.net
Sophisticated Technology
Providing choices of technology is critical in today's marketplace. With the most diverse product line in the industry, we continue to expand our digital product offerings while supplementing these offerings with our conventional technology. This vast variety of products provides the tools and the technology to offer the most suitable hearing aid solution for those we serve.
Our digital offerings range from the cutting-edge technology of the Instinct DSP to the entry-level digital solution SIMPLEX. The Instinct DSP solidifies our competitive edge by putting us on par with other newly released, high-end, digital products. This technology boasts 16-channel gain adjustments, four-band compression adjustments, selectable time constants, adaptive noise reduction, and automatic feedback cancellation. The sophisticated, high- performance technology of the Instinct is tailored to the patient's unique hearing requirements by utilizing our user-friendly ezFIT software.

EzFIT Programming Software
Audina's ezFIT software boasts substantial desirability and features. Our qualified and experienced audiologists and software engineers strive to provide user-friendly software without sacrificing product functionality. The expertise of our product development team and audiologists, combined with our extensive research of the needs of hearing health care professionals, has resulted in high-performance, yet uncomplicated programming software. The ezFIT software can be downloaded at www.audina.net.
More than Technology—"Yes We Can"
Regardless of how sophisticated our industry becomes with intelligent hearing systems, programming interfaces, computers, and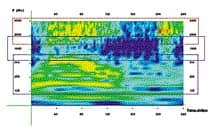 the like, we cannot underestimate the importance of personal relationships. Our dedicated staff of software engineers, product engineers, audiologists, technicians, sales managers, and customer care specialists work together to provide first-class hearing solutions. Every day we cater to hearing professionals with our "Yes We Can" approach to customer care. At Audina, "Yes We Can" is not just words, it's an attitude!
Audina has had the pleasure of working with dedicated hearing health care professionals for the last 14 years. Thanks to all of you for your ongoing support and business.
For more information, contact an Audina Representative at (800) 223-7700 or [email protected].