For a fourth consecutive year, multiple disciplines worldwide will confer about global hearing health care concerns during the 4th Coalition for Global Hearing Health Conference.
The conference will be held at Vanderbilt University in Nashville, Tenn, May 3-4, 2013. Lady Jean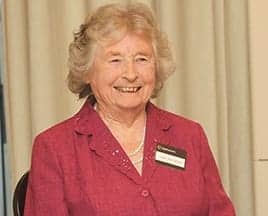 Lady Jean Wilson
Wilson, OBE, will be the Conference Keynote Speaker. Wilson is the wife of the late Sir John Wilson, founder of SightSaver. She has spent most of her life working tirelessly with Sir John to eliminate avoidable blindness in developing countries.
The purpose of the annual conference is to provide an opportunity for otolaryngologists, audiologists, deaf educators, speech pathologists, policy makers, philanthropic leaders, deaf and hard of hearing individuals and families to work together to raise awareness of important issues relative to hearing health in the developing world.
The call for papers deadline is March 1, 2013. Papers can be submitted via this website: http://c4ghh.org/
Presentation topics will focus on advocacy and media, education of professionals in underserved regions, empowering families and communities, harnessing technology, and ensuring best practices.
Conference co-organizers, James E. Saunders, MD, Dartmouth Hitchcock Medical, and Jackie L. Clark, PhD, of the University of Texas at Dallas, have long established roots in the international arenas as Humanitarian Committee Chairs within their professional organizations (American Academy of Otolaryngology-Head and Neck Surgery Foundation and the International Society of Audiology, respectively).
For more details about the upcoming conference or past conferences, visit the Coalition for Global Hearing Health.
SOURCE: Coalition for Global Hearing Health