UnitedHealthcare announced it has launched UnitedHealthcare Hearing, offering all consumers, including people enrolled in the company's individual, employer-sponsored and Medicare Advantage plans, greater access to affordable, quality hearing health.
UnitedHealthcare Hearing brings together EPIC Hearing Healthcare, a provider of hearing health benefits, and hi HealthInnovations, a home-delivery hearing healthcare company.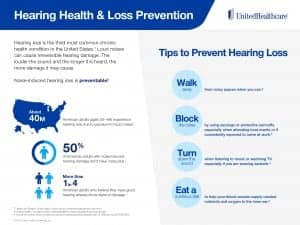 "UnitedHealthcare Hearing expands our whole-person benefit plans that offer greater access to quality, cost-effective care for the millions of Americans we serve," said Tom Wiffler, CEO, UnitedHealthcare Specialty Benefits. "Helping people maintain or improve their hearing health can enhance their overall well-being and reduce their risk of falls and health conditions associated with untreated hearing loss, such as depression and dementia."
About 48 million Americans experience some degree of hearing loss, although many do not seek treatment due to cost and lack of coverage. Hearing loss is linked to age and environmental factors, and prolonged and repetitive exposure to loud sounds is contributing to the growing prevalence of noise-induced hearing loss, particularly among people of working age in their 30s, 40s, and 50s.
According to the announcement, UnitedHealthcare Hearing will reportedly provide additional value to employees and companies that combine medical and specialty health benefits, including vision, dental, and financial protection coverage, through a single health plan. To learn more about the value of integrating medical and specialty benefits to help encourage better health outcomes and lower costs, click here.
As part of the launch, UnitedHealthcare is sharing TV and radio public service announcements with stations across the country—in collaboration with Songs for Sound, a national nonprofit dedicated to improving access to hearing health care—to help people understand the connection between noise exposure and hearing loss.
UnitedHealthcare is also donating 20,000 silicone-based earplugs to police and fire departments across the country. The reusable earplugs will help protect the health of first responders who are at risk of hearing loss due to on-the-job noise exposure.
"Studies show firefighters and police officers are at higher risk for hearing loss, in part due to exposure to loud sounds while helping protect people's safety and well-being," said John Fruetel, chief, Minneapolis Fire Department. "We appreciate this donation and know it will help support the health of our first responders in Minneapolis."
In addition to Minneapolis, first responders in nine other cities across the country are receiving earplug donations, including Cleveland, Dallas, Miami, San Antonio, Seattle, St Paul, Minn, and Washington, DC. To see how this donation is already helping firefighters, click here.
UnitedHealthcare entered the hearing aid market in late 2011 with its hi HealthInnovations hearing aid, which is manufactured by Minneapolis-based IntriCon, and only recently purchased the hearing aid insurance provider EPIC. More information about UnitedHealthcare Hearing is available at: uhchearing.com.
Source: UnitedHealthcare
Images: UnitedHealthcare