Northern Illinois University (NIU) announced that Mohammad Moghimi received the Early Career Research (ECR) Award from the National Institute on Deafness and Other Communication Disorders (NIDCD) to develop a novel pediatric hearing aid.
Related article: ACI Alliance Awarded Grant to Evaluate Impact of Pediatric Cochlear Implantation
Moghimi, an assistant professor of Electrical Engineering in the College of Engineering and Engineering Technology (CEET), designed a non-invasive, Band-Aid-like hearing aid that can be secured behind an infant's ear to conduct sound through the child's bone. His project "Evaluation of micro-epidermal actuators on flexible substrates for non-invasive, pediatric-friendly conductive hearing aid" will receive $430K over three years from NIDCD, part of the National Institutes of Health (NIH).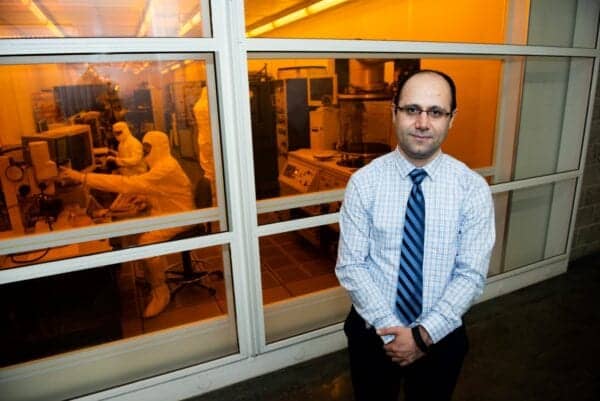 The Early Career Research (ECR) Award is given to research scientists who are within seven years of their post-doctoral career and are conducting pilot research in one or more of the areas within the biomedical and behavioral scientific mission of the NIDCD including hearing, balance, taste, smell, voice, speech, or language. Moghimi will lead a research team that includes undergraduate and graduate students of NIU's CEET.
"I realized that infants with hearing loss face challenges in their lives," Moghimi said. "One of my research goals was to tackle these problems for infants and pediatric patients. I wanted to address hearing loss as early as possible to avoid lifelong consequences."
The most common type of pediatric hearing loss is conductive, in which the auditory canal is obstructed or damaged by infection, trauma, tumors, external objects, and congenital defects in the outer and middle ear. This prevents sounds from properly transmitting to the cochlea and results in conductive hearing loss. Surgical procedures and implantable hearing aids are highly invasive and are not suitable for infants with fragile organs. Non-invasive aids including headbands are cumbersome and unstable as the child moves, rendering the device ineffective.
"Bone-conduction hearing aids can be implanted in the patient's skull, but this method is highly invasive and risky for the newborns and infants," Moghimi said. To avoid the risk, the surgeries are delayed until children are older, and during that time the children suffer from the effects of hearing loss.
Moghimi's Band-Aid-like hearing device conducts sound through the surface of the skin to the temporal bone and finally to the cochlea, bypassing the ear canal. The device will be waterproof and made of bio-compatible materials. It will be able to be worn for days and will charge wirelessly while the child sleeps via a charging device under the child's bedding.
The hearing aid project will provide opportunities for NIU undergraduate and graduate engineering students to be involved in the research. It will be conducted in CEET's Microelectronics Research and Development Laboratory (MRDL). Moghimi will lead a research team that includes undergraduate, graduate students, and postdoctoral fellows of NIU's CEET.
"We are proud of Dr Moghimi's innovation and accomplishments," CEET Dean Donald Peterson, PhD said. "It's exciting that students will have an opportunity to participate in this important research that contributes to the betterment of society."
Once the development of the prototype is complete, clinical human trials will begin on infants under the supervision of Miriam Redleaf, MD, professor of otolaryngology (ear, nose, throat) at the University of New Mexico.
Source: NIU
Image: NIU