Marketing | Hearing Review June 2014
Using a greater variety of financing options helps you help others
By Jim Alvord, MBA
We sell hearing aids to help others. Many of us are drawn to this industry for other reasons than just to make a quick buck. Most of the people associated with our industry want to help other people and to feel good at the end of the day both for themselves, and for their patients. We want to improve someone's life. We want our patients to hear better with our help. I don't recall ever meeting an audiologist who said, "I just got into audiology because I know I can get rich fast" (most will attest this isn't a great plan anyway!). Our world may have a few of these individuals, but most don't seem to last and quickly find themselves in another industry later.
When we first get into hearing healthcare, we picture ourselves across from a patient who is in desperate need, and then easily fit the patient with hearing aids—thus changing their life forever. Shayne Sage, AuD, of Surprise, Ariz, stated it this way: "We picture ourselves fitting a needy person who has gone hearing impaired for too long. And once we are able to help him/her, we will all have tears running down our faces and hugs of gratitude [are given all around] for the help hearing aids provide."
Many of us have had these experiences. These are the magical moments we live for. We should strive to make more of these moments a reality. Unfortunately, these experiences don't happen every day.
Price as a Deterrent
Price is one of the major deterrents for those seeking the help a hearing instrument can provide. According to Kochkin,1 64% of those who needed hearing aids reported that price was a major obstacle in the decision to purchase hearing aids.
Perhaps you have experienced an appointment when everything was going well, but no help was given due to the personal finances of your patient. We have all heard the excuses. "I must discuss this with my family," or "These are just too expensive," or "I want to hear better, but I just can't afford them at this time." These statements can be deflating moments both for us as the hearing instrument dispensers, as well as for the patient.
Offering Patient Finance
Now, let's think of the moments that Dr Sage described. It should be our goal to recreate these moments as much as possible. Can offering patient financing help in these instances?
It appears that every major retailer outside our industry has recognized that offering finance is a great way to get more product sold. "Would you like to save 15% today by opening a Kohl's credit card?" or "I see you have a lot of supplies there, did you know you can save 10% on your purchase by opening a Lowe's credit card?" or even "Take advantage of Volkswagen's 0% financing before it's too late." The thought of turning into a car salesman makes most of us ill, but it is possible to take notes from these successful retailers and adopt some of their strategies.
Finance Options
There are three major options when discussing patient finance. These are briefly described below, along with their respective pros and cons:
In-house financing. This is when your clinic offers a finance option to the patient.
Pros:
There are no costs paid to a 3rd party for each transaction.
Approvals can be done in-house.
Complete freedom of loan structure.
Cons:
All of the risk is on the clinic to collect.
Trained staff is needed to both track and collect.
Financing is not the core expertise of a hearing care office/practice. Certain states also may have compliance issues related to in-house financing (check with your accountant/legal counsel).
Time associated with training and tracking. No background check or payment history verification.
Local bank/credit union. This is when a local bank or credit union has made arrangements to finance hearing aids.
Pros:
Low fees can be potentially negotiated for both you and the patient.
The risk of collections is not the burden of your clinic.
Cons:
Fees can potentially be higher than an outside 3rd party.
The patient must leave the clinic at the time of sale to make arrangements, thus decreasing the potential to make a sale.
Local banks don't specialize in hearing aid finance. It would be up to you to set up and negotiate these arrangements.
Options could be limited for your patients.
3rd-party finance companies. These are outside organizations that specialize in patient finance options.
Pros:
Same As Cash or 0% interest loans available to the patient.
Quick funding back to the clinics.
The risk of collections is not the burden of your clinic.
This is the expertise of these organizations.
The approval process can be done at the clinic level and is generally quick.
Cons:
Sometimes there are high merchant fees.
Involves risk that your patients could pay high default rates.
Can Offering a Finance Option Help Make More Sales?
Think of the last time you purchased anything over $1,000, such as a vehicle, a home, furniture, or even a medical or dental/cosmetic service. Was using a finance option considered? Perhaps you took advantage of the merchant's financing option and the perks that were provided.
It is safe to assume that a finance option was offered. Why? Because the merchant, whoever it was, knew that you are more likely to make the purchase if you can afford the monthly payment. It seems that almost every other industry has this figured out.
In the most recent dispenser survey by Hearing Review, fewer than one-fifth (17%) of patients were utilizing a 3rd-party financing option. Are we offering a finance option to each patient? If not, we may be doing them a disservice.
Using Patient Finance as Closing Tool
Many of us in the hearing healthcare industry are uncomfortable asking for money from our patients. We are trained in audiology or the hearing sciences, and are sometimes not natural salespeople. Using a finance option is an excellent way to talk to our patient base.
Most finance companies will offer a Payment Chart. With this, you can tell the patient what their monthly payment would be. For example, the payment for a loan for $4,000 at 14.90% APR over 60 months is only $94.95. Under $100 a month may be very appealing to your patient base. Ask your 3rd-party vendor for a Payment Chart if you don't already have one. Most 3rd-party finance companies also have online calculators that can be easily referenced.
Offering a Same As Cash or 0% interest option also can be very appealing for your patient base. Many of the 3rd-party finance companies offer something similar to a 180 day, 365 day, or 545 day Same As Cash plans. Offering these types of plans to your patients can be an excellent approach to helping the hearing impaired afford the help that is needed. The Same As Cash arrangements can be very appealing to even those who could afford the product outright. It could justify more appropriate technology.
A Few Suggestions
Everything you produce in your clinic is a reflection of you: how your clinic is arranged, the product you dispense, and the finance partner you utilize.
If you decide to use a 3rd-party finance partner, it is recommended that you remain a fervent advocate for the patient. Study the retroactive fees (or default rate) of the various 3rd-party vendors. If and when a patient finds themselves in a situation where they are paying +20% compounded interest, it is quite possible that this can come back to bite you; it may end up representing a poor reflection on you and your clinic. It is said that "the devil is in the details," and it is important that you know the details in a 3rd-party finance arrangement. Be aware of any potential pitfalls (and let patients be aware of them, as well). Spend a few short moments educating yourself. Pamphlets typically contain this rate information.
Communication is also a big factor in any business. You may find yourself working with a particular hearing aid manufacturer because of their ability to answer their phones and communicate with you when "unique situations" arise. The same should be considered when utilizing a 3rd-party finance partner. We all try to minimize ugly surprises in every aspect of our business, but tough situations do come up from time to time.
When you or your patients experience surprises when dealing with your finance partner, you want the ability to communicate with them. It is recommended that you seek a finance partner that has centralized operations and not an organization that outsources their call centers.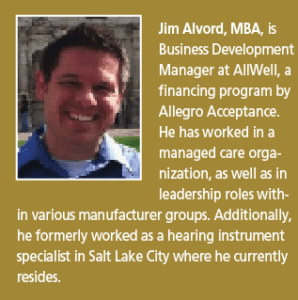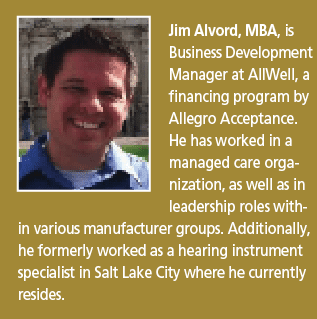 Summary
Most of us entered the hearing healthcare industry to help our fellow human beings. We strive to have magical moments where hearing instruments are able to dramatically improve the lives of our patients. Cost is frequently the deterrent for many people. Offering a solid 3rd-party finance partner could be the catalyst in helping people hear and achieving more of the magical moments we are all hungry for.
References
1. Kochkin S, Mueller G. 20Q: 25 Years of MarkeTrak—The Highlights. June 4, 2012. Available at: http://www.audiologyonline.com/articles/20q-25-years-marketrak-highlights-6616
2. Strom KE. HR 2013 Hearing aid dispenser survey: Dispensing in the age of Internet and big box retailers. Hearing Review. 2014;21(4):22-28.
Correspondence can be addressed to Jim Alvord at: [email protected].
Original citation for this article: Alvord J. Patient finance as an option to increase sales in your practice. Hearing Review. 2014;21(6):30-31.