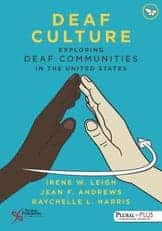 How does Deaf culture fit into education, psychology, cultural studies, technology and the arts? A new book from Plural Publishing, Deaf Culture: Exploring Deaf Communities in the United States, addresses this through both theoretical and practical information. Deaf Culture fills a unique niche as an introductory text that is accessible and straightforward for those beginning their ?studies of the Deaf world.
With the recognition of American Sign Language (ASL) as a bona fide language, the perception of Deaf people has evolved into the recognition of a vibrant Deaf culture centered around the use of signed languages and the communities of Deaf people.
This text also describes how rapid advances in technology, including the Internet as well as new visual and auditory technologies, have not only created opportunities for Deaf people to influence how technology can be used, but additionally has become a powerful force in influencing the behavior of Deaf individuals within diverse national and international societies. This has created opportunities for incorporating diversity and international perspectives into Deaf culture. Within each chapter are multiple vignettes, examples, pictures, and stories to enhance content interest for readers and facilitate instructor teaching. Theories are introduced and explained in a practical and reader-friendly manner to ensure understanding, and clear examples are provided to illustrate concepts.
??Key features include a strong focus on including different communities within Deaf culture; thought-provoking questions, illustrative vignettes, and examples; theories introduced and explained in a practical and reader-friendly manner; and a ?PluralPlus companion website with a word bank, glossary, resource list for readers and test bank and digital slides/presentations ?for teachers.
?The book is written by Deaf and hearing authors with extensive teaching experience and immersion in ASL and Deaf culture. Irene W. Leigh, PhD, is a Deaf psychologist whose experience includes high school teaching, psychological assessment, psychotherapy, and private practice. From 1985 to 1991 she was a psychologist and assistant director at the Lexington Center for Mental Health Services. She taught in the Gallaudet University Clinical Psychology Doctoral Program from 1992 to 2012, was Psychology Department Chair from 2008 to 2012, and attained professor emerita status in 2012.
Jean F. Andrews, PhD, received a bachelor's degree in English language and literature from Catholic University, in Washington, ?DC, a master's in education in Deaf education from McDaniel College (formerly Western Maryland College) in Westminster, Maryland, ?and a doctorate in speech and hearing sciences from the University of Illinois, Champaign-Urbana, Illinois. Andrews was a ?classroom teacher of reading at the Maryland School for the Deaf in Frederick, Maryland.
?Raychelle L. Harris, PhD, a third generation Deaf and a native ASL signer, received her bachelor's degree in American Sign Language (ASL) from Gallaudet University in 1995 and master's degree in Deaf education from Western Maryland College in 2000. Harris has been teaching ASL as a first and second language since 1993. She returned to Gallaudet University for her doctoral studies in the areas of education and linguistics, with her dissertation topic focused on ASL discourse in academic settings.
Source: Plural Publishing Inc