Julia Shih, AuD, director of audiology for Love Hearing Services in Pasadena, Calif, and Gallaudet University AuD student Cynthia Frey recently traveled to the Oticon Clinic in Parintins, Brazil, as part of Project Amazon, a humanitarian mission funded by the Oticon Hearing Foundation.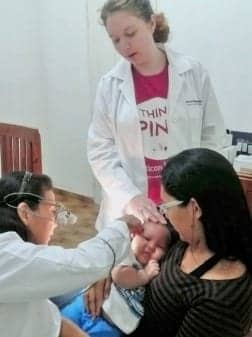 The two hearing care professionals were selected from more than 100 applicants by the Oticon Hearing Foundation, in partnership with the American Academy of Audiology, to join with the professional staff of the Oticon Clinic to provide much-needed audiological care and hearing solutions to children and adults from some of Brazil's most impoverished communities.
Working together, the team screened a total of 60 patients, ranging in age from 2 months to 104 years. A total of 15 adults and one 12-year-old boy were fit with Oticon hearing instruments donated by the Oticon Hearing Foundation. An additional 30 adults were identified as having severe audiological needs that required more in-depth assessment and treatment.
"This is one of the many advantages of having a fully operational Oticon clinic here in Parintins," says Alessandra Agarez, Human Resources Manager and Social Responsibility. "We are able to take full advantage of the dedication and expertise of volunteer audiologists like Julia and Cynthia, and, at the same time, know that when necessary, we can also provide sustainable care that will ensure the ongoing hearing health of the patients we see."
Julia and Cynthia chronicled their experiences in Parintins in a series of blogs posted on the Oticon Hearing Foundation website. This is the second year that the Oticon Hearing Foundation has underwritten travel and expenses and supplied hearing instruments and batteries for a humanitarian mission to Brazil. In 2011, the Foundation also funded a Mission to Xanthia in the Vredefort Dome area of South Africa.
Source: Oticon Hearing Foundation