Patricia A. Prelock, PhD, CCC-SLP, officially took office on January 1, as president of the American Speech-Language-Hearing Association (ASHA) for 2013.
In addition to her duties as president of ASHA, Prelock is the dean of the College of Nursing and Health Sciences, professor of communication sciences and disorders, and professor of pediatrics in the College o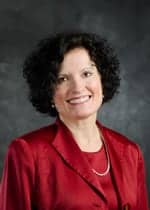 Patricia Prelock
f Medicine at the University of Vermont. She succeeds Shelly Chabon, PhD, CCC-SLP, professor and chair of the Speech and Hearing Sciences Department at Portland State University.
As a board recognized specialist in child language, Prelock coordinates parent-training programs for caregivers and providers who serve children with autism spectrum disorders. She has also been awarded more than $9 million in state and federal funds to support her work at the university.
ASHA presidents serve for 1-year terms. In an ASHA press release, Prelock said that she will use her term to "reach out to ASHA member advocates and other stakeholders to ensure the association continues to be a significant player in the new health care reform legislation to bring more services to those individuals with communication disabilities.
"In this vein," Prelock said, "I hope to promote that audiologists and speech-language pathologists have a professional skill set equal to no other."
Prelock comes to ASHA's top elected office with more than 25 years of volunteer experience, having served on a number of ASHA committees, boards, and councils. In 2000, she became an ASHA Fellow, one of ASHA's highest honors.
SOURCE: The American Speech-Language-Hearing Association (ASHA)