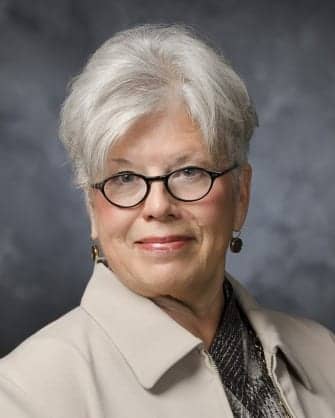 Elizabeth S. McCrea, PhD, CCC-SLP, took office as the 2014 president of the American Speech-Language-Hearing Association (ASHA) on January 1.
McCrea is a clinical professor emerita of the Department of Speech and Hearing Sciences at Indiana University. She retired from the university in 2011, where she was both a didactic and clinical educator. McCrea was also director of the department's R.L. Milisen Speech and Hearing Center for almost a decade. Prior to joining the faculty, she was a pediatric speech-language pathologist working in both school-based and hospital settings. Currently, she continues her work in clinical education in support of the externship program of NOVA Southeastern University.
"As 2014 president, I will strive to help our members think of ASHA as their professional home and a thriving community from which they will benefit by actively engaging," says Dr McCrea. "With the board of directors, I also want to continue to focus on best understanding the dynamic changes that are taking place in service-delivery settings, which ultimately influence how we educate students, how our members practice, and how now—more than ever—we must collaborate with colleagues, both in and out of the discipline, to achieve best outcomes for our patients and clients. This will help ASHA serve our members in ways that will be most helpful to them as they navigate the current environments in both health care and education."
An active researcher, Dr McCrea was the principal investigator for a $326,000 4-year personnel preparation grant from the US Department of Education (DOE), which centered on developing leadership personnel in clinical education. She is co-author of the book, The Supervisory Process in Speech-Language Pathology and Audiology.
Dr McCrea has held multiple volunteer roles within ASHA. She served on both the legislative and advisory councils. She has been a member of special interest group 11, administration and supervision since its inception, serving as its coordinator for two terms. Dr McCrea previously was vice president for academic affairs on ASHA's board of directors (2007–2009) and is currently a member of the financial planning board. She is also an ASHA fellow.
Dr McCrea succeeds 2013 ASHA President Patricia A. Prelock, PhD, CCC-SLP, who will continue to serve on the board of directors as a member and immediate past president.
Dr McCrea holds the master's degree from the University of Virginia and the PhD from Indiana University.
About the American Speech-Language-Hearing Association?: ASHA is the national professional, scientific, and credentialing association for more than 166,000 audiologists, speech-language pathologists, speech, language, and hearing scientists, audiology and speech-language pathology support personnel, and students. Audiologists specialize in preventing and assessing hearing and balance disorders as well as providing audiologic treatment, including hearing aids. Speech-language pathologists identify, assess, and treat speech and language problems, including swallowing disorders.
Source: American Speech-Language-Hearing Association