The British and Irish Hearing Instrument Manufacturers Association (BIHIMA) announced the release of the Q4 2019 results of its members, providing insight into how the UK and Irish hearing care market ended last year.
According to the report, the key finding is that private (non-NHS) units were "very strong in Q4" with sales up 9.7% on the same period in 2018 and up 8.1% on Q3 2019. Over the whole of 2019, private units were up 6.9% on 2018.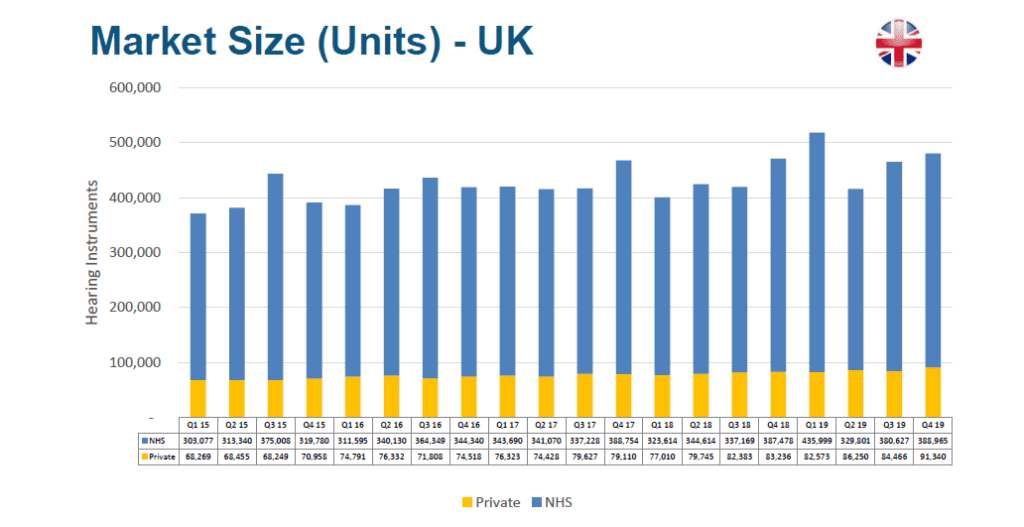 NHS hearing care market data
Over Q4 2019, NHS units were "essentially flat," according to BIHIMA, although they were up 2.2% on Q3 2019. Over the whole of 2019, the NHS was up by 10.2%, although some of this growth was due to stockpiling in preparation for a possible hard Brexit with stock then held over into 2020.
The results from Ireland demonstrate a similar pattern to the UK private market, with Q4 unit sales up 30% on Q4 2018 and up 40% on Q3 2019. Over the whole of 2019, units were up 12.3% over 2018, BIHIMA says.
RITE / RIC hearing market data
BIHIMA also tracks the trends in the styles of technology selected by patients in the private sector. The Q4 results show the continued popularity of RITE/RIC style which now represents 78% of all sales, a growth of 7.1 percentage points over the year. This growth has come mainly from the larger custom styles which have dropped by a third over a year, with the smaller custom styles dropping by 20%.
"These are very robust results to have ended 2019 with. We anticipate an even stronger performance in 2020 as our members continue to develop new solutions in response to both the NHS and private markets and supporting the increasing number of people with hearing loss in the UK and Ireland," said BIHIMA chairman, Paul Surridge.
In its role as the voice for the hearing technology industry, BIHIMA regularly monitors the market and releases the results of its members every quarter.
To keep up to date with the latest market information, download the full results here.
Source: BIHIMA
Image: BIHIMA