By Kathryn Sutherland
At CES 2023 this year, GN invited a select group of hearing industry journalists, influencers, and advocates to attend several exclusive panel discussions around innovative research projects they are currently working on while creating an open forum for attendees to share their ideas and perspectives. We had the opportunity to wear GN's latest hearing aid technology, ReSound OMNIA, in the conference setting. They also provided a sneak peek of upcoming new ReSound and Beltone technology, so stay tuned for some exciting things to come from GN in 2023.
When the FDA announced the OTC hearing aid final approval in October of 2022, the Jabra line of hearing buds was one of the first to hit the market, sold and manufactured by the GN Group. This innovative line of hearing buds from GN Group won three CES 2023 innovation awards.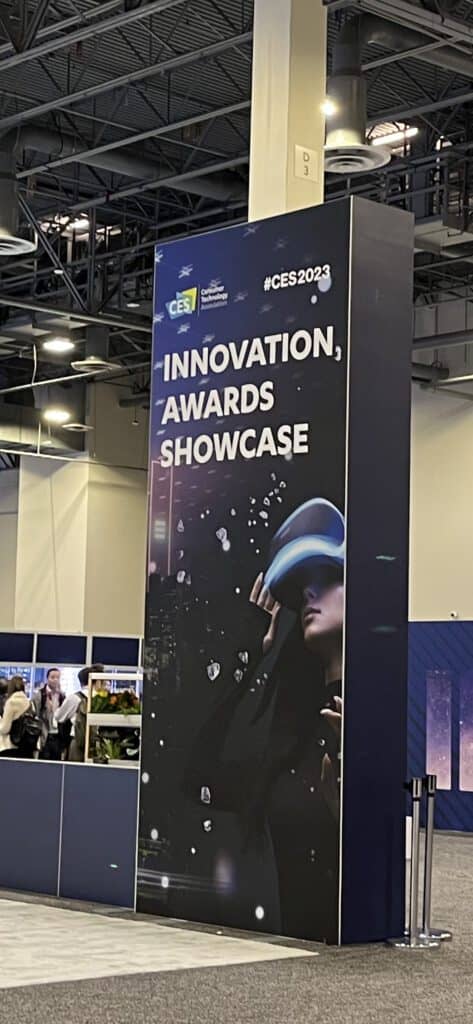 NOTE: GN won other awards for ReSound OMNIA/Beltone Achieve and Custom made by ReSound/Beltone Imagine Custom.
Jabra Enhance Hearing earbuds – Winner of 3 CES innovation awards!
The categories are as follows:
Digital Health – The perfect solution for those suffering from mild-to-moderate hearing loss!
The Jabra Enhance Plus is a miniaturized earbud solution engineered explicitly for those experiencing hearing difficulties in certain situations and needing a hearing enhancement. The GN Group had the ambition to improve access to hearing care in the US by making the Jabra Enhance Plus an over-the-counter, self-fitting hearing aid available to consumers through Beltone locations, retail stores, and online.
Headphones and Personal Audio – The perfect choice for virtual meetings!
Jabra Evolve2 Buds are a true wireless earbud for hybrid work, designed with multi-sensor voice technology and adjustable active noise canceling to reduce background noise. In addition, the earbuds feature a compact design with up to 33 hours of battery life. They also provide flexibility and connectivity with advanced Bluetooth multipoint to connect two devices simultaneously.
Headphones and Personal Audio – The newest addition to the Jabra personal audio line!
The Jabra Elite 5 is a wireless earbud for music and calls in any environment, with a new hybrid active noise canceling feature to block out more noise. It features 6-microphone technology and wind noise reduction for optimized call quality and 6-millimeter speakers for powerful sound play. In addition, the earbuds provide seamless connectivity to devices and apps through Bluetooth multipoint and an expansive range of intelligent technology options. Designed for all-day comfort with an IP55 rating for dust and water resistance.
Attending the CES event and seeing firsthand the innovations the GN Group has developed in the consumer audio and the over-the-counter hearing aid market was an exceptional experience. They are dedicated to meeting the needs of those with mild-to- moderate hearing loss and are motivated to develop innovative solutions to bring better hearing to all.
CES 2023 Award Honorees: https://www.ces.tech/innovation-awards/honorees.aspx.