Audigy Group and Audigy Medical's leadership teams and key staff joined nearly 200 of their members at the Grande Lakes Ritz-Carlton in Orlando, Fla, for the kickoff of their annual Member Summit.
Audigy members, comprised of private hearing care, otolaryngology and otology-neurotology practices, and academic programs, responded positively to several significant announcements made by Audigy Group leaders. In keeping with the event's theme of a "New Day Rising," these announcements set the stage for a new era of innovation for Audigy.
At the event, Audigy announced expansion beyond the group's current partnerships with Starkey Hearing Technologies and Oticon. The group has formed new relationships with Sivantos Group and Widex, a move that will reportedly give Audigy-affiliated providers more flexibility in delivering their patients top-tier technology and treatment options.
"We're incredibly excited about this roster of partners," said Audigy CFO Mike Halloran. "Not only will they offer incredible technology and customer service to our members, but they've also worked together to offer our members a competitive advantage that no one else in our industry has been able to achieve." Starkey, Oticon, Sivantos, and Widex were all in attendance on day three of the Audigy Summit.
As part of Audigy's ongoing commitment to meet the needs of members in a rapidly changing and increasingly competitive marketplace, the latest development of their Strategic Business Unit's organizational structure was also announced. Starting in October 2016, Strategic Business Unit teams will be reoriented from their current geographic alignment to a configuration based on specific member needs-based profiles. This new approach is intended to allow the Strategic Business Unit teams to offer more customized solutions to assist members with common challenges faced at different stages of practice ownership. These changes reflect feedback from members and the company's aim to continuously innovate to offer a higher level of service.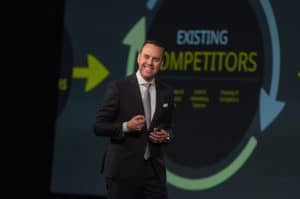 "Since day one, we've adapted our support teams in accordance with the needs of our members," said Audigy President Mason Walker. "We're not an 'off the shelf' solution for practices. Their needs shape our trajectory, and this next evolution of our Strategic Business Unit and Shared Services teams represents their belief in the mission of this organization and our belief in them as the industry's premier private practices."
Two promotions were also announced regarding two of Audigy's leaders, Vice President of Marketing Misty Stern and Director of Learning and Development Heather Sager.
Stern, one of Audigy's first employees, played a pivotal role in building the AGX® Hearing brand, and also developed and duplicated the role of Marketing Manager, established a cross-functional Marketing Leadership Team that oversees Audigy's 50+ person marketing team, and has played a key role in the development and rollout of Transformational Growth. Due to her many talents and achievements, Stern has been named Audigy's first Executive Vice President of Marketing and Operations.
Sager, a six-year Audigy team member, has played an active and critical role in Audigy's Professional Development and Events realms, including the development and management of Audigy's Patients for Life, Audigy University, and Learning & Development Center programs. Under her guidance, Audigy's Team Summit has become a large hearing industry event. The result of Sager's focus and growth of internal and Audigy member teams has culminated in her being named Vice President of Learning and Development.
Casey DeGroot, Vice President of Innovation and Technology, announced several investments in Audigy's proprietary technology analytics, communication, training, and patient-experience platforms. These investments, such as those being made in Audigy's e-patient® platform, will help creating positive patient experiences by featuring Real Ear fitting system integration, best practices for optimal patient outcomes, and sound simulation and medical animation applications available exclusively to AudigyCertified™ practices.
Seeing the need to foster the next generation of private-practice owners and providers, Audigy is investing in its student outreach, development, and placement programs under the Audigy University banner.
"We understand that in order to secure the future of private practice, investing in our student and university relationships are the key to that success," said Vice President of Learning and Development Heather Sager. "There's a mind-set in the industry that's been moving in the direction of limiting what's possible for audiology professionals. What we're proving with Audigy University is that not only can we have an impact on the lives of the students, but their instructors and the universities are seeing how important private practice truly is for the professional and their patients."
Audigy University introduced a robust externship program that is focused on an intensive 12-week program designed to integrate a provider into a practice's daily activities, and features pre-, during-, and post-externship benchmarks to ensure an optimum experience for the provider and the practice.
"Investing in providers, impacting patients, innovating the profession: These three tenets have been central to our mission since day one," said Audigy Founder and CEO Brandon Dawson. The industry is changing, and it's our position to embrace that change for our members by leading the charge in a way that's most beneficial to private-practice owners, because we know that's where the best patient experiences are had. I'm incredibly proud of our membership, and I'm equally proud of the hard work and dedication our team has put into supporting their businesses. We're doing what we set out to do: help practice owners achieve their personal, professional, and financial goals. But our work is far from done. This is an incredibly exciting next chapter for our organization, to say the least."
Source: Audigy Group; Audigy Medical