The Friends of the Congressional Hearing Health Caucus (FCHHC), Washington, DC, has announced that a Briefing Luncheon will be held on Thursday, June 11, to examine programs that are designed to improve outcomes for children who are born deaf or hard of hearing. According to the FCHHC, the briefing will feature presentations by Brenda Fitzgerald, MD, commissioner of the Georgia Department of Public Health (DPH), and Dana Suskind, MD, professor of surgery and pediatrics at the University of Chicago School of Medicine. Representatives David McKinley (R-WV) and Mike Thompson (D-CA), Hearing Caucus Co-Chairmen, will be honorary co-hosts of the event which will be held in the Rayburn House Office Building in Washington, DC.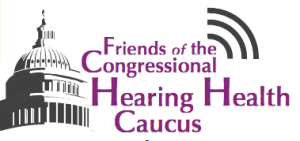 The FCHHC reports that newborn hearing screening programs have been implemented in all 50 states with funding provided by Congress through the Early Hearing Detection & Intervention (EHDI) program that was first authorized in 2000. EHDI programs include hearing screenings at birth, diagnostic evaluations to confirm hearing status, and early intervention including medical services, early intervention programs and family support. When EHDI was first approved in 2000, only 44 percent of newborns had their hearing screened; however, the implementation of EHDI nationwide has resulted in nearly universal hearing screening at birth with 98 percent of newborns screened. Representatives Brett Guthrie (R-KY) and Lois Capps (D-CA) have reportedly introduced legislation (HR1344) to reauthorize EHDI this year.
According to FCHHC, the hearing caucus briefing will focus on efforts to follow-up with children who are born deaf or hard of hearing to ensure the best outcome possible. Dr Fitzgerald will examine Georgia's EHDI follow-up programs, while Dr Suskind will focus on the Thirty Million Words initiative that she founded to focus on the importance of early exposure to language.
Dr Fitzgerald is a board-certified obstetrician-gynecologist and a fellow in anti-aging medicine, says the FCHHC, and as DPH Commissioner, Dr Fitzgerald oversees various state public health programs including Maternal and Child Health, and she also directs the state's 18 public health districts and 159 county health departments. Prior to joining DPH, Dr Fitzgerald held numerous leadership positions including as a health care policy advisor with House Speaker Newt Gingrich and Senator Paul Coverdell.
In addition to her work as a professor of surgery, Dr Suskind is also the founder and director of the Thirty Million Words initiative which is based on scientific research that shows the critical importance of early language exposure on the developing child. Thirty Million Words is intended to help parents enhance their home language environment to optimize their child's brain development and, therefore, his or her ability to learn. The program is an extension of Dr Suskind's Project Aspire, which she created to help her patients from disadvantaged backgrounds work to reach their full language potential.
The Briefing will be held in Room B-339 of the Rayburn House Office Building from 12 pm to 1 pm. For more information and to RSVP for the Briefing Luncheon, [email protected]
Source: Hearing Industries Association (HIA)