It may have been an early start at 6AM. It may have been dark, cold, and wet. And it may have even been a little more than 5 kilometers! But, given the weather conditions, there was an excellent turnout for the first AuDLifestyle 5K Run/Walk held on March 29 during the American Academy of Audiology (AAA) Convention in Columbus, Ohio. About 130 intrepid audiologists registered for, and more than 50 participated in, the fundraising event which raised $4000 for the Ohio University Student Academy of Audiology (SAA), The Ohio State University SAA, Northeast Ohio Audiology Consortium SAA, and the University of Cincinnati SAA. The funds will be used for various student initiatives, including in one case, support of their audiology mission trips.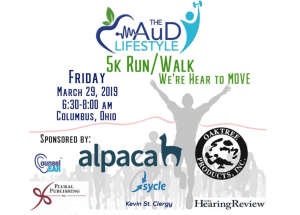 Audiologist Amit Gosalia, AuD, organized the inaugural event, taking care of the permits, police and first-responder requirements, barricades, porta-potties, water, energy bars, etc. The race began at 6:30 AM as planned. However, the main group encountered an unanticipated detour from the planned route, and ended up almost 2 miles off course—so the 5k run/walk was closer to10k!
"Everyone was in good spirits, and in hindsight we laughed about it," said Gosalia. "But at the time, I was very stressed when no one returned to the finish line after 30 minutes!"
Gold Medal Sponsors of the event were Oaktree Products and Alpaca Audiology; Bronze Medal Sponsors were Sycle, Plural Publishing, CounselEar and Kevin St Clergy, and the Media Sponsor was The Hearing Review. The inaugural AuDLifestyle 5k committee included Dr Gosalia, and Gail Whitelaw, PhD; Natalie Phillips, AuD; Jennifer Martin, AuD; Ashley Hughes, AuD; Cory Workman, AuD; Kimberly Skinner, AuD, and Meagan Walczak.
Join audiologists at AAA next year! Due to the success of the inaugural AuDLifestyle 5k walk/run, Dr Gosalia says that he is already planning the AuDLifestyle 5k Run/Walk that will coincide with the 2020 AAA Convention to be held April 1-4 in New Orleans.