Audigy Group, a business management group dedicated to helping audiology practices remain independent and successful, has been recognized as one of the Oregon area's most philanthropic companies by the Portland Business Journal.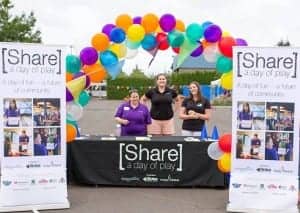 Audigy earned recognition in the category of medium-size companies and will be honored at an October 14 Portland Business Journal and Cambia Health Foundation awards luncheon expected to draw 500 executives committed to supporting local communities.
"It's an honor to be recognized for something we and our members are so passionate about," said Audigy Group CEO Brandon Dawson. "Sharing with others in need across our local communities and around the world is a natural part of who we are."
Audigy's leadership, staff, and members regularly partner in community programs with organizations such as the Starkey Hearing Foundation to bring better hearing to kids and adults in need around the globe. The outreach involves fitting men, women, and children with hearing aid technology and counseling, ultimately improving quality of life for individuals and their families.
In addition, Audigy Group supports Share, a Southwest Washington nonprofit organization dedicated to helping the hungry and the homeless with food, shelter, education, and other resources. Audigy staff volunteer at Share House each month, preparing and serving meals for hundreds of men, women, and children. The company's annual Thanksgiving drive yielded more than 2,300 pounds of food for Share last year.
This year's Corporate Philanthropy Awards — which will honor the top 10 philanthropic contributors and additional honorees in each of the large-, medium-, and small-company categories — comprised a record number of nominees. Other prominent 2016 award winners include Bank of America, Nike Inc, Becker Capital Management, Portland Timbers, Thorns FC, Cupcake Jones, and more.
Throughout the US and Canada, AudigyCertified™ hearing care practices have helped thousands of patients with their hearing, tinnitus, and balance disorders and offer diagnostic testing and expert fitting of hearing technology.
Source: Audigy Group