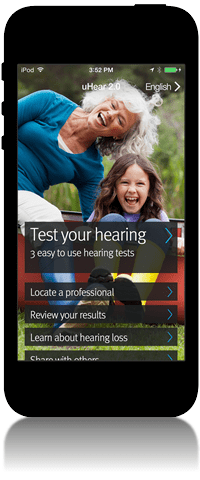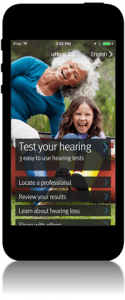 Hearing instrument maker Unitron, based in Kitchener, Canada, has released a hearing test app and an online support kit with the goal of giving more people access to treatment for hearing loss. According to Unitron, uHear 2.0 is the company's new hearing test app, which enables patients to generally assess their own hearing on an iPhone or iPad in less than 10 minutes. The hearing app is said to offer 3 different screening assessments that test for hearing sensitivity, hearing speech in noise, and everyday listening performance.
The uHear screening app, Unitron reports, is supported by the uHear online support kit, which is aimed at providing hearing healthcare professionals with tools and resources to educate and engage a broader online audience of people who may be reluctant to seek treatment. The kit provides hearing healthcare professionals with a variety of downloadable educational content, including digital awareness tools, such as web badges, infographics and social media content, and printable materials that can be used to encourage people with hearing loss to seek care.
"The impact of untreated hearing loss cannot be ignored," said Don Hayes, MD, director of clinical research for Unitron. "On average, hearing aid users wait 7-10 years after their initial diagnosis to be fit with their first set of hearing aids. uHear was developed with the goal to lower barriers to seeking help."
According to the Unitron announcement, the World Health Organization estimates that 360 million people worldwide suffer from disabling hearing loss. In the United States, that number is 36 million, and only 20% of those people who might benefit from hearing aids actually seek help. Most delay taking action until they cannot communicate easily. Unitron believes that early and careful evaluation and support may help mitigate the consequences of hearing loss on long-term health and quality of life.
The release of the uHear app and online support kit follows closely on the heels of Unitron's release of a physician's hearing screening toolkit, which it created in partnership with The City University of New York (CUNY), as reported in a February 4, 2015 article in Hearing Review.
Unitron is making the uHear hearing test app and online support kit available for download on the Unitron website. The uHear app for iPhone and iPad is also available for free download from the Apple iTunes store.
Source: Unitron