Kari Lane, a University of Missouri researcher, has received a Claire M. Fagin Fellowship that will help her continue her work to improve hearing aid fittings and usage among adults.
Previously, Lane developed an intervention and self-guided workbook that helps adults to acclimate to their hearing aids. The Fagin fellowship award will allow Lane to test the effectiveness of her intervention technique and see to what extent it increases adults' hearing aid use.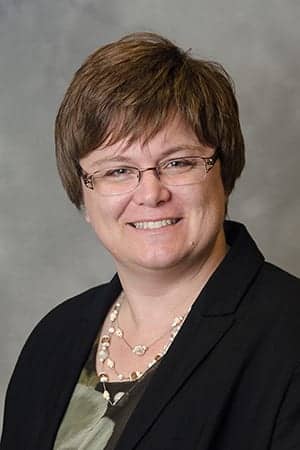 Kari Lane
Lane said several factors contribute to why some individuals do not use their hearing aids or why they only wear the devices occasionally.
"When adults with hearing impairments begin wearing hearing aids, they hear things that they aren't used to hearing, which can be overwhelming, fatiguing, and frustrating," Lane said. "In addition, the cost to purchase and maintain the devices is high, and multiple appointments to fit the hearing aids can also cause stress."
Lane, an assistant professor of nursing in the university's Sinclair School of Nursing, added that it's important to reduce the stigma associated with wearing hearing aids, such as the perception that the hearing aid makes the user look elderly.
If her technique proves to be effective, Lane hopes to train others how to use the workbook and accompanying intervention. Ideally, she would like to train individuals at audiological clinics who could educate and assist persons with hearing loss as they begin wearing their hearing aids.
The Claire M. Fagin Fellowship is awarded by the National Hartford Centers of Gerontological Nursing Excellence.
SOURCE: University of Missouri