The Starkey Hearing Technologies leadership team announced that it recently traveled to Asia on June 3-7 to launch the Livio® AI hearing aid. According to Starkey's announcement, members of the executive team spoke at each launch event to over 1,000 customers, partners, and government officials with the help of the dedicated teams in Korea, Japan, and China.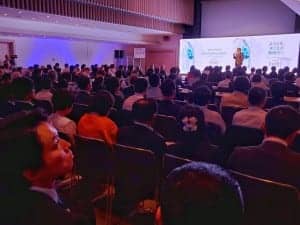 "We're not focusing on hearing loss or hearing gain," President Brandon Sawalich said at one of the events. "Starkey is focused on helping people that cannot hear have better lives."
Livio AI is a large part of that focus, and is reportedly "the world's first Healthable™ and multi-purpose hearing aid" according to the company, designed not only to help users hear better but overall live a better, healthier life with innovative features that include body and brain activity tracking, fall alert and detection, and Hearing Care Anywhere™.
CEO Bill Austin's vision to spread better hearing around the entire world has become a reality, thanks to the passion and hard work of everyone on the #StarkeyStrong team around the globe, the company says.
"I have always dreamed about making a monumental, positive impact on society," said Austin.
Source: Starkey Hearing Technologies
Images: Starkey Hearing Technologies