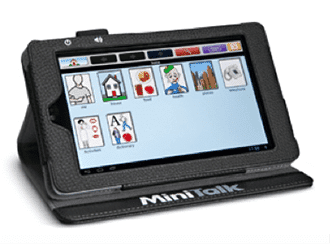 Lingraphica has introduced the MiniTalk?, a compact speech-generating device with a 7-inch screen.
The device is designed to display, depict, and speak more than 7,000 graphic icons, words, phrases, and animations that enable adults with aphasia and apraxia speech impairments to communicate.
MiniTalk's extensive vocabulary of icons helps users quickly find and build what they wish to express. They also can customize the device to their individual needs by adding icons, words, and phrases, along with photos and videos shot by a built-in camera. A type-and-talk process speaks words and phrases in female or male voices as they are keyed in.
Measuring a half-inch thick and weighing one pound, MiniTalk also comes with a full complement of preloaded practice exercises to help patients who have lost communication capabilities due to stroke or other brain trauma to improve their natural speech.
MiniTalk is an addition to Lingraphica's other speech-generating devices, which include the AllTalk™ 13-inch laptop and the TouchTalk™ 10-inch tablet. All are designed to help adults with aphasia and apraxia to communicate in multiple settings using picture-based words and phrases.
SOURCE: Lingraphica