Cochlear Implants: Audiologic Management and Considerations for Implantable Hearing Devices  is a new textbook by Jace Wolfe, PhD, designed to provide "comprehensive coverage of the audiological principles and practices pertaining to cochlear implants and other implantable hearing technologies," according to an announcement by Plural Publishing. Written specifically for audiologists, it addresses the details involved with the assessment and management of cochlear implant technology. Additionally, the book is described as providing an overview of hybrid cochlear implants, implantable bone conduction hearing technology, middle ear implantable devices, and auditory brainstem implants. According to Plural, it also supplements the evidence-based clinical information provided for a variety of implantable hearing devices with clinical videos demonstrating basic management procedures and practices on a PluralPlus companion website.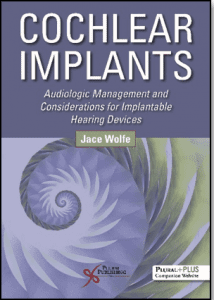 Key Features:
Each chapter features figures supporting the clinical practices and principles discussed in the text, enabling students and clinicians to more easily understand and apply the material to clinical practice.
The information is evidence based and, whenever possible, is supported by up-to-date peer-reviewed research.
Provides comprehensive coverage of complex information and sophisticated technology in a manner that is said to be "student-friendly and in an understandable narrative form."
Concepts covered in the narrative text are presented clearly and then reinforced through additional learning aids including case studies and video examples.
Full color design with numerous figures and illustrations.
Book Details
Title: Cochlear Implants: Audiologic Management and Considerations for Implantable Hearing Devices| Author: Jace Wolfe | Published: 12/14/2018 | ISBN: 978-1-59756-892-0 | http://pluralpublishing.com/publication_cimp.htm
About The Author
Jace Wolfe, PhD, is the director of audiology and research at the Hearts for Hearing Foundation in Oklahoma City, Okla. He also is an adjunct assistant professor in the Audiology Department at the University of Oklahoma Health Sciences Center and Salus University. He previously served as the editor for the American Speech-Language-Hearing Association's (ASHA) Division 9 journal and is currently a co-editor for the Plural Publishing, Inc Core Clinical Concept Series on Cochlear Implants. Dr Wolfe is a member of the Better Hearing Institute's (BHI) Pediatric Advisory Board as well as the Audiology Advisory Boards for Cochlear Americas, Advanced Bionics, and  Phonak. He also serves on the Editorial Board of The Hearing Journal. Additionally, Dr Wolfe co-authors a periodic column entitled "The Tot Ten" in The Hearing Journal, and he has published numerous book chapters and articles in professional peer-reviewed and trade journals. He is also a co-author of the textbook entitled Programming Cochlear Implants, Second Edition. Additionally, he is author of the textbook entitled Cochlear Implants: Audiologic Management and Considerations for Implantable Hearing Devices, and he is co-editor/author (with Carol Flexer, Jane Madell, and Erin Schafer) of the textbooks Pediatric Audiology: Diagnosis, Technology, and Management, Third Edition and Pediatric Audiology Casebook, Second Edition. His areas of interests are pediatric amplification and cochlear implantation, personal remote microphone technology, and signal processing for children. He provides clinical services for children and adults with hearing loss and is also actively engaged in research in several areas pertaining to hearing aids, cochlear implants, hybrid cochlear implants, and personal remote microphone systems.
About Plural Publishing
Plural Publishing produces academic, scientific, and clinical publications in the fields of speech-language pathology, audiology, otolaryngology, and professional singing.
Source: Plural Publishing
Image: Plural Publishing