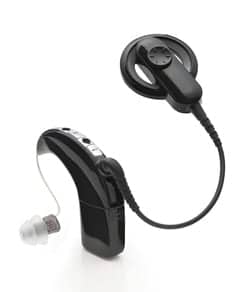 Colorado-based Cochlear Limited has announced the release of its SmartSound iQ and true wireless features for use with the company's Nucleus 6 Sound Processor for cochlear implants. According to the company, the SmartSound iQ signal processing platform automatically adapts to different sound environments to help make listening easier for CI users, even in noisy environments. The simultaneous release of the company's true 2.4 GHz wireless connectivity is said to allow users to hear more clearly and connect to electronic devices wherever they go.
"We are pleased to introduce SmartSound iQ and 2.4 GHz wireless connectivity to the Nucleus 6 Sound Processor as they help provide a better user experience," said Chris Smith, president of Cochlear Americas. "Not only does SmartSound iQ make listening easier by automatically adjusting to new sound environments, but the majority of users reported an improvement in hearing in noise. These results, combined with the easy-to-use wireless accessories, are particularly encouraging as our main goal is to help our recipients always hear their best."
SmartSound iQ is approved in the US for use with the company's Nucleus Hybrid L24 cochlear implant. According to the announcement from Cochlear Limited, the Nucleus 6 Sound Processor has a Scene Classifier that automatically scans a CI user's surroundings and identifies the listening environment as one of 6 scenes: speech in noise, speech, noise, wind, quiet, or music. SmartSound iQ then automatically adjusts the setting for each scene in order to provide optimal hearing for that situation without the need for manual adjustments to the sound processor or remote. The company reports that a majority of Nucleus Hybrid implant recipients experienced a significant improvement with hearing in noise when using SmartSound iQ. 
The company's wireless accessories are designed to deliver true wireless freedom without the need for wires or neck-worn loops. Utilizing the same 2.4 GHz wireless protocol that Bluetooth and Wi-Fi devices require, Cochlear wireless accessories are intended to provide a streamlined connection to popular electronic devices (TVs, smartphones, and MP3 players) without the interference and signal drops that may occur with traditional wireless systems.
More information about the SmartSound iQ and true 2.4 GHz wireless capabilities with the Nucleus 6 Sound Processor can be found on the Cochlear website.
Source: Cochlear Limited