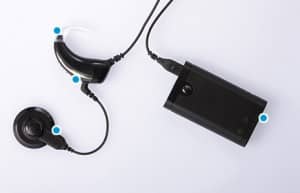 Nurotron Biotechnology Co Ltd has announced that surgeons in Bolivia and Peru have implanted three young boys and an adult woman with Nurotron's Venus Cochlear Implant System, considered to be an effective solution for children and adults suffering from severe and profound hearing loss. The surgeries, which were made possible thanks to donations and cooperative efforts between Nurotron, the two physicians, and medical device companies in Latin America, were the first in Bolivia and Peru for Nurotron's system.
Nurotron reports that in Peru, the company's implant system is helping an 8-year-old orphan boy with bilateral sensorineural hearing loss and multiple disabilities, and a 58-year-old woman who has experienced progressive hearing loss. Javier Rubio, MD, performed both surgeries, with Juan Chiossone, MD, assisting. Both surgeries took place at La Clínica Delgado in Lima. In Bolivia, the Nurotron system is helping two brothers, ages 4 and 8, who have severe sensorineural hearing loss. The surgeries took place at Clinica del Sur in La Paz, with Jové Castro, MD, as surgeon and Dr Chiossone assisting.
According to Nurotron CEO Chu Li, Dr Rubio and Nurotron's distributor in Peru, Surgicorp, made the surgeries possible. Dr Rubio provided special pricing that included rehabilitation costs. In Bolivia, Biopro, Nurotron's distributor in that country, donated the implants.
"These groundbreaking surgeries would never have been possible without the efforts and contributions of Surgicorp, Biopro, and the physicians," said Li. "Nurotron greatly appreciates the opportunity to work with all of these people to bring or restore hearing to individuals in South America. Nurotron's expansion in the Latin American market gives it the opportunity to meet more and more of the worldwide demand for safe, reliable cochlear implants."
The company reports that with the recent cases in Bolivia and Peru, doctors have now performed surgeries with the Venus Cochlear Implant System in seven countries, including China, Colombia, India, Turkey and Venezuela. Nurotron also holds the CE mark in Europe.
Source: Nurotron Biotechnology Co Ltd