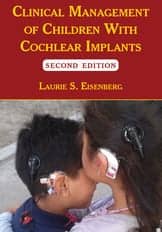 Plural Publishing has released the second edition of Clinical Management of Children with Cochlear Implants, a comprehensive volume written by leading researchers, clinicians, and educators in the field. The book offers a guide for practitioners, instructors, and students, and builds on over 35 years of collective experience in pediatric cochlear implantation and addresses contemporary practices.
The authors share their expertise in such disciplines as otolaryngology, pediatrics, audiology, speech-language pathology, habilitation, education, electrophysiology, psychology, and clinical research. The publisher explains that, although many of the chapters from the first edition remain relevant today, the field continues to evolve with advancements in technology, expanding indications, and patient demographics. The second edition reflects these changes with new topics and expanded updates, presenting up-to-date research findings with implications for clinical management of the pediatric implant population.
According to Plural Publishing, the second edition includes new chapters on neurocognitive assessment, dual language learning, early literacy, family-centered habilitation, and development of evidence-based programs. It also includes expanded chapters on device programming, education, and auditory brainstem implants, and updates in research and clinical practices in assessment and management.
The book has multiple contributing authors, and is edited by Laurie S. Eisenberg, PhD, an audiologist and professor of research otolaryngology in the Tina and Rick Caruso Department of Otolaryngology-Head and Neck Surgery at the Keck School of Medicine of the University of Southern California (USC). Eisenberg is also a member of the Neuroscience Graduate Program at USC. Prior to entering doctoral studies in 1986, Eisenberg spent more than 10 years at the House Ear Institute as an audiologist working on projects related to cochlear implants and the auditory brainstem implant.
Plural Publishing produces leading academic, scientific and clinical publications in the fields of speech-language pathology, audiology, otolaryngology, and professional singing. Plural Publishing Inc aims to fill a space in the field of communication sciences and disorders with high-quality publications written by world-class experts in order to improve and enhance the knowledge base of each profession, from the classroom to clinical practice. Plural Publishing prioritizes the intellectual growth of the disciplines it serves and strives to improve and advance these fields through its publications.
Source: Plural Publishing