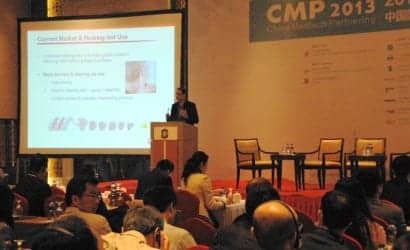 iHear Medical founder and President Adnan Shennib presents information at the China Medtech Partnering Conference (CMP-2013) in Suzhou, China.
iHear Medical, San Leandro, Calif, has announced its plans to introduce what it calls the world's first web-enabled hearing aid system, targeting tech-savvy consumers seeking alternatives to higher-priced conventional hearing aids.
The announcement was made on November 7 at the China Medtech Partnering (CMP-2013) Conference being held in Suzhou, China. The technology developed by iHear Medical—a company founded by long-time hearing industry inventor Adnan Shennib—seeks to offer advanced hearing solutions at a fraction of the cost of available hearing aids, and in smaller form-factors for invisible wear, according to the company.
In addition to offering dramatically lower cost and inconspicuous wear, the iHear™ system is reportedly designed to change the dispensing process by offering consumers online tools to administer the entire fitting process from hearing testing, to individualized calibration of the hearing device—all from the convenience of home.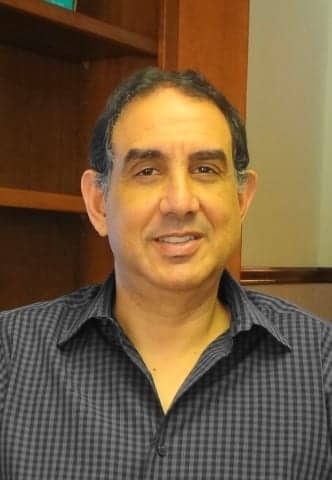 Adnan Shennib
About iHear. iHear® Medical is a venture-backed firm incubated by the Center for Medical Device Innovations Inc (CMDI), which reportedly is developing platform technologies that create paradigm shifts in healthcare delivery. Developing cutting edge hearing technology is not new to Shennib, president and founder of iHear, and his team at iHear Medical. They have worked together for over 20 years bringing hearing innovations from concepts to the market. Shennib, a pacemaker engineer, joined the hearing industry as the Director of New Technologies at ReSound in 1988. He later invented and developed the Lyric hearing device at InSound Medical, a company he founded in 1998 and sold to Sonova (parent company of Phonak) in a deal totaling $169 million. Shennib holds over 100 US and international patents, issued and pending.
In its press release, the company explains the current conventional dispensing process as "cumbersome," requiring 4-6 office visits over 1 month that contributes to the rising cost of hearing aids, currently averaging $1,700 per hearing aid ($3,400 for most users who require binaural amplification). "The iHear system offers consumers not only a huge cost savings but also more control of the dispensing process, from the convenience of home," says Shennib. "The iHear system is initially targeting tech savvy consumers who intend to retain an active lifestyle."
iHear Medical also plans to offer innovative payment options for its advanced hearing aids, including annual subscriptions and low upfront payments of as little as about $30. "We want to align the consumer experience and expectations with modern consumer electronics, such as mobile phones and personal computers," says Shennib.
HEARING FOR ALL. At the Suzhou CMP-2013 conference, Shennib also previewed the HEARING FOR ALL™ initiative, which seeks to offer free hearing aids to low-income individuals. The program is being developed in collaboration with hearing advocacy groups and charitable foundations to provide hearing solutions to low-income hearing-impaired individuals, who represent 40% of the impaired population in the United States, according to the press statement. According to industry reports cited by the Hearing Loss Association of America (HLAA), hearing aid usage significantly impacts earning power by about 50%, enhances emotional and mental stability, reduces anxiety and depression, and improves overall health status for the hearing impaired.
"By offering the gift of hearing to those who cannot afford hearing aids, we are adding another dimension and purpose to our mission," says Shennib. The company says it will disclose details about its HEARING FOR ALL initiative by January 15, 2014.
iHear explains that hearing loss is a global problem with epidemic proportions. The World Health Organization (WHO) estimates 5% of the world's population, or approximately 360 million people, suffer from disabling hearing loss. WHO also reports current production of hearing aids meets less than 10% of the global need. A disabling hearing impairment refers to a hearing loss of 40 dB or more. More than a third of all hearing loss is attributed to noise exposure including loud music, noisy workplaces, and loud recreational equipment. Veterans are particularly vulnerable to hearing disability with more than 414,000 who returned home with hearing loss in recent wars post 9/11. Hearing injuries, which represent the most common disability among veterans, cost the US government more than $1.4 billion in disability payments annually, according to Government Accountability Office reports.
Source: iHear