---
With the wealth of information hearing care professionals have to share with their patients about the myriad products and services offered by manufacturers, The Hearing Review has compiled some of the product brochures, catalogues, and other technical literature available to guide professionals and patients through the experience of finding the right products for the patient's individual needs. Descriptions presented here were supplied by the participating manufacturers.
---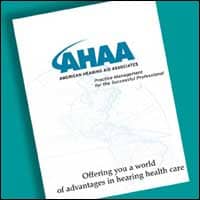 American Hearing Aid Associates
American Hearing Aid Associates, West Chester, Pa, offers Practice Management for the Successful Professional. This package offers complete information on the benefits of joining the American Hearing Aid Associates nationwide network. AHAA's network comprises the very best hearing health care providers in America, and each Associate is positioned as "the ultimate professional," according to the company. AHAA membership offers a competitive edge in the marketplace, and AHAA uniquely distinguishes quality providers from all others. For this free package, contact:
(800) 984-3272;
www.ahaanet.com.
---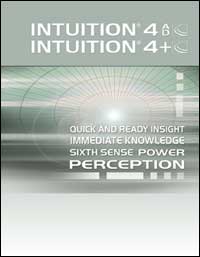 Audina
INTUITION® 4AD and INTUITION® 4+ address a wider range of hearing loss than the majority of hearing instruments available today—up to 22 dB added stable gain, realizing up to 60 dB of gain in the CIC instrument without reducing spectral information important for speech understanding. It allows larger venting and more open fittings for better fit and patient comfort. Features of the INTUITION 4AD include Adaptive Directionality™, programmable power-on delay, and in situ verification along with all the standard features shared with the INTUITION 4+ instrument.
Audina Hearing Instruments
(800) 223-7700
www.audina.net.
---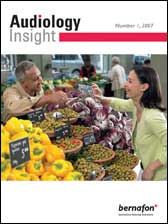 Bernafon LLC
Bernafon LLC, Somerset NJ, presents Audiology Insight, a magazine addressed to network hearing health care professionals around the globe. In the first edition of 2007, Bernafon talks about brite, the first instrument with Receiver-In-The-Ear (RITE) technology. brite features a design that is unique in the industry. The product incorporates a speaker unit that is 20% smaller than any other available on the market today and a wide range of adaptive features.
(888) 941-4203
www.bernafon-us.com.
---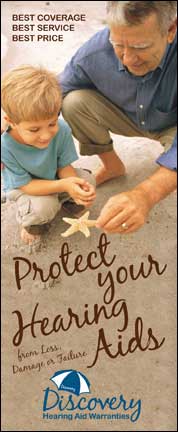 Discovery Hearing Aid Warranties
Discovery Hearing Aid Warranties, Mobile, Ala, provides loss, damage, and/or component failure protection for all makes and models of hearing aids, including cochlear implants and bone-anchored processors. A unique compensation plan generates continuous extra income for dispensers. Discovery Hearing Aid Repair is a rapid-response, full-service, all-make repair laboratory.
(800) 525-7936
www.discoverywarranties.com.
---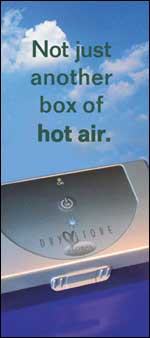 Ear Technology Corp
Discovery Hearing Aid Warranties, Mobile, Ala, provides loss, damage, and/or component failure protection for all makes and models of hearing aids, including cochlear implants and bone-anchored processors. A unique compensation plan generates continuous extra income for dispensers. Discovery Hearing Aid Repair is a rapid-response, full-service, all-make repair laboratory.
(800) 525-7936
www.discoverywarranties.com.
---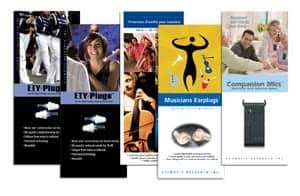 Etymotic Research
Etymotic Research provides consumer brochures for use in all practice settings. High Fidelity Earplug brochures discuss the importance of hearing protection, types of earplugs, and permissible noise exposure limits. Musicians Earplugs brochures show styles, colors, and attenuation, and recommend different earplugs depending on type of instrument played. The Companion Mics brochure describes the benefits of this multi-talker/single-listener system.
(888) 389-6684
www.etymotic.com.
---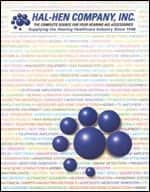 Hal-Hen Inc
Hal-Hen features a comprehensive offering of more than 4,000 items for the hearing health care profession. Assistive devices, personal FM systems, impression materials, batteries, diagnostic equipment, otoscopes, earlites, earmolds, fitting supplies, educational materials, tools from: Dremel, Foredom, Handler, and X-Acto. Cerumen management, ear maintenance, infection control, OTC pharmaceuticals, and much more. True one-stop shopping for hearing health care practices! Convenient shopping online, by voice or fax.
(800) 242-5436
www.halhenpro.com.
---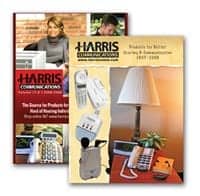 Harris Communications
Harris Communications, Eden Prairie, Minn, announces the 2008 Harris Communications Equipment and Main Catalogs are now available. Both catalogs have the latest assistive devices for people who are deaf and hard of hearing. Included are products from major manufacturers with a large selection of amplified phones, TV listening devices, personal amplifiers, and loud alarm clocks. Ask for either the Main catalog (which includes books/DVDs) or the Equipment catalog. Request a catalog online at www.harriscomm.com. For multiple copies, call (800) 825-6758.
---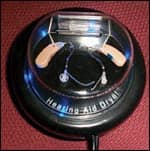 Hearing Technologies International
Hearing Technologies International Inc, Pinellas Park, Fla, is dedicated to helping hearing aid wearers maintain the peak performance of their hearing aids. Hearing Technologies is a leading supplier of custom-designed hearing aid cleaning tools and hearing aid care products, with more than 30 years of experience in the hearing aid industry. The company's product line includes the Universal Hearing Aid Dryer, the Power-Vac Hearing Aid Cleaner, and the Super Power-Vac 26 inHG suction Powerful Desktop Portable Hearing Aid Vacuum.
(800) 553-6003
www.hearingtech.com.
---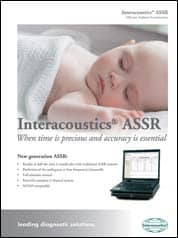 Interacoustics
Interacoustics, Eden Prairie, Minn, presents a major breakthrough in ASSR technology that cuts test times in half and achieves estimates closer to behavioral thresholds than ever before. The brochure contains product features and references to scientific and clinical evaluations of the technology published in the Journal of the American Academy of Audiology (JAAA). With the introduction of this second generation of ASSR, Interacoustics remains committed to its leading position in this field.
(800) 947-6334
www.interacoustics-us.com.
---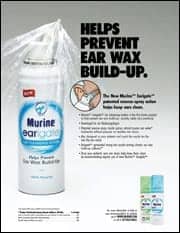 Murine
New Murine™ Earigate™ Ear Cleansing System, developed by an otolaryngologist, is the first home product to help prevent earwax build up—quickly, safely, and painlessly. Earigate features a patented reverse-spray nozzle that shoots natural-source sea water backward out the ear, cleansing the canal without pressure on sensitive eardrums. Once your patients' ears are cleaned, help keep them clean with Murine Earigate.
(877) 854-0853
www.murine.com.
---

Oticon
The Epoq product brochure details the theory and the technology of this unique hearing system. For the first time, wireless technology is used to provide high-speed binaural broadband signal processing. The result is a binaural hearing system that delivers a significant improvement in spatial awareness than bilaterally fitted hearing aids. The wearer experiences better sound quality and a more natural sound experience. Epoq can also be connected wirelessly to external Bluetooth devices.
(800) 526-3921
www.oticonusa.com.
---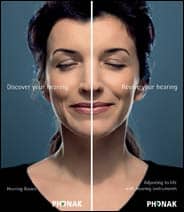 Phonak Hearing Systems
Phonak introduces two informational consumer brochures available for distribution in-office or at consumer events. Discover Your Hearing is aimed at first-time consumers and covers the basics of hearing. Revive Your Hearing speaks to first-time hearing instrument users and discusses how to adapt to your new devices. To order these brochures and for help planning your next event to attract new patients, call Phonak:
(800) 777-7333 ext 9
www.phonak.com.
---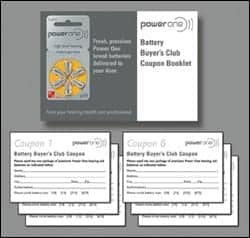 Power One
The Power One Battery Buyer's Club consists of a prepaid coupon booklet that dispensers can offer their customers. The program has been developed in a way that drastically reduces backend effort for the dispenser yet enables the customer to receive fresh, Power One batteries—delivered by mail—to their front door. The booklet is part of a turnkey system for developing a profitable Power One franchise in the practice.
(800) 468-2782 ext 225
www.powerone-batteries.com.
---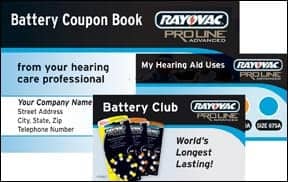 Rayovac
You can grow your battery business and reinforce your hearing aid business by offering your patients the free ProLine Battery Club Program. Research shows those offices that offer a battery club sell 20% more batteries than those who don't. Battery Clubs create loyalty and separate your office from drug and discount stores. ProLine's Business Builder Program features free Battery Club materials that can be customized with your name, telephone number, and address. Rayovac invites you to call your ProLine Consultant to see how the world's longest lasting hearing aid battery can grow your business.
(800) 357-7422 (USA) or (800) 387-3529 (Canada)
www.thepowerofhearing.com.
---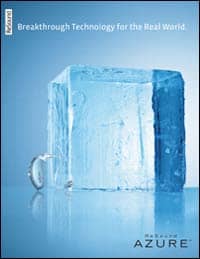 ReSound
Based on award-winning research from Walter Reed Medical Center, ReSound Azure combines breakthrough technologies to make it the most sophisticated hearing instrument available, according to the company. Azure's advanced technology works effortlessly behind the scenes, making it the easier hearing instrument for your patients to use. To learn more about ReSound Azure, call your ReSound sales representative to receive a free Azure product brochure.
(800) 248-4327
www.gnresound.com.
---
Rexton
Rexton's two part DVD, The Guide to Better Hearing, is designed to help your patients better understand hearing loss and the instruments available to help them hear again. Part I is designed to help your customers make informed, intelligent decisions about their hearing needs. Part II is a visual aid instructing customers how to use their new hearing instruments. Contact your Rexton representative to order this DVD set for your office!
(800) 876-1141
www.rexton-online.com.
---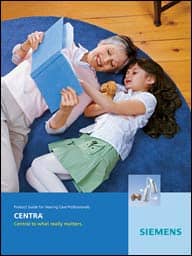 Siemens Hearing Instruments
Siemens Hearing Instruments, Piscataway, NJ, offers the CENTRA™ Product Guide for hearing care professionals. Filled with detailed information regarding Siemens' latest family of hearing products, this full-color guide explains CENTRA's wearer-focused engineering. Breakthrough technologies available with all CENTRA instruments include Soundsmoothing™, DataLearning™, and e2e wireless™. CENTRA's extensive fitting flexibility reportedly provides unparalleled fitting ease and consumer usability.
(800) 766-4500
www.usa.siemens.com/hearing.
---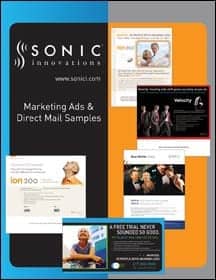 Sonic Innovations
Designed to assist hearing care professionals in the promotion and advertising of their clinics, this catalog is packed with advertising and direct mail options that promote hearing care clinics, Sonic Innovations products, and more. Request a copy of this catalog today and start working with Sonic Innovations to drive new consumers into your clinic tomorrow.
(801) 365-2800
www.sonici.com.
---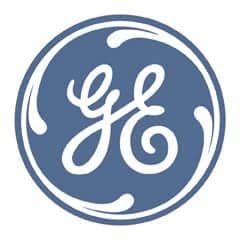 TV Ears Inc
TV Ears Inc announces its partnership with GE and offers the "See and Hear Loud and Clear™" amplified telephones line, designed exclusively for the needs of the hearing impaired and those who need enhanced features for easy use. Product line includes: GE Amplified Telephones for mild to severe hearing loss; Cordless Amplified telephones with answering machine; New GE DECT 6.0 technology. GE Phones are equipped with 40dB gain and 104 dB/SPL. Call Jason Rimestad to become an exclusive TV Ears and GE amplified telephone dealer:
(877) 854-1040
www.TVEars.com.
---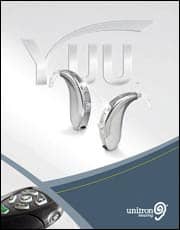 Unitron Hearing
Unitron Hearing's Interactive CD, Experience Yuu™, is designed for hearing health care professionals as an educational tool. Professionals can quickly familiarize themselves with Yuu's innovative and unique features via brief video overviews and feature demonstrations. The CD also doubles as a teaching tool to help counsel new and potential clients about the real-time adaptive features and benefits of wearing the fully automatic Yuu hearing instruments.
(800) 888-8882
www.unitronhearing.us.
---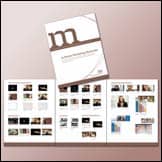 Widex
Widex USA, Long Island City, NY, offers the m-Series Marketing Materials Flyer that features several pages of marketing pieces on Widex's newest line of products. These include several informative postcards, flyers, invitations, consumer brochures, and camera-ready ad mats, as well as other marketing materials that will assist hearing health care professionals with their m-Series marketing efforts.
(800) 221-0188
www.widexPro.com.