| | |
| --- | --- |
| | |
| At Audioscan's annual breakfast the first morning of the AudiologyNOW! convention, AuDNet president Dave Smirga provides an overview of its latest software release. | Audioscan's Viewport test result screens. |
Audioscan: Viewport
Introduced in February 2008, Viewport from Audioscan, Dorchester, Ontario, Canada, offers the first complete testing suite for fitting, counseling, and verifying the function of digital instruments. The new test suite, available only on the Verifit system, allows the hearing care professional to verify and demonstrate audibility, directionality, noise reduction, and feedback suppression. All of these tests are integrated and presented on one screen or printout, providing a window to hearing instrument performance.
The first step in Viewport is to objectively verify that audibility is delivered using the company's Speechmap fitting environment. The second step is to verify and demonstrate the performance of directional function using the patented directional test. This real-time test visually shows the separation of curves between front and rear microphones regardless of advanced processing features like speech activation. The third step is to verify and demonstrate the utility of noise reduction, even showing the amount of noise reduction provided! The fourth and final step is to show the benefit of feedback reduction systems using the all-new feedback reduction test. This feedback test even reveals incipient feedback. All of these results are presented on one screen or printout. You can also store these results internally, to a USB stick, or network file.
(800) 265-2093
www.audioscan.com
---
| | |
| --- | --- |
| | |
| Bernafon's Move | Bernafon's Brite |
Bernafon: Brite & Move
Swiss hearing system manufacturer Bernafon, Somerset, NJ, showcased its highly successful, "red dot" award-winning Brite line not just as innovative hearing instruments that offer state-of-the-art technology, but ones that offer fashion as well as functionality. Brite incorporates a hearing system that is fully programmable to each user's individual listening needs. Brite utilizes Bernafon's unique Lifestyle Profile where information about a client's individual listening needs and priorities is assessed during the fitting and used throughout the fine-tuning of the device. The choice of acoustic options is expanded by three additional micro-mold styles to further improve retention in the ear canal and enlarge the fitting range.
At the show Bernafon also introduced Move, an upper midrange hearing instrument family that offers advanced adaptive functionality based on the patient's individual lifestyle. The instrument's automatic program offers the choice of nine different signal processing modes based on its adaptation to changing environments with emphasis on speech or comfort. A new copy program function as well as freely configurable programs make Move flexible, easy, and fast to fit. The large range of BTEs includes a micro BTE with a T-coil and an optional standard earhook. All BTEs are suitable for open fittings with the modular thin tube system SPIRA. The micro BTEs are available in 10 housing colors.
(888) 941-4203
www.bernafon.com
---
Electone's Figaro 4 Web site
Electone: Figaro 2 & 4
Electone Inc, Longwood, Fla, manufactures a variety of custom and BTE hearing instruments. At the top of its lines are the Figaro 4 and Figaro 2 instruments. Figaro 4 offers advanced programming that is designed for individuals with a mild to moderately severe hearing loss.
Electone's Figaro 2 is a fully digital, two-channel programmable hearing instrument designed for individuals with a mild to moderately severe hearing loss. Both are available in all sizes and directional Power and Open Fit behind-the-ear instruments.
(407) 831-2555
www.electoneonline.com
---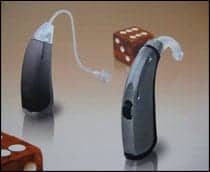 Hansaton's Style
Hansaton: Style
The newest product found at Hansaton, Tampa, Fla, on the AAA convention floor is the Style family of hearing instruments combining technological innovation with exceptional design. Style hearing aids are available in eight different colors and three models—Style Premium, Style Exclusive, and Style Pro—each as a BTE or Mini BTE. Synchronized continuously with Hansaton's i-com technology, Style provides an enhanced binaural fitting with well-balanced sound, optimal speech comprehension, and clearer localization. All Style BTEs allow for conventional open fittings. Hansaton's eMote remote control can be used with all models.
(866) 449-9757
www.hansatonusa.com
---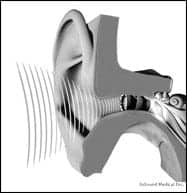 InSound's Lyric
InSound Medical: Lyric Hearing
InSound Medical, Newark, Calif, presented breakthrough hearing aid technology in the form of its Lyric Hearing device, which is the first 100% invisible extended-wear solution that was developed by ENT physicians and audiologists to be used 24 hours a day, 7 days a week, for months at a time. Lyric is positioned completely inside the ear canal so it uses the ear's anatomy to provide natural sound quality. Lyric is considered appropriate for people with mild to moderately severe hearing loss. A patient's ear size and shape, medical conditions, and lifestyle are also taken into consideration.
(800) 599-5109
www.insoundmedical.com
---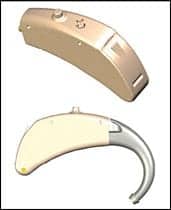 Magnatone's Evok
Magnatone: Evok
Magnatone Quality Hearing Aid Corp, Casselberry, Fla, introduced the new Evok. This mini-BTE is a versatile hearing instrument designed to fit cosmetic needs as well as a wide range of hearing losses. The Evok offers an ear hook that allows for high sound quality, a high level of comfort, and remarkable cosmetic appeal. Much like Magnatone's Monet Shadow, the Evok instrument is virtually invisible. It's also a multimemory, programmable instrument that is equipped with adaptive directionality, noise reduction, and adaptive feedback cancellation, and allows up to 52 dB of gain. Using a size 312 battery for longer battery life, the Evok has a power-on delay feature for feedback-free hearing aid insertion.
(800) 789-6543
www.magnatone.com
---
| | |
| --- | --- |
| | |
| Oticon's Vigo | Oticon booth |
Oticon: Vigo & Vigo Pro
Oticon Inc, Somerset, NJ, introduced an expansion to its premium Epoq line with the new Epoq V instrument group, which, like Epoq XW and Epoq W, connects wirelessly to Bluetooth-enabled communication and entertainment devices, including landline and cell phones, radios, MP3 players, personal computers, laptops, and, now, televisions. It was with its new Vigo and Vigo Pro product families that the company made good on plans this year to introduce products in the midpriced segment. Both are based on Oticon's ultrafast RISE platform, delivering more bandwidth (8 kHz) and significantly higher levels of processing power. The combination of more high-end features, better sound quality, more discreet style choices, and an easy, straightforward fitting process sets a new standard in the midpriced segment and sets Vigo Pro and Vigo apart from any other product family in their class, according to the company. Vigo Pro and Vigo are available in a broad range of colors and a full range of styles from small CICs to slim BTEs. Both families offer a new Corda2 thin tube style and discreet RITE styles, providing users with the best options for natural sound quality.
(800) 227-3921
www.oticonusa.com
---
| | |
| --- | --- |
| | |
| Phonak's Exélia | Phonak's Naída |
Phonak: Exélia Micro & Naída SuperPower
Phonak Hearing Systems, Weaverville, Ill, has introduced the Exélia Micro, a unique combination of cutting-edge technology, audiological expertise, and wireless connectivity that delivers hearing performance and user interaction together with easy access to modern communication and entertainment systems. At the heart of the Exélia system is its CORE (Communication Optimized Real-audio Engine) technology. The Exélia Micro's performance is based on SoundFlow, an automatic system that creates an infinite number of situation-specific programs. This is backed by VoiceZoom, an adaptive, multichannel directional system, and WhistleBlock technology, which sets a new benchmark in feedback cancellation. Compatible with iCube, the first programming device that allows for cable-free fittings, so that hearing care professionals have more increased flexibility with the choice of iCube or standard fitting interfaces, HI-PRO or NOAHlink.
Phonak's launch of Naída SuperPower rounds off the company's power offering. These new, smaller models extend the unique benefits of the Naída high-performance solution to individuals with moderately severe to severe hearing loss. And with the new iView system status monitor, Naída SuperPower is also a solution for children. These Naída SuperPower models are designed for moderately severe to severe hearing losses, delivering a maximum gain of 80/75 dB and a maximum output of 141/136 dB. Technological innovations such as SoundRecover enhance audibility and clarity of speech and daily sounds. The slim and water resistant design ensures performance in most everyday situations.
(800) 679-4871
www.phonak-us.com
---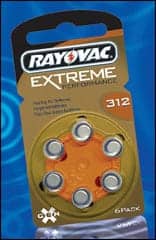 Rayovac's Extreme Performance
Rayovac: Mercury Free and Extreme Performance
Rayovac, Madison, Wis, has announced the launch of its latest innovation: Rayovac Mercury Free. The new product underlines the company's commitment to sustainability and the environment by becoming one of the first mercury-free hearing aid batteries in the world. It will also be the longest-lasting mercury-free hearing aid battery. Through dedicated research and development, Rayovac's technical team has been able to meet the challenge of removing mercury, a stabilizer used in hearing aid batteries.
With its Extreme Performance, a new, more powerful battery range for next generation hearing instruments with wireless functionality has been launched by Rayovac. This latest product innovation offers a solution to the special requirements of new, high drain hearing devices, which include wireless connectivity. Extreme Performance meets the extra power demands of these aids by delivering increased milliwatt power without compromising other areas of performance.
(800) 323-1993
www.rayovac.com
---
| | |
| --- | --- |
| | |
| ReSound's dot | ReSound's be |
ReSound: dot & be
Of the five new hearing instruments showcased by one of the largest hearing aid manufacturers at this year's AAA convention, it was the smallest hearing aid presently available and the most revolutionary soon to come (a July 2008 launch is presently scheduled in the United States) that drew the greatest attention: dot and be. Unveiled by ReSound, Bloomington, Minn, in January 2008, dot's tiny ergonomically designed size belies a micro BTE packed with more features than any RITEs and whose proprietary technologies—and choice of 14 colors—enable maximum patient satisfaction.
One of the most buzzworthy instruments talked about at the show was ReSound's be, which introduces a whole new form factor called Invisible Open Technology (IOT). Combining the best features of a BTE and ITE into a whole new type of unique device, the innovative be looks poised to transform the way hearing instruments look, fit, and feel!
(800) 248-4327
www.gnresound.com
---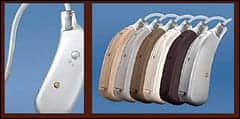 Rexton's Revo
Rexton: Revo
Rexton Inc, Plymouth, Minn, wants you to introduce yourself to its fully rechargeable Revo instruments that are ready to run all day after only a 5-hour charge. All Revo instruments will also run on regular size 13 batteries for added convenience. This new hearing instrument from Rexton, incorporates an extremely small and cosmetically appealing design with the most advanced technology available in a receiver-in-the-canal hearing instrument. This combination results in a unit that fits discreetly and comfortably behind the ear. The receiver can be instantly fit for an individual's ear with a comfortable, custom-sized soft tip. Revo instruments are ideal for hearing losses ranging from mild to moderately severe. They offer datalogging, wireless (available with Revo+ only), remote control, automatic and adaptive directional microphone, WindScreen technology to reduce wind noise, and automatic feedback cancellation.
(800) 876-1141
www.rexton.com
---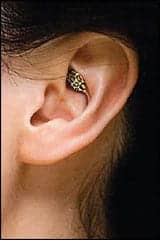 Siemens' Vibe
Siemens: Vibe
In debuting its bold new Vibe hearing instrument, Siemens Hearing Instruments, Piscataway, NJ, clearly wasn't at all afraid of standing out in the crowd. Offering a selection of 19 colorful and interchangeable covers (and more on the way), Siemens is showcasing its Vibe not just as a high-performance piece of technology, but also as a high-profile part of the wearer's life and lifestyle. With its unique design, it leaves the canal clear as well as the back of the ear and instead sits in the crest where its SoundSmoothing technology reduces transient noise while preserving voices and its eight-channel digital signal processing ensures robust performance and flexibility. The Vibe's unique microphone is positioned to take advantage of the natural contours of the outer ear, and FeedbackBlocker technology automatically reduces annoying whistling. It uses a 10A battery to minimize weight and size.
(800) 766-4500
www.usa.siemens.com/hearing
---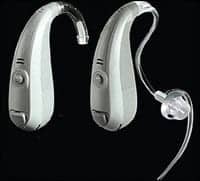 Sonic Innovations' Velocity
Sonic: ion 400 & Velocity miniBTE
Celebrating its 10-year anniversary, Sonic Innovations Inc, Salt Lake City, unveiled its new ion 400. The ion 400 is a Micro BTE with 24-channel digital signal processing—eight channels more than the previous model, the ion 200. An open-ear model for those with mild to moderately severe hearing loss, the ion family of products is virtually invisible due to its small size. And now with new automatic features, it promises to be more discreet since the user doesn't have to push any buttons when moving to different types of sound environments. Equipped with voice alerts, a feature that replaces beep sequences found on many hearing aids. The ion 400 talks to wearers, verbally informing them when the hearing aid is changing programs (such as shifting to telephone mode) and when the battery is low for the wearer. The ion 400 utilizes Sonic Innovations' latest adaptive feedback cancellation system, eliminating the high-pitched squeal commonly associated with hearing aids. It's available in nine colors and features a small dual microphone design that allows for omni-directional or adaptive directional configurations.
Another product Sonic debuted was its Velocity miniBTE, one the smallest fully featured BTEs available. Using a size 13 battery, the Velocity miniBTE of has a memory switch with access up to four listening programs; it's convertible between thin tube and earhook fittings, and has digital volume control, an audio input, and a tamper-resistant lock.
(888) 423-7834
www.sonici.com
---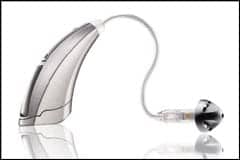 Starkey Laboratories' Zon
Starkey: Zon
It's been reported that Starkey Laboratories, Eden Prairie, Minn, spent 2 years and $10 million developing Zon, the company's new flagship RIC instrument that debuted at its expansive AAA show booth estate replete with an elaborate and fantastically domed Zon Theater. At the heart of Zon—available in three configurations: Zon.3, Zon.5, and Zon.7—is Starkey's new proprietary BluWave Signal Processing, which processes system data while managing inputs and allocating internal resources. Essentially, it's the multitasking foundation that maximizes the instrument's performance. In addition, Zon comes loaded with Directional Speech Detector, Active Feedback Intercept, Integrated Real Ear Measurement, Acoustic Signature, and Automatic Telephone Response. Further, it is equipped with voice indicators, a diagnostic self-check, and the ability to program audible voice or tone reminders for follow-up appointments and maintenance checks. Starkey's Zon comes in six colors.
(800) 328-8602
www.starkey.com
---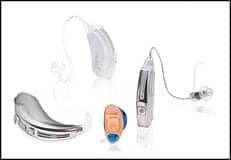 Unitron's Next
Unitron: Next
Unitron Hearing, Plymouth, Minn, introduced its new Next series comprised of four product lines: Next 16, Next 8, Next 4, and Next E, each with a unique set of purpose-driven features for patient needs. Next features an advanced feedback management technology across all four product lines that detects and suppresses multiple feedback peaks faster, while maintaining superior sound. This feedback technology provides more useable gain, an expanded fitting range, more open styles, and larger venting for more natural sound, which in turn means more custom product styles are available, including a new Power CIC and full-shell power directional. With Next comes one of the industry's most complete line of ultra-small BTEs and even more coupling options, including Moxi CRT, Moda II slim tube, and the new OptimumFit, and an adjustable custom receiver CRT option providing maximum comfort. Next is supported by the latest version of U:fit delivering practical extras for in-clinic client counseling and support.
(800) 888-8882
www.unitronhearing.us
---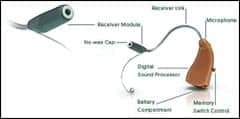 Vivatone's TOC
Vivatone: TOC
Open ear and RITE styles have changed the way hearing professionals are fitting patients, and Vivatone Hearing Systems, Shelton, Conn, has led this change since announcing Totally Open Canal (TOC) technology. With Vivatone's TOC, an advanced digital processor is placed behind the ear and connected to a tiny speaker located directly in the ear to keep the canal open. The result eliminates any "echo chamber effect" and preserves a patient's ability to perceive sound. Vivatone has recently expanded the fitting range by adding a power receiver (VivaPower) to make this style available to all patients—even those with severe and profound hearing loss. And Viva-Link is now available to provide wireless compatibility for telephone, television, and all Bluetooth devices. New VivaSet Fitting software supports the power and wireless applications as well as unique applications for tinnitus and music.
(877) 278-8482
www.vivatone.com
---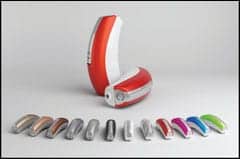 Widex's Passion
Widex: Passion
Passion, the new and first RIC hearing instrument from Widex Hearing Aid Company, Long Island City, NY, made its American debut at the AudiologyNOW! Offering Integrated Signal Processing (ISP), Passion instruments are designed to provide outstanding sound quality, comfort, and cosmetics. Automatic Passion hearing aids come in 12 stylish colors and they also offer the important NanoCare Wax Guard System for the ultimate protection against wax and moisture. Passion includes the Sound Harmony and Stable Sound Delivery features to provide your clients with optimum sound quality for open fittings. Patients can also choose to do a closed fitting.
(800) 221-0188
www.widexpro.com