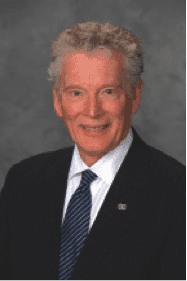 FINAL WORD | Van Vliet |January 2014 HR
Attention to Detail and Why We Should All Take Pride in Our Craftsmanship
By Dennis Van Vliet, AuD
Good craftsmanship reflects pride in workmanship. We all should be proud of what we do as we guide our clientele along their journey to better hearing.
Over the past few months, I've been spending spare weekend time remodeling the barn my father built over 60 years ago. As I work my way around the structure, I gain more and more respect for the value of fine craftsmanship. Even though he was simply making a utility building, my father provided countless examples of excellent attention to detail in the construction. These touches of craftsmanship give me a greater sense of confidence about the integrity of the entire building.
This "quality effect" is somewhat universal. If we see poor craftsmanship on a new appliance or automobile, we naturally wonder what other details were slighted in the design and manufacture of the item.
It is no different with hearing aids. We sometimes hear of hearing aids referred to as a "piece of plastic" from prospective consumers who view hearing aids simply as a commodity. Our selection and fitting expertise and ongoing support ensure that the hearing system we have put together will provide years of benefit.
It is up to us to demonstrate to consumers the importance and value of our contribution to the process. As we combine our expertise with the product, there is good opportunity to show fine craftsmanship along with clinical expertise and counseling skills that will add to the global perception of quality in the fitting.
Starting with otoscopy, we can demonstrate that we are looking not only at the hearing loss but the static and dynamic aspects of the ear canal to determine the most comfortable and secure coupling of the product designed specifically for the patient we are serving. It may be easy to reach for a pair of generic tips to fit a thin-tube or receiver-in-canal (RIC) product, but is a generic fitting an example of fine craftsmanship? Does it ensure a secure and comfortable fit with optimal venting?
Often times, the generic tips are a good and comfortable fit. In those cases, however, we should be demonstrating our craftsmanship skills in ensuring that the angle and depth of the receiver or tubing tip is appropriate, and that the connecting tube or cable follows the contour of the skin from the aperture up to the behind-the-ear portion of the hearing aid, and is cosmetically appropriate, as well as secure and comfortable.
My preference is for custom-mold pieces on any RIC, behind-the-ear hearing aid, or custom product. The process of the impression, as well as the finishing and adjustment of the custom-fitted earpiece, not only yields a comfortable and secure fitting, but showcases our craftsmanship. Heating and shaping tubing and removal strands so that they are cosmetically and functionally appropriate is an excellent example of craftsmanship.
I'm sure most of us have seen someone out in public with earmold tubing routed in an awkward, unsightly manner. It doesn't build confidence in the fitting. Taking the time to fit the tubing nicely is a clear demonstration of good craftsmanship.
We know that venting can alter the sound quality of a hearing aid fitting to such an extent that it can make the difference between a successful or failed fitting. I think in today's market we are reminded less of this fact because of the preponderance of open fittings. There is still the need for us to learn and maintain our skills in shell and mold modification for venting, ease of insertion, and comfort.
Skills often require the proper tools. A good craftsperson has a good toolkit, and we are no exception. I was grousing to an earmold lab manager the other day about how difficult it is to drill a vent in a silicone mold, and she suggested a crosscut bur drill. Some of the newer materials react differently than some of the tools we may have used in the past, so it is a good idea to keep up with the earmold labs' recommendations for their products.
The Final Word? Good craftsmanship reflects pride in workmanship. We all should be proud of what we do as we guide our clientele along their journey to better hearing. If we apply skill and good craftsmanship in all aspects of every fitting, the hearing aid users should experience a greater perception of quality in their hearing aid system and may approach their role in their rehabilitation with greater confidence and a better chance of success.
Dennis Van Vliet, AuD, has been a prominent clinician, columnist, educator, and leader in the hearing healthcare field for nearly 40 years, and his professional experience includes working as an educational audiologist, a private-practice owner, and VP of audiology for a large dispensing network. He currently serves as the senior director of professional relations for Starkey Technologies, Eden Prairie, Minn. Correspondence can be addressed to HR or: [email protected]
Original citation for this article: Van Vliet, D. Attention to detail and why we should all take pride in our craftsmanship. Hearing Review. 2014, January: 54.