Bo Edin AB
UniVox hearing assistance systems are both cost-effective and unobtrusive. Unlike FM systems, induction loop systems are easy to maintain and are compatible with telecoil-equipped hearing aids–already owned by many hard of hearing people all over the world—so you don't need receivers or headphones for each hearing impaired individual.
+46 8 767 18 18
www.edin.se
Booth No 700
---
ClearSounds Communications
The ClearSounds line is fresh, new, and innovative, and introduces a completely new design to assistive communication products. ClearSounds is bringing essential features, such as Caller ID, speakerphone, and hands-free operation to the market in a style that appeals to a broader, active, style-conscious audience.
(630) 654-9200
www.clearsounds.com
Booth No 430
---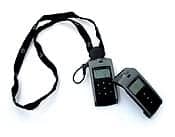 COMFORT AUDIO INC
Comfort Audio, headquartered in Scandinavia and founded in 1994, is internationally renowned as a maker of—and only of—high performance assistive listening devices. In the United States, where we opened an office in 2006, we offer our high definition, encrypted digital wireless FM system Comfort Contego HD and the versatile personal Comfort Duett. Our products are sold in the United States by audiologists and a network of assistive listening device distributors. Visit booth # 1763 where you will find our specially promoted audiologists' starter kit.
(310) 945-3048
www.comfortaudio.us
BOOTH NO 1763
---
Conversor Limited
The Conversor is an FM personal assistive listening solution for use with your existing hearing aid. The Pocket Listenor is an affordable, one-piece assistive listening device worn around the neck by users with Telecoil-equipped hearing instruments.
+44 (0) 800 298 9982
www.conversorproducts.com
Booth No 734
---
Geemarc Telecom Intl
Booth No 1989
---
Hanics Technology Co Ltd
Hanics Technology Co., Ltd. is the sole exclusive manufacturer of the Bone Conduction Headset. We have been in business since 1984. We have been assisting companies expand into new markets and as a result increased customer satisfaction and demands by providing new innovative products.
www.hanics.com
Booth No 337
---
HARC Mercantile Ltd
HARC offers over 500 assistive listening device products: TTYs, amplified telephones, alerting systems, and hearing aid supplies and accessories. ALD display units and ADA compliance consultation services.
(800) 445-9968
www.harc.com
Booth No 1724
---
HITEC Group
HITEC is a full-service distributor of assistive equipment. ClearSounds is bringing essential features, such as Caller ID, speakerphone, and hands-free operation to the market in a style that appeals to a broader, active, style-conscious audience.
(800) 965-9043
www.clearsounds.com
Booth No 432
---
LightSPEED Technologies
The REDCAT is an all-in-one classroom amplification system that works right out of the box and requires no installation. This system can be mounted on the wall like a picture frame, or placed on a bookshelf or desktop. It distributes sound evenly throughout the classroom and is specifically engineered to deliver outstanding voice intelligibility at a surprisingly low price.
(800) 732-8999
www.lightspeed-tek.com
Booth No 1871
---
Micro-DSP Technology Co
Booth No 1822
---
Phonic Ear
Booth No 1431
---
Sennheiser Electronic Corp
Full range of assistive listening devices for TV listening. Direct Ear Soundfield Amplification System for classrooms. Audioport A200, and Mikroport 2015 Personal FM. Audiometric headphones for high frequency testing. A world leader in microphone technology, RF-wireless and infrared sound transmission.
(877) 736-6434
>www.sennheiserusa.com
Booth No 1603
---
Sound Clarity
Booth No 2169
---
SoundBytes Booth
SoundBytes is a catalog, web, and retail-based company that offers a wide range of hearing assistive devices to benefit anyone with a hearing loss. In 2003, SoundBytes opened its first retail store within the League for the Hard of Hearing's New York City offices.
(888) 816-8192
>www.soundbytes.com
No 1818
---
Surefire
SureFire EarPro products include comfortable electronic and non-electronic communications earpieces for hearing protection and hearing enhancement.
(800) 504-5897
www.opticsplanet.net
Booth No 701
---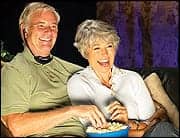 TV EARS INC
The Professional System works with standard, Plasma and LCD screen TVs and in the presence of flourescent lights. Transmission covers 2000 sq ft. The headset can also be used in movie theaters with 95 kHz wide area transmission. It features TV Ears proprietary Voice Enhancement Technology and our patented noise reduction TV Ears Tips. The system includes phone, voice and music cords and is neck loop compatible. Become a part of our growing network of Authorized Dealers by offering the best TV listening devices.
(877) 854-1040
www.tvears.com
BOOTH NO 309
---
Williams Sound
Williams Sound manufactures and markets a full line of assistive listening systems and devices, including personal amplifiers, amplified phones, personal FM systems, TV infrared systems, and a variety of accessories.
(800) 328-6190
www.williamssound.com
Booth No 1968