Williams Sound recently recognized its top sales award winner at its national sales meeting on May 21, 2013. The 2012 Representative of the Year award was presented to The Farm AV, based in Roseville, Calif.
The Farm AV represents Williams Sound in northern California, northern Nevada, Washington, Oregon,
western Montana, and Idaho.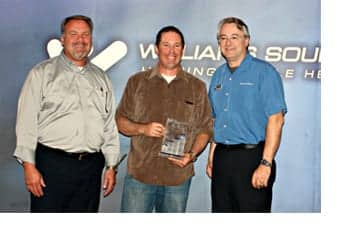 Williams Sound regional sales manager Reid Peterson (left) and president and CEO Paul Ingebrigtsen (right) present the 2012 Representative of the Year award to John Hood of The Farm AV.
Franck Fabry, vice president of sales at Williams Sound, commented at the meeting, "John Hood and his team have proven to be an extremely adaptable, responsive, and knowledgeable team of professionals. The Farm AV satisfies our commitment to expanding market share in Northern California and the Pacific Northwest territories, and to exploring innovative ways to distribute assistive listening, tour guide, and language interpretation solutions through qualified niche partners. Williams Sound couldn't be happier to recognize The Farm AV with the 2012 Representative of the Year award."
Reid Peterson, regional sales manager, added that The Farm AV brought Williams Sound an array of new opportunities in 2012, from large stadiums to convention centers, tours, and language translation. "The Farm AV is well-respected within the pro sound and AV industry across the Pacific Northwest, and we are proud to be associated with them," he said.
Williams Sound designs and manufactures wireless communication technology, including induction loop systems, digital communication systems, FM listening systems, and other hearing enhancement systems, to help those with hearing loss.
SOURCE: Williams Sound