By Garry Gordan, E.A.R.Inc CEO
Minuendo, a manufacturer of adjustable ear plugs, announced that it will supply its Minuendo Lossless earplugs to E.A.R. Customized Hearing, a distributor of hearing protection products and systems in North America. E.A.R. Inc is also a platform for hearing loss prevention education and seminars. The announcement appears on the E.A.R. Inc website.
Related article: E.A.R. Inc Announces 2021 Training Programs
As technology and awareness improves with regard to hearing loss prevention, Minuendo continues to strive to bring its products to audiences who may be concerned with the long-term effects of prolonged exposure to noise levels that exceed acceptable standards. According to the companies' announcement, the agreement with E.A.R. will help allow Minuendo products to be sold to markets that may need to mitigate this adverse exposure, and reduce the possibility of permanent hearing damage, and suffering due to conditions such as tinnitus or hyperacusis.

"We are delighted that E.A.R has joined our distributor network," said Tom Trones, Chief Product Officer and Co-founder, Minuendo. "And with their experience and strong reputation, we are confident that they will be a great ambassador for us in North America."
"The adjustable earplugs by Minuendo Lossless earplugs are well-designed, and we think they will help fill a need for audiologists looking for additional options when recommending hearing protection for clients," said Garry G. Gordon, MS and CEO, E.A.R. Inc. "As we expand our hearing education training courses and seminars, and continue to grow our provider network, these are the kinds of products that align with our objectives."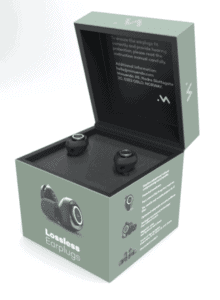 Key Features:
• The "world's only" variable passive HiFi filter.
• Stepless manual adjustment (7-25dB).
The Minuendo Lossless earplugs are currently available on the E.A.R website at: https://earinc.com/product-category/music-audio/.
E.A.R., Inc was founded in 1971 by Garry G. Gordon, MS (Audiologist) and his advisers to support the needs of major corporations attempting to comply with state and federal workplace noise regulations.
Minuendo has created "the world's first adjustable HiFi earplugs with patented membrane technology that mimics nature works as a second eardrum and keeps the user protected with natural high-fidelity sound, while also giving it a seamless adjustment between light (-7dB) and heavy (-25dB) sound reduction."
Source: E.A.R. Inc, Minuendo
Image: E.A.R. Inc, Minuendo