Howard Payne House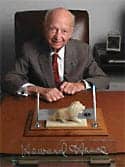 Howard Payne House, Founder of the House Ear Institute, Succumbs at 95
In a career that spanned more than six decades, House was noted for his dedication to the advancement of hearing research and health care
Howard Payne House, MD, founder of the House Ear Institute (HEI), Los Angeles, and pioneering ear specialist, died of heart failure on August 1, 2003. House established HEI in 1946 as a research facility dedicated to the advancement of hearing research and practiced otology at the House Ear Clinic in Los Angeles. During his 64-year medical career, House treated thousands of patients, including Hollywood notables Howard Hughes, Bob and Dolores Hope, Nanette Fabray, Phyllis Diller, Florence Henderson, and former President Ronald Reagan.
"It is an overwhelming loss for many who found in him a mentor to guide them in their clinical and applied research," says James D. Boswell, CEO of the House Ear Institute. "By establishing an international ear research and education center, Howard provided thousands of ear specialists around the world with the opportunity to attend unique surgical courses and benefit from the Institute's research achievements."
Presidential Recognition
Former President Ronald Reagan once wrote of House, "Dr Howard House is an outstanding example of what has made America great. Our country is so full of wonderful men and women who, like him, through diligent effort and creative drive, have made a tremendous difference in our world and brought to pass amazing scientific discoveries that have helped countless people everywhere."
A graduate of the University of Southern California Medical School, House perfected the wire loop technique to replace the stapes bone of the middle ear and developed procedures to reconstruct middle ear parts. Under his leadership, HEI was the first to adapt movie cameras and accessories for use with a surgical microscope to create professional, medical training films. In 1947 he was appointed Chairman of the Subcommittee on Noise and directed the national study on industrial noise that set the Occupational Safety and Health Administration (OSHA) hearing conservation standards in use today. House was head of the Department of Otolaryngology at the USC School of Medicine from 1952 to 1961 and served on the faculty as clinical professor of otology.
An International Presence
During his lifetime, House was internationally recognized for his contributions to hearing science and received numerous honorary degrees and Lifetime Achievement Awards. He served as president of the American Academy of Otolaryngology—Head and Neck Surgery, the Asociacion Panamericana de Oto-Rino-Laringologia y Broncoesofagologia, the American Otological Society, Salerni Collegium USC, and the Centurion Club of The Deafness Research Foundation. House was also recipient of USC's Outstanding Career Service Award, and named Physician of the Year by both the President's Committee and the California Governor's Committee for Employment of the Handicapped.
He is survived by his sons, Kenneth M. House, MD, and John W. House, MD, and daughter Carolyn Helmuth; his brothers William F. House, MD (pioneer of neurotology and the cochlear implant), and James House, DDS; and nine grandchildren.
"My father's mission to advance hearing science through research and education lives on at the House Ear Institute," says John W. House, MD. "Dad was proud that under his leadership, the Institute became internationally recognized as a center of excellence where researchers and physicians work together under one roof, investigating novel treatments for those with hearing loss and related disorders."
Memorials may be made to further the research and education that was House's life work and passion. Contributions can be sent to the Howard P. House, MD, Endowment Fund at the House Ear Institute, Development Office, 2100 West Third Street, Fifth Floor, Los Angeles, CA 90057-1922.