Based in Eden Prairie, Minn, Interacoustics offers a comprehensive product line to the hearing health care professional. Specifically developed for clinical and diagnostic testing, Interacoustics products interconnect to a proprietary database software program as well as to versions of NOAH. Many of the instruments also offer direct printout options.
Interacoustics
7625 Golden Triangle Drive
Eden Prairie, MN 55344
Phone (800) 947-6334
Fax (952) 903-4100
www.interacoustics.com
Quality for the Contemporary Clinic
With a product line that includes not only a complete range of audiometers and immittance instruments, but also advanced ABR, VNG, OAE, and rhinometry products, the wide range we have to offer might be enough to make us different from everyone else. But our philosophy really is not about that. Instead, we want to make a difference in your clinic.
We offer products that are easy to work with, fit in well with the flow of your work space, have features that make your day simpler, and provide accurate results for hundreds of tests. In short, products that add to the quality of your work day.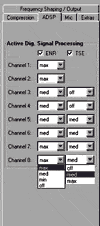 Interacoustics' top-of-the-line AC40 is a comprehensive audiometer, specifically designed for advanced clinical applications.
Designed specifically for clinical and diagnostic testing, our products interconnect to a proprietary database software program as well as to versions of NOAH. In addition, direct printout options are an option on many of the instruments. And as technology changes, as health care changes, as the economy changes, we change too. You live and work in a fast-paced world, and our dedication to your contemporary clinic means we will keep the pace with you.
And it is not just about the products. You also need service. When you own our products, you become our partner. We want to hear from you whether you have questions, comments, or suggestions. As a company that has been building its reputation for decades, we can promise we will be here for you for a long time to come.
Products to Promote
The AA222 Audio Traveller clinical audiometer/middle ear analyzer combination has a hard shell carrying case that can also hold accessories. Its full complements of diagnostic middle ear analyzer tests plus diagnostic audiometry are all included in one unit. Also print test results on the spot with the internal printer or connect it to a laptop for storing or printing reports using NOAH or Interacoustics' IABaseII software.

The AA222 Audio Traveller is a clinical audiometer/middle ear analyzer combined in one unit.
Another immittance audiometer, the AT235 includes a unique "multi-probe" feature that quickly transforms the standard clinical probe into a pencil probe for screening procedures. The AT235 smart software recognizes which probe is in use and automatically compensates for calibration differences. The AT235 is also available with a high-frequency probe tone option (the AT235h) for even more reliable results when testing newborns.
The AD229e is a powerful multipurpose clinical audiometer in a small package. Connect a keyboard to input patient data, transfer data to NOAH, and generate professional reports with a direct printer connection.
Interacoustics' top-of-the-line audiometer, the AC40, is a comprehensive audiometer specifically designed for advanced clinical applications. Preprogrammed and automated testing features are simple to access and save valuable time. It comes standard with high-frequency audiometry, RS232 and external printer port, multifrequency, MLD, built-in free field amplifiers, large LCD screen, and more.
In addition, Interacoustics offers the VO25 VNG system—a complete oculographic analysis system that is easy to administer and comfortable for the patient. While traditional electronystagmography has the same challenges as most electrode-based systems, the VO25 uses high-resolution cameras with infrared illumination to provide qualitative eye movement measurements. Disease processes and their effects can be visualized by both patients and students while being described by the clinician.