Expert manufacturing and engineering techniques give In'Tech Industries Inc a distinctive edge in the audiology arena.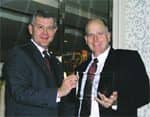 In'Tech Industries Inc might not be a household name, but without the Ramsey, Minn-based component manufacturer, many name-brand companies would be hard-pressed to deliver their signature products.
The family business, started by Roger Neilson, Sr, and his son Mark was spun off from another family manufacturing and tooling company, NAR, in 1990. In addition to the senior Neilson and son Mark, another Neilson sibling, Roger, Jr, works at the company. Working with his father and brother has been a rewarding experience, says Roger, Jr, who is vice president of sales and marketing. "You expect more commitment from family," he says.

From left, Randy Stevens, operations manager VTM; Mark Neilson, vice president of operations; and Roger Neilson, Jr, vice president of sales and marketing.
The company does all of its research and development, manufacturing, and sales out of its Minnesota location. The company's 95 employees interact with one another in a highly collaborative manner with those in engineering, manufacturing, and sales working together to deliver the custom-designed products that customers want. "The core of our engineering department has a very solid understanding of mold making, how to build the tools, and how to build them in quality. So when we're going into production, we're building a quality product off that end as well," says Mark Neilson, who is vice president of operations. "Having the tool room here, understanding what's involved in tooling, understanding the process that goes on with injection molding all lend to our ability to create designs that are workable, affordable, and desirable."
Though In'Tech sells its products and engineering services primarily via inside sales, when one of the company's salespeople does go on the road, engineers sometimes go with them, supporting the sales efforts.
A Full Line of Hearing Instrument Components
The company sells a full line of hearing instrument components including faceplates, battery doors, mic hoods, digital earshells, and wind screens. All of In'Tech's customers are hearing instrument manufacturers.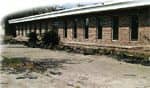 An aerial view of In'Tech Industries Inc in Ramsey, Minn.
In'Tech does design many of the components it sells, but it also offers a full engineering service to its clientele. Customers can come to In'Tech with either a rough idea or a concept and the company's engineers will turn it into a reality. "We listen to the customers and try to figure out where their issues lie, what they're struggling with, what they see can be improved upon," says Mark. "We also will [address a particular engineering problem] and we'll try to resolve it. A lot of times in those situations, we try to share involvement. If it's an idea we do most of the engineering for, we'll give exclusive rights for that for a period of time and then market it to the rest of the industry." Developing a custom product can take anywhere from a few weeks to several months of design, tooling, and manufacturing.
During this process, In'Tech becomes a kind of surrogate part of the customer's organization. "A lot of the smaller companies don't have the engineering teams that the larger companies do," says Roger, Jr. "We know what can be done and can't be done from a tooling and manufacturing standpoint when it comes to injection molding."
It is In'Tech's manufacturing and engineering techniques that make the company stand out, says Mark. "A lot of times we do a lot of engineering work for projects that we don't even charge engineering time for." Mark adds that some engineering costs are recouped from product sales.
Aiding In'Tech's engineering superiority is the company's Virtual Translation Manufacturing (VTM), which it uses to make digital earshells, resulting in a better product for customers and end users. "There has been a long-standing method of making earshells that has worked for the industry. But with the latest trends over the last few years in both materials and software and increasing accuracy in rapid prototyping, technology has allowed us in the industry to benefit from much more accurate reproduction from the impression to a digitally manufactured earshell. It improves satisfaction for customers," says Randy Stevens, operations manager of the VTM Lab.
The four-man VTM Lab has been in operation for the last 3 years and has also become an integral part of the design process with virtual prototyping occurring first, followed by a physical prototype, which ends in tooling and manufacturing. It is a process that allows for more collaboration with clients and saves both time and money for In'Tech and its customers.
The company also uses this process to develop company-driven ideas, which are originated in collaborative brainstorming sessions.
To meet ever-fluctuating, and increasing demand, the company has developed an innovative manufacturing schedule—running at only 80% of capacity. "That's our average last year and what we did last month and this month we probably had a 50% swing. And we've been successful in handling that, so I don't see it as a problem," says Roger, Jr. "We're currently running one shift, so we always have the option of running two or three shifts, which in a sense can triple your manufacturing ability. As it comes, we'll adapt."
In'Tech's relationship to its customers does not end once a new item is manufactured and delivered. The company offers a full range of customer support.
The company markets its products in a variety of ways including print advertising and attendance at trade shows. Customers also come to them via word of mouth referrals.
In'Tech sells its products all over the world. According to Roger, Jr, between 50% and 60% of its sales are international.
The company, as it always has—and as evidenced by the VTM Lab—continues to look forward, and change will remain the constant as In'Tech does business in the future. "This technology is moving very fast," says Stevens. "Developments in software and material sciences are constantly changing and improving. It's opening up new doors of opportunity for us. So I think it's constantly evolving."
N. L. Shepherd is a contributing writer for Hearing Products Report.