TOP NEWS and HEADLINES
Sycle.net Launches Hearing Aid Lead Generation Service
Obituary: Kenneth Dahlberg, Founder of Miracle Ear
New Esteem Cochlear Device from Envoy Medical Gets Viral YouTube Attention
New Stem Cell Therapies Being Developed for Hearing Loss
UnitedHealth Group Subsidiary to Market Direct-to-Consumer Hearing Aid
UnitedHealth Enters Hearing Market: HR Interviews hi HealthInnovations CEO Lisa Tseng, MD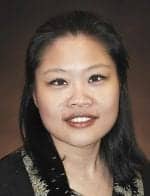 Lisa Tseng, MD
As Hearing Review reported in the October 3, 2011, HR Online News (www.hearingreview.com/news/2011-10-03_02.asp), hi HealthInnovations, Minnetonka, Minn, a subsidiary of UnitedHealth (UNH) Group, is now offering hearing aids discounted to their members (and with no out-of-pocket costs to certain Medicare Advantage members) as well as direct-to-consumer hearing aids for people outside the UNH network for $749 to $949.
HR interviewed hi HealthInnovations CEO Lisa Tseng, MD, and learned more about the company's plans and reasons for entering the hearing aid business. The following is an edited first portion of an extended article that is available online at www.hearingreview.com/news/2011-10-11_01.asp
hi HealthInnovations is currently offering four styles of instant-fit devices—two BTEs (standard BTE and mini-BTE), an ITC, and a power BTE—that rely chiefly on open-fit technology. These devices are selected and programmed using the company's proprietary online At-home hearing test, and the resulting data is used to program a hearing aid that contains three programs/memories for the consumer to choose from. (Although there is a Power BTE option in the company's product line, that device requires the services of a hearing care professional due to the requirements of a custom earmold, venting, and specialized programming.)
Dr Tseng said that the At-home hearing test was developed by audiologist Dianne Van Tasell, PhD, and a team of experienced audio engineers using a variety of approaches to arrive at the gain settings for the three programs/memories. The hearing aid is manufactured by the nearby manufacturer Intricon (formerly Resistance Technologies Inc or RTI), in Arden Hills, Minn, a long-time supplier of components to the hearing industry. UNH is an insurer that serves 10 million Medicare beneficiaries. So its announcement of offering in-network and direct-to-consumer hearing aids was met with considerable trepidation by industry and dispensing professionals, and an HR Online poll indicated that over half of readers believe that UNH is a "game changer" relative to hearing health care business dynamics.
In her interview with HR, Dr Tseng emphasized repeatedly that hi HealthInnovations is eager to work with all hearing care professionals in expanding the hearing health care market. The company plans to build a referral network for those consumers who do not fit into what she describes as the conservative fitting guidelines of the company's devices, which are intended for mild to moderately severe loss (ie, open-fit range).
According to Tseng, the most innovative part of the company's offering from a technological standpoint is its unique At-home online hearing test. She says that understanding the test and its purpose is key to understanding the company's business model and differentiation.
(As noted, this article was originally published online. Read more about the At-home testing model and Dr Tseng's thoughts on including the hearing health community in the company's business at www.hearingreview.com/news/2011-10-11_01.asp.)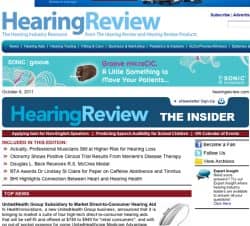 Get Your Weekly Edition of THE INSIDER
Every week The Hearing Review sends out THE INSIDER, a weekly FREE e-newsletter devoted to the top hearing-related news, research, product introductions, fitting topics, and marketing research stories that are influencing your business or practice, as well as the industry at large. [register]Sign up for your free subscription[/register].