Starkey Hearing Technologies announces the success of its Synergy® platform, which is driven by its quad core twin compressor technology and powers the company's Muse™ wireless hearing aids. Starkey also announces that it is extending the success of Synergy with the launch of the Muse BTE 13 hearing aid that is particularly suitable for music lovers.
Synergy and the new ultra-high definition operating system, Acuity™ OS, enable multiple sounds such as speech and music to be processed uniquely. For the first time, speech is crisp and distinct, ambient sounds are natural and music is rich and immersive, even in complex listening environments. According to Starkey, a unique music prescription developed with input from both professional musicians and current hearing aid wearers ensures musical listening is clear, crisp, and enjoyable. The new prescription is designed to accommodate music's dynamic acoustics and spectral characteristics. A higher sampling rate also extends the hearing aid's bandwidth up to 10kHz, enabling music to sound richer and fuller.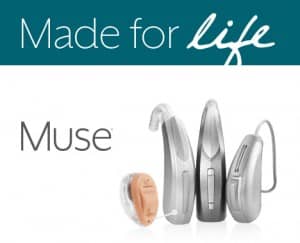 The new Muse BTE 13 includes all the features of Starkey's Muse wireless hearing aids along with a rocker switch and telecoil. It is also available in a CROS System option for those with single-sided hearing loss. Highlighted benefits of Muse hearing aids include high-definition ear-to-ear streaming; unique processing of music apart from speech; a music memory that can be personalized for users' listening desires; tinnitus relief technology; a full line of custom and standard products; compatibility with Starkey's line of SurfLink wireless accessories; next-generation feedback cancellation, adaptive noise management and directionality, and moisture and wax repellent technology Surface™ Nanoshield.
"Including a BTE 13 in the Muse family means that we are able to provide more options for patients and ensure that better hearing is available for a variety of hearing losses," said Starkey Vice President of Education and Audiology Sara Burdak. "Every patient is fit uniquely, and the BTE 13 offers all the great benefits of our Muse hearing aid technology with added features."
For more information about Muse hearing aids, visit, the Starkey website.
Source: Starkey Hearing Technologies