Earlier this year Turtle Beach Corporation, an audio technology company, announced research regarding the use of its HyperSound® Technology directed audio to alleviate tinnitus.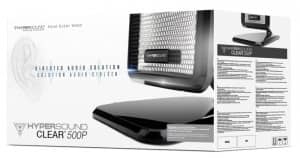 The company has received FDA clearance of its new Tinnitus relief feature for its HyperSound Clear™ 500P home audio system. The new Tinnitus add-on works in addition to the HyperSound Clear 500P's already proven ability to improve the home entertainment listening experience for people with hearing loss.
Commonly known as "ringing in the ears," tinnitus is the perception of sound when no actual external noise is present, and there is currently no cure for most types of tinnitus.
"We're committed to advancing the clinical capabilities for how HyperSound Technology can help individuals with hearing issues," said Rodney Schutt, SVP and General Manager for the HyperSound business at Turtle Beach Corporation. "HyperSound is still in its infancy as the HyperSound Clear 500P has been out less than a year, and in that time we've addressed two prominent hearing healthcare issues. First, we've re-created a comfortable home entertainment environment where people with hearing loss and their family and friends can return to the TV room and enjoy the latest entertainment together, and now we may be able to provide relief for people suffering from tinnitus…and we plan to continue to research and test other areas where HyperSound Technology may have the potential to be a hearing healthcare solution or provide exceptional improvements in the home entertainment environment."
"As a hearing healthcare professional, I'm very excited to be part of another significant breakthrough in hearing healthcare, driven by Turtle Beach's HyperSound Technology and backed with our research," said Dr Ritvik Mehta, founder and medical director of the California Hearing & Balance Center. "Our clinical study included 11 adult patients living with chronic tinnitus, and initial results demonstrate impressive reductions in tinnitus loudness and annoyance when sitting in the HyperSound Clear 500P's directed audio beam using the tinnitus add-on."
While there's no cure for tinnitus, one of the current treatment methods is to wear headphones, earbuds or a hearing aid that delivers sounds to cancel-out the perceived ringing in the ears. Unfortunately, while an effective solution, wearing any of these devices can be uncomfortable, especially over long periods of time and at night when trying to sleep.
The new Tinnitus add-on for Turtle Beach's HyperSound Clear 500P comes pre-programmed with nine soothing sounds, including steam, rain, wind, fan, shower, forest, waves, white and brown noises from which users can choose, and when pointed at a person with Tinnitus, may relieve the "ringing in the ears" sound. The key difference with the HyperSound Clear 500P, according to the company, is that now people have the freedom to sit in their favorite spot in the house, or sleep comfortably in their bed without wearing any device on their head. This has the potential to improve the quality of life for somebody living with chronic tinnitus.
HyperSound Technology is a fundamentally new approach to sound delivery that generates a directional, narrow beam of audio in the air that can be pointed to a very specific location. Similar to how a flashlight directs a beam of light, the HyperSound Clear500P directs a beam of audio to targeted listeners, delivering an immersive, 3D audio experience, which helps people hear and understand the television more clearly.
To learn more about Turtle Beach's HyperSound Technology, the HyperSound Clear 500P and the new Tinnitus add-on feature, please visit the HyperSound website.
Source: Turtle Beach Corporation