Donna Brown, long-time tinnitus sufferer and member of the American Tinnitus Association (ATA), will summit Oregon's Mt Hood on July 11-12, 2013 as a fundraiser for the organization.
With an elevation of 11,240 ft, Mt Hood is the tallest mountain in Oregon and one of the most popular
and well-known glacial peaks in the Cascade range. Approximately 10,000 people attempt to climb Mt Hood every year, and with 12 glaciers, it is technical to climb even in the summertime.
All of the funds donated to support Brown's effort will be restricted to funding research through ATA's research grant program.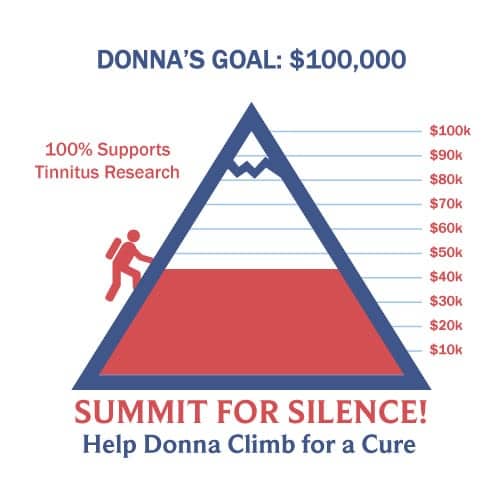 "Nearly 20 years ago, tinnitus shattered my world and I could barely climb out of bed; nothing in life could have prepared me for the 24/7 agony of tea-kettle-whistling in my ears," recalls Brown. "If you don't have tinnitus, it's hard to understand just how disabling this condition can be; it's a sound that you cannot escape from, that follows you around wherever you go and can interfere with sleep, cognition, and daily life in general. I may be 61 years old, but believe me, you're never too old to make a difference in something that you really believe in, and for me, it's a tinnitus cure," she said.
Brown, of Colorado, has always been an outdoor enthusiast. In 2007 she successfully climbed another Cascade peak, Washington state's Mt Rainier. Her success both on the mountain and on the fundraising front helped ATA fund the most research it had ever funded in a single year. As a result, Brown decided that she wanted to help hasten the pace of research once again with another summit attempt.
To learn more about Brown's efforts or to contribute to the success of her climb, visit: www.ATA.org/donna-brown-2013. Her personal goal is to raise $100,000. All those who make a donation of $100 or more will be included on a special banner that she will unfurl at the mountain top.
SOURCE: American Tinnitus Association