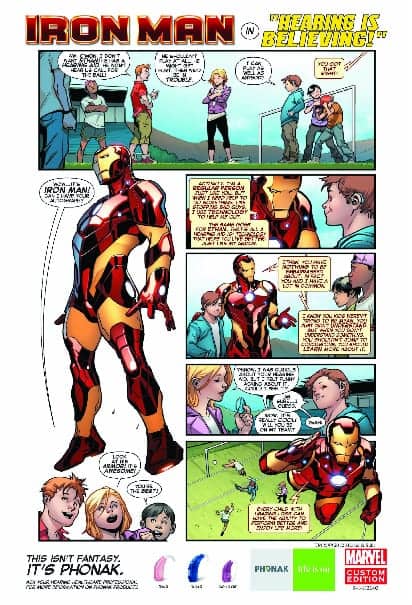 Phonak, Warrenville, Ill, has announced a partnership with Marvel Custom Solutions to produce an educational poster (shown at right) featuring Iron Man. Geared for children, it highlights the positive benefits of hearing aid technology in support of an enhanced quality of life among those with hearing loss.
Phonak was inspired by a story about 5-year-old Phonak hearing aid wearer, Anthony Smith from New Hampshire, who told his mother that he did not want to wear his hearing aid to school because "Super heroes don't wear hearing aids." A request from Anthony's mother resulted in Marvel creating a specially designed super hero, The Blue Ear, whose hearing aids give him Super Hero ability to hear others in need of help.
"It was a great story about how Marvel came to the rescue to reinforce a child's belief in Super Heroes— and in the process— belief in himself to overcome the challenge of wearing hearing aids," said Phonak President Jeff Newnham. "Given that Phonak's purpose is to enrich the lives of the hearing impaired, we used Marvel's ingenuity as our motivation to create an inspirational message for the greater population of children with hearing loss."
The poster — designed to be displayed on kids' bedroom walls—features the hugely popular Armored Avenger known as Iron Man, and is currently being distributed to pediatric hearing practices throughout the country via Phonak. One special poster has been reserved for Anthony as thanks for sharing his inspiring story. Iron Man made a special appearance Tuesday at the Center for Hearing and Communication in New York City to present the poster to Anthony and his family.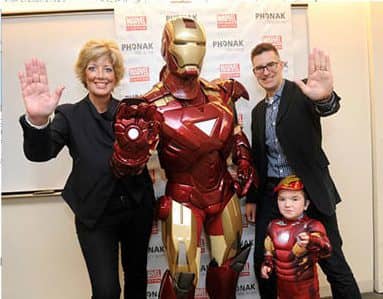 Kimberly Rawn from Phonak and Bill Rosemann from
Marvel Comic Solutions joins Iron Man and Anthony
Smith at the special Iron Man Poster Event held in New
York City on February 26.
"Anthony's story reminded us that everyone, despite of or even because of their challenges, can be an inspiration to others," said Marvel Custom Solutions Editor Bill Rosemann. "It was our honor to work with writer Christos Gage and artist Paco Medina to create this exciting and educational poster that we hope will help spread the word that everyone deserves to be treated with respect, and that we all have the capability to unleash the hero within."
When asked what he thought of Phonak's gesture, Anthony replied, "GREAT! I can't wait to put it on my wall with all of my super heroes!"
Other children from the Center for Hearing and Communication in NYC were also in attendance and an Iron Man poster was presented to each young guest.
"The poster that was created as part of the partnership between Phonak and Marvel Custom Solutions will be helpful in removing the stigma associated with children wearing hearing aids," said Laurie Hanin, PhD, executive director of the Center for Hearing and Communication. "We feel honored to be part of such a special event celebrating an exceptional young man."
Phonak customers who wish to receive copies of the Phonak Iron Man Poster can request them from their Phonak sales representatives or call Phonak at (800) 777-7333.
Source: Phonak