Lantos Technologies, announced the US release of the industry's reportedly only FDA, 510(K)-cleared, 3D ear scanning system. With what the company says is more than 22,000 scans performed and over 4,700 individuals now fitted with custom devices, Lantos has helped demonstrate the value of 3D ear scanning to patients, clinicians, and manufacturers. 
Lantos will launch its commerically available, 3D ear scanning system at the 2019 American Academy of Audiology's (AAA) Annual Conference, March 27-30, in Columbus, Ohio. 
Click below for Lantos' infographic detailing the 3D ear scanning system's reach.
Lantos By The Numbers_11 March 2019 FINAL
"I have long been an advocate for the benefits of custom hearing solutions, but after working with patients for 20 years, I am all too familiar with the limitations of earmold impressions," said Audiologist Brian Fligor, ScD, a current private-practice owner and advisor to Lantos Technologies. "Ear scanning with the Lantos system removes the historical limitations of the process and empowers both me and my staff to give patients the optimal personalized hearing solutions they deserve. I'm proud to deliver this unique patient experience, which differentiates my practice."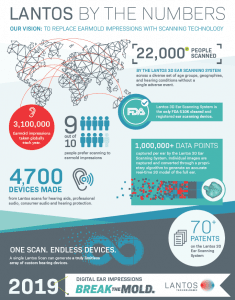 A departure from the routine of traditional silicone earmold impressions, Lantos is said to leverage patented membrane-based scanning technology that captures over 1 million data points from the outer ear to within 4mm of the eardrum in just one scan. That detailed ear scan data is captured in a user-friendly digital workflow engine and provided to partners for manufacturing via the cloud. The result is "a personalized hearing solution, customized exactly to the patient's precise needs and anatomy, delivered in less time."
"The advancements in hearing aid technologies have been impressive in recent years, but audiologists and their patients are challenged to fully realize them because earmold impressions are inefficient and ineffective," said John Bojanowski, CEO of Lantos Technologies. "It is time to supplant earmold impressions and make personalized hearing a priority by embracing technologies that enable customization without sacrificing quality or patient experience."
Led by a team of audiologists, Lantos provides a three-part training program that includes online courses, in-person training, and additional events. Upon completion of the training program, practices streamline their ordering process by immediately sending scans to preferred manufacturer partners for faster and more precise production.
For more information or to see how the Lantos 3D ear scanning system is unlocking personalized hearing for many, visit our website here or click here to schedule a personalized demo at booth #543 at AAA, March 27-30th in Columbus, Ohio. 
Additional links 
Source: Lantos Technologies
Image: Lantos Technologies