A Los Angeles Times article of April 5, 2008, reporting on a courtroom appearance by the comedian Chris Rock, commented as follows: "Uncharacteristically sober-faced and soft-spoken, one of the funniest men in Hollywood whispered his name into the microphone as he took the witness stand in the federal trial of [Anthony] Pellicano, who is charged with wiretapping and racketeering. 'Mr Rock?' US District Judge Dale S. Fischer said brightly. 'Project, please!' as she waved her arm out toward the courtroom."
What Rock thought of this instructive judicial jest is something only he would know, but to the hearing-impaired, as well as nonimpaired key personnel, the audibility of courtroom deliberations is no laughing matter. As the outcome of proceedings may hinge on a single spoken word, it is crucial that witnesses, attorneys, and judges be clearly heard, and this is often a problem in courtrooms hindered by noise and poor acoustics.
As in any institutional setting where they are mandated by the Americans with Disabilities Act (ADA), and with one in 10 Americans suffering from hearing loss, assistive listening devices (ALDs) have been used in courtrooms for some time, but it is only recently that a courtroom listening system has been introduced that appears to deal equally effectively with the twin hurdles of sound amplification and noise reduction.
The Comfort Contego® HD Courtroom Listening System, is manufactured in Halmstad, Sweden, by Comfort Audio, which has its domestic headquarters in Chicago. The system arrived in this country just a year and a half ago, and is gaining traction in the American market. That it is of Scandinavian origin is not surprising, as Denmark led the way in the creation of audio assistive devices after its government was prompted by the hearing problems of returning veterans of World War II.
SECURITY
The Comfort Contego is distinguished by two significant advances in ALD technology. One is the superior sound quality, which is achieved with a unique digital processing sound system that eliminates distortion and can be carried over multiple channels, and the other is signal encryption, a courtroom listening industry first, which prevents electronic eavesdropping. This can be especially important in situations where passersby outside the courtroom who are carrying FM receivers might be able to pick up confidential communications between attorneys and their clients, etc. The transmitter and receiver in the Comfort Contego system are paired by the transmitter sending a coded signal to the receiver. This digital, coded radio transmission makes it impossible to intercept a conversation.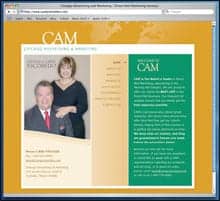 Comfort Audio's Comfort Contego HD Courtroom Listening system.
The Comfort Contego Courtroom system is actually an augmented version of the earlier introduced personal version. The technology is the same, but the system comes with three receivers plus a transmitter, instead of the single receiver and transmitter that come with the personal model. The total Contego package also includes three headphones, three neckloops, one sound kit/audio cable, two charge units, and operation manual, and is housed in a convenient, lockable, aluminum carrying case.
There are no wires or any other installation, so the Contego is completely portable and, with its secure transmission and multiple channels, presents a very secure, flexible system adaptable to many uses in the courtroom setting. In addition to providing better hearing with secure transmission for client-attorney teams, the system can be utilized by court interpreters, since it has 38 multiple, separate channels for carrying different languages. And with its ability to filter out extraneous noises, the Contego is also a boon for court reporters, who need to accurately record every word of the proceedings.
The transmitter and receivers are lightweight units—each about 2 ounces—that have built-in zoom microphones that are directional and omnidirectional, and volume controls that can be adjusted remotely from each receiver for maximum sound customization. The transmitter has a range of up to 75 feet, an operating time of 16 hours, a frequency range of 904 to 926 MHz, line-in and microphone inputs, and a built-in antenna. The battery is a rechargeable, environmentally friendly lithium-ion with a charging time of 4 hours. The Contego can be utilized with or without hearing aids that use a headset or are T-coil equipped, is FCC and CE approved, and follows guidelines mandated by the ADA for the hearing impaired.
The Contego T900 transmitter and R900 receivers are sleek and modern in appearance, resembling an iPod. The stylish look was one of the focal points in its development.
FOR THE RECORD
Quotes appearing in this feature from Comfort Audio CEO Ragnar Ahgren originated in a November 2008 interview conducted by Audiology Online (available here) and should have been so attributed. Hearing Review Products regrets the error.
"We focus on design because we think that an ALD should look like an MP3 player," says Comfort Audio CEO Ragnar Ahgren. "It should look nice, something you want to have yourself. We really like our products to look like they could be used by anyone, not just someone with a special need or condition, and we think we've achieved that. Design is very important for us. In Sweden and Denmark, there is a big focus on design in many industries."
Pleasing design notwithstanding, it's really the technology behind the Contego that has resulted in its market-saturating potential. Ahgren himself comes from a background as a technical physics engineer.
"I started in engineering, producing radioactive nuclides for positron cameras. About 20 years ago, I started working for a company called Transistor that manufactured hearing aids and assistive listening devices. That company was later bought by GN ReSound, so I worked there at first on the technical side of the business. During that time, I found my interest was turning more and more toward people, so I got involved in sales and marketing."
Ahgren joined Comfort Audio in 2002 because, he says, "they were looking for someone with experience in this field, and I thought they had very interesting and innovative products." Originally, he explains, the founders of Comfort Audio, August Pansell and Carljohan Lagervall, "discovered that there was a need for developing equipment for people with hearing impairments to use in work settings. This led to a system that utilized a microphone that could be placed on a conference table, and would transmit all the voices around the table to a body-worn receiver."
This early development was an infrared system, which requires a direct line-of-sight between the transmitter and the receiver (like a TV remote control). "There were disadvantages with infrared," comments Ahgren, "so we developed FM systems that used the European standard of 200 MHz."
The next step, says Ahgren, was the development of the digital communication system. "That's our Comfort Contego," he says. "which is a digital audio streaming system that technologically is somewhat similar to Bluetooth." Compared with Bluetooth, however, the Contego uses very little power and has no delay when transmitting. Ahgren points out that the absence of a delay is crucial for people with hearing impairments who use lip reading in addition to their hearing. "It's very important to hear the signal at the same time you see the speaker's lips moving."
Ahgren notes that his company makes assistive listening devices, not hearing aids. "We are not focusing on hearing aids but rather on systems that can be used together with hearing aids or, in some cases, instead of hearing aids."
Although Comfort Audio is careful not to suggest that its ALDs are to be used as substitutes for hearing aids, it has received impressive testimonials from people who have benefited from using the Contego personal system, such as an elderly woman in Ohio whose son-in-law reported: "I recently purchased the Comfort Contego for my 95-year-old mother-in-law. With her profound hearing loss, estimated to be nearly 90%, she has purchased three different expensive sets of hearing aids plus had dozens of visits to audiologists and ENT physicians over the past few years with no real benefit. When I gave her the Comfort Contego, she was immediately able to hear normal conversations without any difficulty, without the use of any hearing aid. She was also able to attend a weekly lecture at her independent living facility and hear every word—for the first time in more than 2 years."
Regarding the issue of hearing aids versus assistive listening devices, Ahgren says, "The latest hearing aids have great technology, and can improve signal to noise ratio by +3 dB, or up to +6 dB with directional microphones added to the hearing aid. But if you then add wireless microphone systems (like the Contego), you can certainly have on the order of 15 to 30 dB better signal to noise ratio, which is impossible with hearing aids alone."
In addition, says Ahgren, "We know from statistics from Germany, for instance, that perhaps up to 30% of people coming into the audiologist's office with hearing loss are leaving with no solution for their problem. It's very important that professionals offer a range of solutions at all price points—from ALDs to a full range of hearing aids from entry level to premium. And in addition to optimizing communication, professionals can certainly profit from this equipment, and obtain and maintain customers."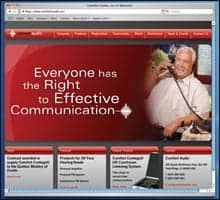 Comfort Contego HD
ORDER IN THE COURT
As for the future place of Comfort Audio's equipment in the courtroom, the situation looks promising in several states conducting evaluations. that may result in the implementation of the Comfort Contego® HD Courtroom Listening System within a network of court systems throughout the country.
The director of Hard of Hearing Services for New Mexico, Shannon Elizabeth Smith, who has played an instrumental role in the evaluation process, said, "As an individual who not only works with individuals with hearing loss, but is one myself, the courtroom is a very intimidating place when you cannot access communication. The Comfort Contego offers not only high sound quality and multiple alternatives to work with different hearing aids and hearing losses, but also provides the confidentiality we require."
Besides courtrooms, the Comfort Contego has applications for many other settings, including schools, places of worship, meetings, lectures, and guided tours, all of which are being actively explored by Comfort Audio.
Patrik Liljekvist, Comfort Audio's Chicago-based sales and marketing director for North, Central, and South America, sums it up succinctly: "Quite simply, we've developed a system that sends coded radio transmission digitally over multiple secure channels. There's nothing to install, and it works right out of the box. As of today, we're the only manufacturer that can provide this encryption, portability, versatility, and HD quality sound securely to our customers."
---
Alan Ruskin is staff writer for Hearing Review Products. He can be reached at [email protected]