Patient Care | May 2021 Hearing Review
Integrating hearing care with palliative care is good for patients, families, and your practice
By John Greer Clark, PhD, and Michael A. Harvey, PhD, ABPP
Hearing care professionals are in a unique positon to make a life (and death) altering impact for the terminally ill while simultaneously positioning their practices for future success. The symbiotic character of altruistic marketing through services provided to hospice and palliative care agencies provides a unique opportunity to positively impact the communication and emotional needs of families while providing significant positive marketing benefits to practitioners.
An audiologist, Ryan, and his good friend, Jim, were meeting for their monthly breakfast together—same restaurant, same table, same food, same server, but this time something was different. In this fictitious conversation, Ryan begins pontificating about his new idea to market his practice by working with terminally ill patients and their families:
"Traditional marketing is one of the keys to the success of any enterprise, and hearing care professionals who don't pay close attention to the marketing needs of their practices lose market share and fail to achieve the financial goals they've set for their practices and themselves. Far too often, practitioners follow the guidance of hearing aid manufacturer marketing departments and heavily promote the advances in product in an effort to attract new business. While there are continued improvements in hearing technologies for sure, such an approach doesn't separate a practice from its competition very well. Marketing to the terminally ill certainly would."
Jim listens politely to his friend's didactics while hoping for a second cup of coffee. Then gives his response:
"I remember my mother's death as if it were yesterday," he began. "For several long months, she battled with pancreatic cancer. It was as if I was losing my mom slowly; she was slipping away. Half the time she couldn't even understand what my wife, kids, and I were saying because of her longstanding hearing loss for which she had steadfastly refused treatment. Ironically, it was my 12-year old daughter who asked the critical question: 'Grandma, why don't you get hearing aids now so you can understand us because I have so many things I want to tell you before it's too late?' And finally, this time, my mom did just that! To this day, we still talk about the compassion of the audiologist who came to the hospice to fit her with hearing aids. Alongside having recurring flashbacks to her painful death, I'll never forget my mom's beaming smile during her last days about finally being able to understand her family. Expanding your marketing in this way would be a special gift for terminally ill patients and their families."
In this conversation, Ryan exemplifies what is called psychological egoism: that we're motivated by what we perceive to be in our own self-interest, such as increased market share (aka, making more money).  In contrast, his friend exemplifies psychological altruism which posits that it is one's compassion or empathy for another that motivates one to increase that person's welfare as an end in itself.
It gets more complicated, however. These traits fall on a continuum. On one end of the continuum is pure altruism. As American businessman Joe Green put it, "Altruism is one of the most fundamentally social impulses, and doing things for others without expecting anything in return is core to what makes us human." The other end of this continuum is embodied by the question asked by Templeton the rat in Charlotte's Web: "What's in it for me?"
Does it have to be either/or? Can altruistic acts also include some element of self-interest? Can Jim be able to push his friend closer to psychological altruism so that he could altruistically market his practice?
The answer is a resounding "Yes." Altruistic marketing is a blend of selflessness and self. Such marketing can lead to the free publicity, phenomenal word-of-mouth referrals, and extraordinary patient loyalty that all business enterprises strive to achieve.
We all know that hearing aid market penetration is low and that many struggle through life's events with significant hearing loss. Many of these same people often face their final months, weeks, and days unable to engage successfully with their loved ones and their healthcare providers. When nearing life's end, one most often wants to be surrounded by friends and loved ones. There is a desire to exchange words of love, encouragement for life ahead, voice regrets, offer apologies, give advice, and share memories.
Hospice and Palliative Care
Hospice care is a type of healthcare that focuses on the palliative treatment of terminally ill patients' pain and symptoms and attention to their emotional and spiritual needs at the end of life. Palliative care is an interdisciplinary medical caregiving approach aimed at optimizing quality of life and mitigating suffering among people with serious, complex illness.In the words of Dame Cicely Saunders, founder of the first modern hospice,
"You matter because you are you, and you matter to the end of your life. We will do all we can not only to help you die peacefully, but also to live until you die."1   
Hearing care professionals who actively engage with hospice and palliative care agencies can help patients live until they die.
The hospice and palliative care institutions emphasize that a family's exchange of loving goodbyes necessitates adequate communication.  The author of an editorial in Palliative Medicine stated "Throughout the patient's palliative care journey, research is required to provide information which will improve counselling and communication strategies" [italics added].2  Similarly, audiologist Douglas Beck noted that "Communication at the end of life is just as important (perhaps more so) as communication at the beginning of life."3    
Sometimes the Right Words Make a Lasting Impact
Our interventions sometimes change lives in unforeseen ways. Consider the following letter a patient we will call Jill wrote to her audiologist:
Dear Dr. Reynolds: I want to thank you for fitting me with superb hearing aids that, as you predicted, made my life much easier. But most of all, I want to thank you for another precious gift that you gave me, perhaps without even knowing it. We met months before my father died of cancer which in answer to your question "Why are you asking for hearing aids now?" I responded that I wanted to make sure I understood everything my dad's oncologist said. I had been estranged from my dad for years. You said four words which changed my life: "It's never too late."
Nothing in Dr Reynolds' training taught him to say those simple, comforting words.  He didn't even think about it, as it was a casual comment—seemingly insignificant, inconsequential. He was shocked to learn that his words would echo in Jill's mind as she set out to repair not only her relationship with her father but also with a host of other relationships that she had neglected.   
Although Dr Reynolds' personal, "therapeutic" feedback—"It's never too late"—was incidental to the task of diagnosing and treating Jill's hearing loss, it was not incidental to his serving as a catalyst for her psychological growth. He had left a healing imprint that would be forever etched in Jill's consciousness.
Moreover, from then on, it was Dr Reynolds whom she would go to for new hearing aids and to whom she would refer family members and friends. It wasn't because of his formal training, expertise, or credibility—or even his likeability. It was because he made a powerful psychological intervention, albeit without knowing it.
Making a Difference through Altruistic Marketing
Just as Dr Reynolds' words made an indelible impression on his patient, so can our actions. While the words we give and the actions we make every day in clinical practice have the power to change patients' lives, when we provide services to patients in palliative care, we can go beyond our clinic walls and contribute to a more positive community. At the same time, we can reap the personal benefits gained through altruistic action including a more positive sense of self through enhanced confidence, happiness, and optimism. While the theory of psychological egoism might suggest that the personal intrinsic benefits gained through altruistic outreach negates a true sense of altruism, the benefits remain the same when one engages in actions beneficial to another person's quality of life. The fact that the positive outcomes of an altruistic act are symbiotic only serves to strengthen the value of the act itself.
When we loan or rent hearing aids or hearing assistance technologies to families in hospice or palliative care, the impact is immeasurable for those at the end stages of life. A key to the success of such endeavors is developing a comfort with terminal illness and death and the conversations that are inevitably a part of this time.4-8 Our participation with families who may be in a stage of life never anticipated will be remembered, and as such our actions will benefit not only those encountered but ourselves and our practices and often the attending physicians and allied healthcare workers, as well.
Ensuring that the spoken word is heard is the career mission of every hearing care professional. With an aging population base, we are well poised to make a lasting impact for those nearing life's end and for their families and loved ones.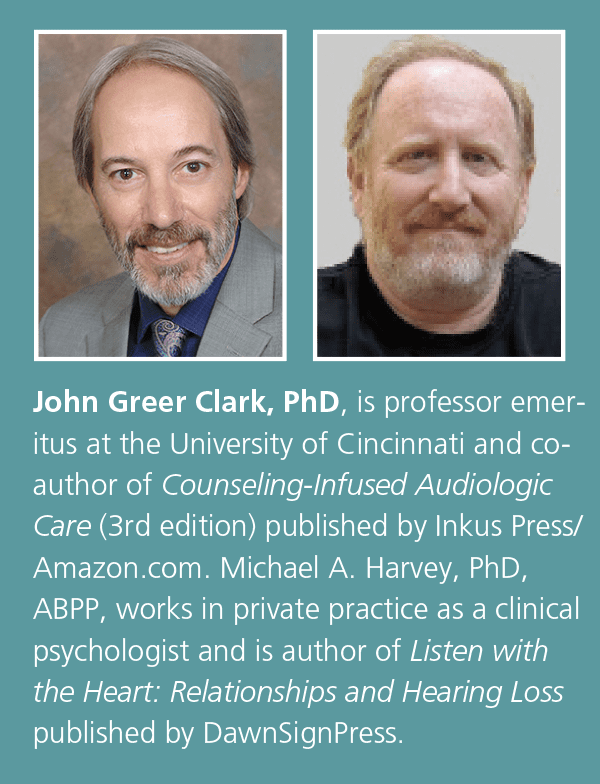 Correspondence can be addressed to HR or Dr Clark at: [email protected]
Citation for this article: Clark JG, Harvey MA. Altruistic marketing: A win-win approach to success by providing hospice care services. Hearing Review. 2021;28(5):20-22.
References
Ventafridda V. According to the 2002 WHO definition of palliative care… Palliative Med. 2006;20:159.
Tatum, PE III, Craig KW, Washington KT, Oliver DP. Getting comfortable with death: Evolution of the care of the dying patient. Mo Med. 2014[Jul-Aug];111(4): 298-303.
Beck DL. Considerations for dying patients. https://www.audiology.org/news/considerations-dying-patients. Published June 8, 2015. Accessed March 17, 2021.
Diles B. Seven steps to establishing a hospice hearing program in your community. Hearing Review. 2017;24(8):40.
Van Vliet D. Audiology in palliative care. Hearing Review. 2018;25(5):50.
Clark JG, Harvey MA. The final frontier: Heightening our vigilance to the taboo of discussing death during patient encounters. Audiology Today. 2021.
Harvey MA, Clark JG. When facing death, it's not all right to waste my precious time. Audiology Today. 2021. In press.
Taylor B, Tysoe B. Interventional Audiology: Partnering with physicians to deliver integrative and preventive hearing care. Hearing Review. 2013;20(12):16-22.