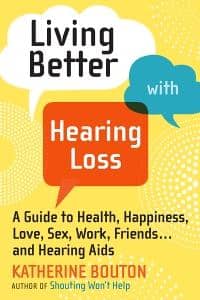 Katherine Bouton, author of Shouting Won't Help, the bestselling memoir about adult-onset deafness, has now written Living Better with Hearing Loss: A Guide to Health, Happiness, Love, Sex, Work, Friends . . . and Hearing Aids from Workman Publishing. With her new, soon-to-be-released book, Bouton offers a practical, daily guide to living with hearing loss, covering topics from hearing tests and hearing aids, to deciding whether to get a cochlear implant, to navigating airports, job interviews, and first dates.
Workman Publishing reports that Bouton's Living Better with Hearing Loss is offered in an eBook original format, for which the content will be constantly updated. The publisher says the paperbacks will be printed in small printings so that they, too, can be kept as current as possible.
The book is broken down into five sections: Facing Facts, Love and Work, Travel and Leisure, When Hearing Aids Aren't Enough, and Changing the Way We Think About Hearing Loss. The insights on visiting an audiologist, choosing a hearing aid (the author includes an extensive breakdown on the different types of aids), are intended to be valuable to a diverse demographic.
Bouton's expertise on the topic results from firsthand experience: at the young age of 30—while balancing a high pressure position at The New York Times—Bouton was diagnosed with adult-onset hearing loss, disproving the misconception that hearing loss is strictly age-related. Fearing the stigma that is often associated with hearing loss, Bouton reportedly hid her disability and continued her demanding job as an editor for decades—and ultimately lost the job because she was misinterpreted as not being a team player.
Workman Publishing plans to release Bouton's book on June 9, 2015, in both eBook and paperback formats. Please visit NetGalley for a preview of the electronic galley.
More about the Author
Katherine Bouton is a graduate of Vassar College, a former editor at The New York Times, and a member of the Board of Trustees of the Hearing Loss Association of America. She has had progressive bilateral hearing loss since she was 30. She blogs frequently for AARP Health and her first book, Shouting Won't Help, a memoir of adult-onset hearing loss, was a Kirkus Reviews Best Nonfiction Book of 2013.
Source: Workman Publishing