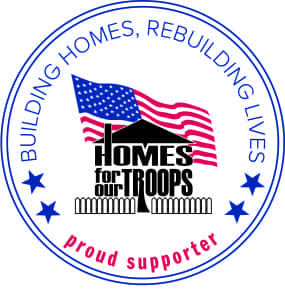 Oticon Inc announced that it has joined Homes for Our Troops to support the national non-profit organization's work of building mortgage-free homes for severely injured post-9/11 veterans, some of whom have suffered multiple amputations, paralysis, blindness, or traumatic brain injury.
Oticon reports that it has designated a $5,000 donation to "adopt a room" in a specially adapted home for former Army Corporal Kevin McCloskey who was injured in Afghanistan and suffered the loss of both his legs, vision loss in his right eye, burns all over his body, and a traumatic brain injury.
"Oticon is proud to support US veterans who have so generously served their country," said Cathy Van Evra, government services manager. "Through our work with the Veterans Administration, we provide hearing solutions that improve quality of life for our nation's retired and active duty service members. Our support of Homes for Our Troops gives us another opportunity to make life easier for veterans – restoring their freedom and independence to help them rebuild their lives."
The Oticon donation will reportedly help fund construction of a barrier-free kitchen that will enable McCloskey to participate in and enjoy daily life with his family. When construction of the McCloskey home is near completion, members of the Oticon VA team plan to bring "hands on" support as landscaping volunteers.
Homes for Our Troops (HFOT) is a privately funded 501(c) (3) nonprofit organization that builds specially adapted, mortgage-free homes nationwide for the most severely injured Veterans of post-9/11. HFOT builds these homes where the Veteran chooses to live, and continues its relationship with the Veterans after home delivery to assist them with rebuilding their lives. Since its inception in 2004, nearly 90% of donations to Homes for Our Troops has gone directly to the program services supporting Veterans.
Source: Oticon; Homes for Our Troops (HFOT)