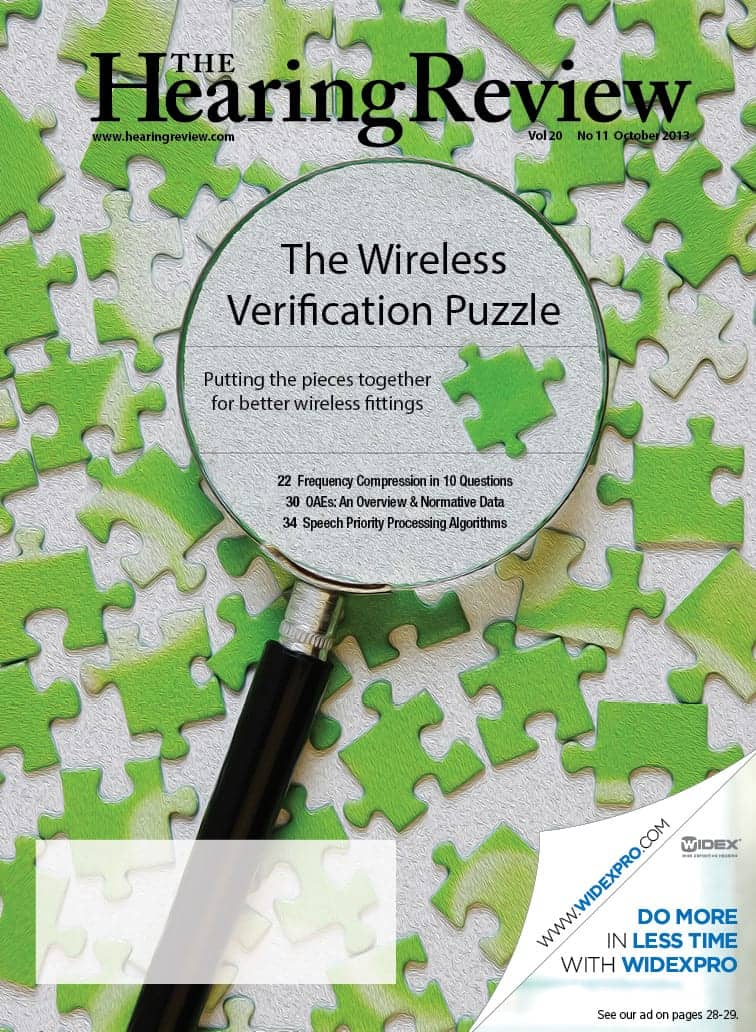 The October 2013 Hearing Review Table of Contents (Vol 20, No 11)
Features
How to Verify Wireless Technology
By Peter Kossek and Charlotte T. Jespersen, MA
A look at the main applications in which wireless hearing aid technology is used, and practical step-by-step tips for verifying wireless features.
10 Questions About Frequency Compression
By Thomas A. Powers, PhD, Heike Heuermann, PhD, and Ronny Hannemann, PhD
A review of the 10 most commonly asked questions regarding the fitting applications of frequency compression technology, and guidelines designed to foster optimum implementation.
An Overview of OAEs and Normative Data for DPOAEs
By Jessica Arrue Ramos, MAudSt, MAudSA (CCP); Sinnet Greve Bjerge Kristensen, MA; and Douglas L. Beck, AuD
OAE concepts, the application of screening versus diagnostic OAEs, as well as normative data to help clinicians in the interpretation of DPOAEs.
Speech Priority Noise Reduction: A Digital Noise Reduction Preference Study
By Tara Helbling, AuD, Matthias Vormann, PhD, and Kirsten Wagener, PhD
A blinded paired-comparison study suggests that listeners preferred a fast-acting Speech Priority Noise Reduction system over a competitive noise reduction strategy.
Comparison of Different Directional Microphone Technologies for Moderate-to-Severe Hearing Loss
By Steffen Kreikemeier, PhD, Sabine Margolf-Hackl, Juliane Raether, Dipl-Ing(FH), Elmar Fichtl, PhD, and Jürgen Kiessling, PhD
This study looks at three directional responses in a challenging environment for people with moderate-to-severe loss.
Departments
Staff Standpoint
HR Online
Blog Page: What Hearing Loss Research Tells Me About Me, By Gael Hannan
Back to Basics: Slope of PI Function Is Not 10%-per-dB in Noise for All Noises and for All Patients, By Marshall Chasin, AuD
Research
Information Please
Industry People
Products Showcase
Final Word: Developing a Personalized Plan for a Successful Hearing Rehabilitation Approach, By Dennis Van Vliet, AuD
Once there, you can click on the left side of the page for HR's digital ARCHIVES, or click on PAGES to see the individual pages and download any you wish in a PDF.