Despite all the training, skill, and hard work that goes into being a practice owner or manager, one of the most galling aspects of the "hearing business" can be summed up by the Black Knight in Monty Python and the Holy Grail who states, "NONE SHALL PASS!" Effectively, this is the message that an untrained receptionist or hearing care coordinator (PCC) with poor telephone skills can give when speaking to new potential customers.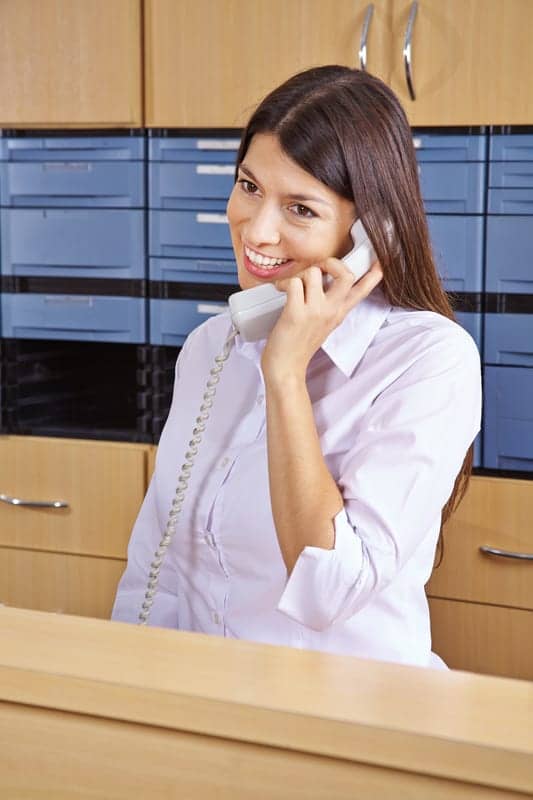 The late audiologist/educator and practice owner Jay McSpaden, PhD, pointed out that it's often the least trained (and lowest paid) member of most professional staffs who answers the telephone: "This can be a humbling and irritating truth for a practice owner to come to grips with, given that one may expend several thousands of dollars on special equipment, professional training, office furniture, and ambience, and then even more in marketing just to get the phone to ring in the first place. Yet, despite all of these large and usually necessary investments that should ensure a thriving practice, the one thing you will count on the most is this: How well your receptionist's mother taught them to answer the telephone, and how well they remember basic rules of politeness."
Related article: Phone Script Tips: Arming Your Receptionist or PCC with the Tools to Succeed
Von Hansen, an expert in developing phone scripts for PCCs and receptionists in hearing care practices, told Hearing Review, "The telephone from my point of view is the front door to your office. If your telephone is not being answered in a consistent and competent manner, your front door is locked and closed to your patients." Hansen cites industry figures that show the cost to obtain a new lead can range from $300-800, and that the odds of converting a new lead into a new patient improve by about 40% if they're accompanied by a spouse or significant other during the initial hearing consultation.
This makes a persuasive case that PCCs and receptionists need specialized training in how to answer common, thorny questions like "How much do your hearing aids cost?" Here are three basic rules for the front-office person when answering a phone call from a current or potentially new customer:
Rule #1: Make the Appointment by Being Polite, Professional, Confident, and Helpful
To convert these calls, the person answering the phone must be professional and well trained, courteous, comfortable, and confident, says Hansen. About half of all calls received by the PCC or receptionist are not sales opportunity calls; instead, the calls deal with cancellations, rescheduling requests, and other basic questions. The answers and the demeanor of your receptionist during these calls directly impacts your patient retention abilities—which in most practices represents 50-70% of practice revenues. The other 30-50% of the phone calls are new or potential customers—equally precious and absolutely vital for the ongoing growth of your practice.
In truth, as Dr McSpaden noted, your investments in all of the other aforementioned components of the practice will yield fruit only if your receptionist or PCC:
Is pleasant and knowledgeable, and establishes a good rapport with patients and their partners;
Gets complete and full information from callers;
Consistently relays important information to you and your staff members;
Conveys an honest sense of caring for those visiting or calling the office;
Appears to enjoy working with the people who patronize your business, and
Feels appreciated and "owns into" their vital role in helping people overcome hearing loss.
Rule #2: Commit the Patient to Bringing their Significant Other to the Appointment
One of the basic things a receptionist needs to understand is that, when patients come in alone, there is a far less chance they will purchase a hearing aid during that appointment. Few husbands or wives look kindly on dropping $3000-$7000 on a purchase without some (or a lot of!) consultation; if not accompanied by a significant other, they'll most likely need to go home and discuss the situation with their partner—and then "think about it" which could mean delaying their purchase for an extended period. However, if the spouse or partner comes with the patient, immediate decisions can be made, and the explanation process is made infinitely easier for the patient when their partner sees and understands the magnitude of communication improvement made by hearing aids. In these cases, the likelihood of a purchase might increase from somewhere in the range of 25% without a companion to around 80% with one.
After all, their partner is the one repeating things numerous times. If the aids are fitted appropriately, it's the partner who will recognize the value of the devices.
Rule #3: Provide Appropriate Answers to "How Much Do Your Hearing Aids Cost?" and Other Common Questions
The next time your office telephone rings and a consumer asks, "How much are your hearing aids?" your PCC needs to reply in a thoughtful and helpful manner. For example, the PCC might respond, "We offer hearing aids at many different price points from as low as $850. We like to make sure we have options for all types of hearing losses, patient needs, and economic requirements. We also offer flexible financing to help patients obtain the care they need. We're happy to discuss these options with you. May I get your name and phone number, and schedule an appointment for you and your spouse this week?"
Related article: The How and Why of Getting a "Significant Other" to the Hearing Evaluation
According to Hansen, receptionists are most effective when using a "script on the screen" program, where virtually everything is computer-based, in the correct order, and all data is immediately transferable to a file (including the corporate database).
It also makes sense to incentivize your receptionist, based on spouse/partner visits and/or sales of hearing aids, as well as purchases related to batteries, telephones, ALDs, and other "ancillary products" (in many cases, vital for patient success). Additionally, it can be helpful to acknowledge the potential hardship of out-of-pocket costs associated with audiologic services and hearing aids. A financing option like Ally Lending helps patients pay over time for hearing devices and care, which can alleviate their concerns around cost.
Finally, there are services that monitor your calls and coach your receptionist and/or PCC. There are even businesses that work as call centers for a practice, handling everything for you. But first you need to know what you want to have them say, and that can be more work than simply devoting the time to recruiting and training your own PCC.
About the author: Karl Strom is editor of The Hearing Review and has been reporting on hearing healthcare issues for over 25 years. He wrote this article for the sponsored Ally Lending enewsletter.
Image: © Alexander Reitter | Dreamstime.com