What's this, another matrix? Sort of, but more in format than in scope. Here you'll find just two products: Ear Gear's Ear Gear and VanB Enterprises Hearing Aid Sweat Band, submitted to showcase some of what we refer to as Hearing Instrument Protection and Security products. We call them that not only because HIPS is a cool acronym but more importantly because that's what they do: protect and secure your patients' hearing aid investments in a big way at little cost. Read more about them in Judy O'Rourke's feature below.

—Will Campbell

The Hearing Instruments Protection & Security Tech Guide is available as a downloadable pdf – you will need Adobe Acrobat reader to view this.

If you do not have Adobe Acrobat on your computer, you can download it for free from Adobe.com.
---
In our May/June issue, we highlight hearing aid/cochlear implant accessories—Hearing Instrument Protection and Security (HIPS) products—that help protect the costly devices and may add a stylish flourish. Our roundup reflects the views of the professionals we spoke with, and is not intended to be a scientific survey.
We asked manufacturers/distributors:
‣ What are your best-selling products?
‣ Why are those items selling versus your other offerings?
‣ Tell us about changes you envision down the road.
---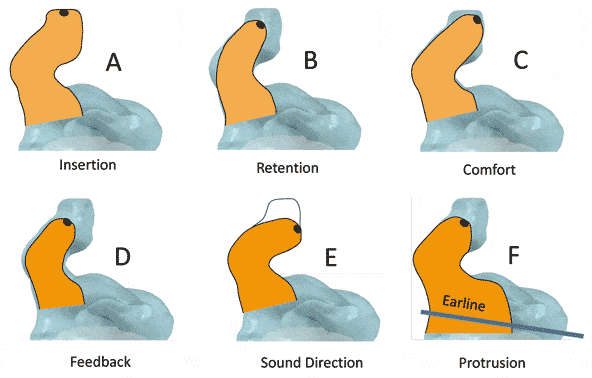 JERRY SCHLOFFMAN
vp of global marketing
Advanced Bionics LLC, Valencia, Calif
Advanced Bionics specializes in developing the most advanced cochlear implant systems in the world. To help our patients hear in challenging listening situations, our system features a built-in telecoil, which picks up sound if they have a compatible telephone, neckloop, or other attachment. For everything from talking on the phone to listening to music, our number-one accessory is the popular T-Mic microphone, which picks up sound naturally at the opening of the ear for highly focused listening, while providing wireless connectivity to cell phones, MP3 players, and more. Patch cables, which can incur costs and compatibility issues, are not necessary with the T-Mic, so our users can enjoy the same consumer electronics as those with normal hearing do. We're now partnered with Phonak under the Sonova Group. Phonak is a global leader in micro hearing instruments and wireless FM systems. This momentous collaboration has set the stage for AB to develop smaller, higher performing sound processors for patients in the future.
---
CAREY COOK
lab tech and office manager
Cornhusker Hearing Center, Lincoln, Neb
Raycare Solutions, a company operated by Ray Rosenow, BC-HIS, founder of Cornhusker Hearing Center, and Carey Cook, is the patent holder and distributor of The Deflector, an innovative solution to what has been a major problem for BTE hearing instrument wearers—moisture damage to their hearing instruments. The design provides an awning-like cover that slips over the ear between the hearing instrument and the head. The simple, lightweight, clear plastic design deflects moisture away from the hearing instrument without affecting sound or directional quality. Its easy on-off application gives the user the ability to use the Deflector when moisture situations occur and remove it when it is not needed. The BTE user no longer has to remove their instruments and lose their ability to hear while enjoying all of life's activities. As the age level of new patients continues to drop, we will all be challenged to produce and promote products that will help patients achieve full correction through full-time use. It is our desire to continue to be on the cutting edge of technology and a partner to both the hearing-impaired and the hearing professional.
---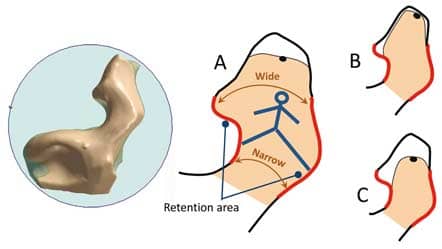 MARK ROSAL
president
Ear Gear, Lake Country, British Columbia, Canada
Our best-selling model of Ear Gear is still our Ear Gear Original Cordless, which fits hearing aids from 1.25 inches to 2 inches. The best-selling color is beige. The best-selling Ear Gear cochlear model is again the cordless model, and beige is also the best-selling color. Our cordless models of Ear Gear account for 60% of our sales, and corded models account for 40%. Ear Gear sales are split equally between the pediatric market (birth to 19 years of age) and the adult market.
Ear Gear sells well for a number of reasons: first, because it is washable and reusable. The average life of a pair of Ear Gear is approximately 2 years. Second, because Ear Gear looks attractive when put on a hearing instrument, and the spandex molds to the shape of the hearing instrument. Ear Gear is also acoustically transparent and has no effect on directionality, and this has made it highly recommended by hearing professionals. We plan to continue to expand our line to include protection and security for all kinds of hearing instruments. We have just introduced our Ear Gear Baha, and for 2011 we will be introducing a model of Ear Gear for ITEs as well as a fully hypoallergenic model.
---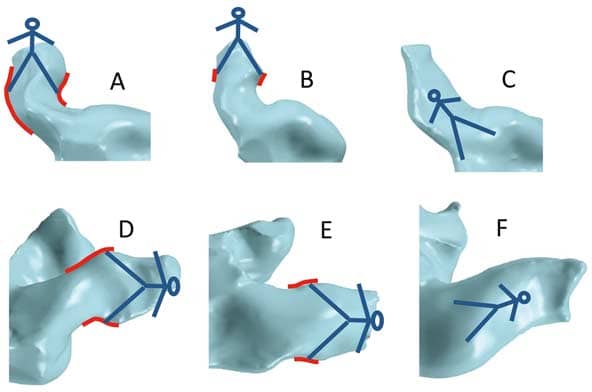 MIKE AND JULIE BUTLER
president and manager
Just Bekuz Products Co, Castle Rock, Colo
Products protecting instruments from moisture damage are our best sellers. We started the company 18 years ago with our product Super Seals, which protects hearing aids from moisture. This is a great seller as it provides the most effective moisture protection for hearing aids on the market. We have received letters from customers around the world thanking us for keeping their high-tech hearing aids dry and reliable. We intend to add new Super Seal sizes this summer to fit the smaller BTE hearing aids. We also sell numerous hearing aid dryers. Dry and Store Global is the favorite. We sell a variety of signalers and receivers, amplified phones, TV sound amplification, and numerous assistive listening devices. We expect to see more product variety as technology continues to advance.
---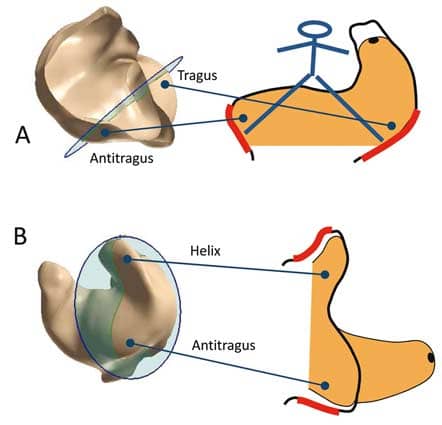 JENNIFER PEARCE
owner
The Ear Connection, New Bern, NC
The SafeNSound Clipz, our best-selling hearing aid/cochlear implant accessory, is versatile and perfect for newly aided children. It is adjustable, one size fits all, and it also attaches to the wearer's clothing. Many of our customers transition to the SafeNSound Strap when they no longer need the added security of the clip portion—this product is also adjustable to grow with the child. Both of these products can be used by those who also wear glasses (or with glasses only), with no additional adjustments to the product. For those who wear only one hearing aid or CI BTE processor, we offer the SafeNSound Single Clip. The SafeNSound Barrettz can be used for anyone wearing hearing aids or CI BTE processors, but were specifically designed for those who have aural atresia/microtia. We also have a significant amount of sales for adults and seniors. We are always looking for innovative ideas to better serve our customers.
---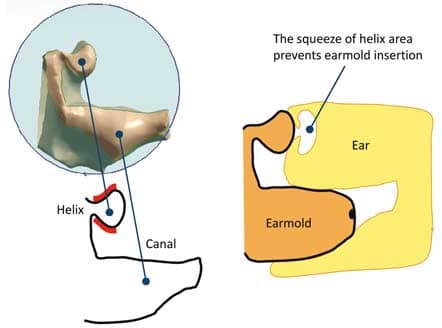 STACIE PIERCE
owner
Tube Riders, Nashville, Tenn
Tube Riders are small inexpensive rubber designs that slide onto the tubing of BTE (behind-the-ear) hearing aids and on the ear hook of CIs (cochlear implants). They allow users to decorate, individualize, and destigmatize their hearing devices. Our best-selling Tube Riders are pink butterflies and pink flowers for girls, and rockets and skulls for boys. Adults prefer ladybugs and soccer balls to decorate their aids. Girls often prefer pink, flowers, and cute butterflies, and boys like the flash and boom rockets represent, and skulls make them feel like pirates. Other Tube riders are not as popular with children, but they often are included as second or third items with an order. Safari animals are the latest addition to the Tube Rider family, and the future of Tube Riders includes developing clips to secure BTEs and CIs to clothing to help prevent loss.
---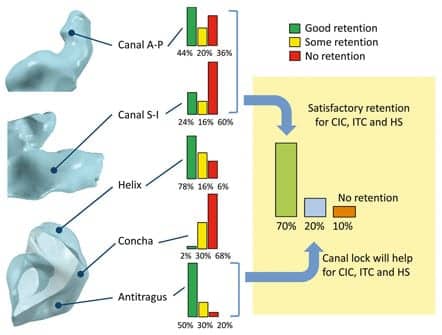 SCOTT VANBUSKIRK
VanB Enterprises LLC, West Valley, NY
The Hearing Aid Sweatband continues to grow as the premier product in protection for your hearing aid from the damaging effects of moisture and dirt. While the natural color continues to be our best seller, the new, brighter colors are increasing in popularity, especially with children. The Hearing Aid Sweat Band is made from a specially designed all natural fabric that sheds moisture while protecting the hearing aid from the damaging effects of dust and dirt. The Hearing Aid Sweat Band enables the wearer to leave their hearing aid in place not only during high perspiration sport activities, but at any time to protect and defend from moisture, dust, and dirt. It is available in nine sizes and 17 colors for all makes and models of BTE devices. The Hearing Aid Sweat Band is the only product in the marketplace made from a comfortable all natural fabric, which is proven to protect the wearer's hearing aid from moisture.
---
We've asked practitioners:
‣ What brand/type of hearing aid/cochlear implant accessories do you recommend to patients?
‣ Have you seen other kinds?
‣ What do you like about your preferred product versus other products?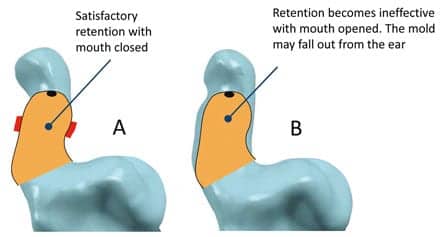 AMIT GOSALIA, AUD, FAAA
board certified doctor of audiology
Audiology Clinic Inc, Vancouver, Wash
When it comes to hearing aids, our most popular accessories are Bluetooth adapters, such as the Audigy MediaLink, Oticon Streamer, and the Phonak iCom, along with a couple of other manufacturers' proprietary devices. For safety reasons, many states have passed laws prohibiting cell phone usage while driving (without a Bluetooth device); however, you can answer your phone and listen to it in your ears/hearing aids via pushing a button that's hanging around your neck. That's been one of the biggest advancements in wireless solutions, and the biggest help for a lot of our patients who utilize Bluetooth with their cell phones and for those who could not use a cell phone at all. Additionally, they can hear in surround sound with both ears, which generally provides better speech discrimination. Along with those adapters, there are additional components, such as integrated TV transmitters and home telephone transmitters, but those cannot be utilized without one of the above-mentioned devices (note that some of these transmitters work only with their corresponding proprietary receivers). Adding a TV or home telephone adapter/transmitter allows for a broader scope for Bluetooth technology with hearing aids. Many patients who complain of difficulty understanding the television, based on distance factor, acoustics, and/or quality of TV speakers, can find a number of solutions now. We do work with children quite a bit, so we use a lot of FM systems with DAI boots, along with transmitters and receivers, for the school system. With some of the advancements in Bluetooth devices, we are able to use wireless microphones sending a signal directly to a Bluetooth receiver (above-mentioned devices), which can stream the teacher's voice directly to the students' hearing aids! An additional benefit to wireless connectivity is the wireless streaming of music. A lot of our patients who have been music enthusiasts in the past have not been able to appreciate music as well, due to the nature of their hearing loss. Now we can program their hearing aids and utilize the Bluetooth feature to stream music wireless to their hearing aids (not available with all phones or all Bluetooth devices). I found this out by accident while playing with my iPhone one day when I noticed an Audigy MediaLink paired to my iPhone (via Bluetooth). One of the clinic partners uses our demo model with his AGXO hearing aids. As he walked by my office with a dance to his step, I realized he was listening to some Black Eyed Peas … wirelessly!! The advancement of wireless connectivity has improved many situations for many of our patients. As Bluetooth gets smaller and drains less battery, I foresee a hearing device with integrated Bluetooth built within it. Until that point, we will continue to provide wireless solutions to our patients.
---
ALLISON H. KASTNER, AUD, CCC-A
audiologist
Tampa Bay Hearing and Balance Center, Tampa, Fla
I recommend the T-mic for Advanced Bionics' Harmony cochlear implant processor. The T-mic is the only cochlear implant microphone that is placed naturally at the opening of the ear canal to take advantage of "pinna effect." Studies show that patients understand better in noise with the T-mic than with a BTE (behind-the-ear) microphone. Patients also report that they understand better on the telephone, and they enjoy the natural placement of the telephone receiver over the T-mic as opposed to finding the BTE processor mic or telecoil to use the phone. The T-mic is a standard accessory included in patients' initial activation kit. We put it on all of our new CI recipients at the initial activation because of the benefits it provides them. Advanced Bionics also has an accessory that is great for pediatrics called the Kinder Clip. The Kinder Clip is a little plastic clip that snaps onto the Harmony behind-the-ear processor, allowing the patient to take the behind-the-ear processor off their ear and clip it onto their shirt. This new wearing option is great for kids because they get to take advantage of the small size of the processor and do not have to wear the cumbersome harness like they would have traditionally had to wear with the body-worn processor. The other advantage to the Kinder Clip wearing option is that the patient does not have any part of the processor sitting on their ear, which is especially nice for pediatric patients' "little ears." ?
---
Judy O'Rourke is associate editor for Hearing Review Products. She can be reached at [email protected]