Opinion | Biometric Sensors in Hearing Aids
A viewpoint on the future of biometric sensors in hearing aids from a company that is developing them.
According to the American Optometric Association, most of us at age 40 first start to feel the loss of eyesight due to the effect of presbyopia. Presbyopia—also known as farsightedness—is fairly common and generally presents itself during middle and old age.  As a result, we start to pull back from small text, favor smartphones with larger screens,  and begin to eye those "cheater glasses" at the grocery store and/or bite the bullet and purchase bifocals. Nonetheless, presbyopia is the first indication for most of us that we are getting old; most would agree that wearing bifocals or trifocals does not make us look cool.
Perhaps the second indication of aging happens with presbycusis, which is the gradual loss of hearing linked to aging, affecting almost one-third of people over age 65. According to the National Institute on Deafness and Other Communication Disorders (NIDCD), hearing loss can make it hard to enjoy talking with family and friends, leading to feelings of isolation. It has also been associated with an alarming number of comorbidities, including cognitive decline, clinical depression, diabetes, falls among the elderly, heart disease, and many more. Nonetheless many of those who need hearing support put off the use of a hearing aid for 5 to 10 years. Affordability issues aside, it's often the social stigma and negative stereotype that get in the way, as well as the mistaken perception that amplification devices don't work well.
To reduce the social stigma associated with disability, hearing aid manufacturers have focused on making their products small and "invisible." However, while much has been put into making bifocals look unassuming or even fashionable, hearing aids have long looked the same since the first digital hearing aid was launched in mid-1990s, albeit more miniaturized.
Moving Toward a Multi-functional Total Communication Device
In 2014, the Munich-based company Bragi launched a very successful crowdfunding campaign to deliver the world's first wireless and physical performance tracking earbud. Since then, it has become common to see people wearing truly wireless earbuds, such as the Apple Airpods, and look very fashionable. Bragi even partnered with Starkey in 2016 to meld the best features of a hearable with a hearing aid.
This past summer, Starkey launched Livio AI, the world's first Healthable™ hearing aid that utilizes integrated sensors and artificial intelligence, and the first device to track physical activity and cognitive health as measured by hearing aid use in social situations. Starkey CTO and EVP of Engineering Achin Bhowmik believes that coupling AI and advanced sensing devices into hearing aids can both optimize the users' hearing experiences and enable them to continuously monitor and improve their overall health—reducing the associated risks of dementia, anxiety, social isolation, and potentially other comorbidities. More recently, Starkey announced its Fall Detection and Alert feature and its Heart Rate Measurement and built-in Virtual Assistant.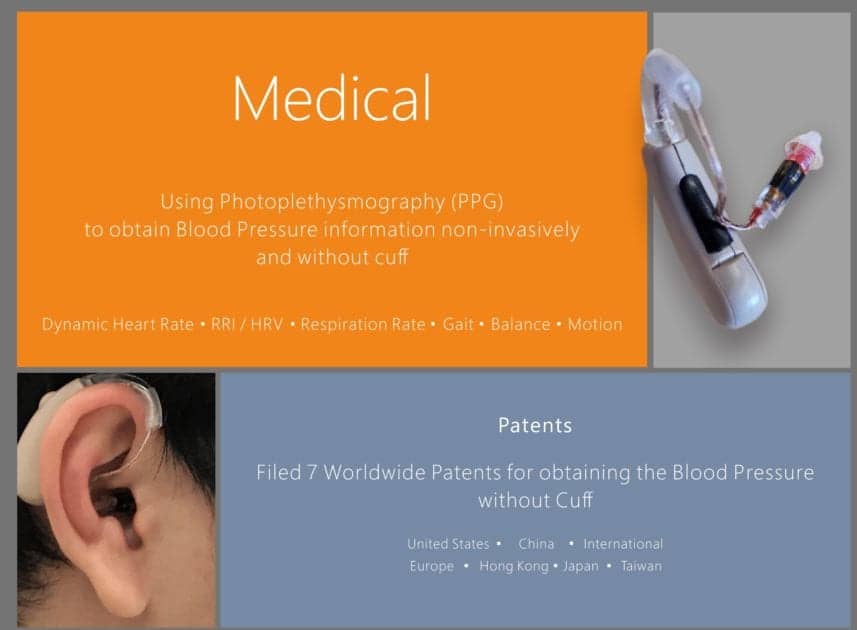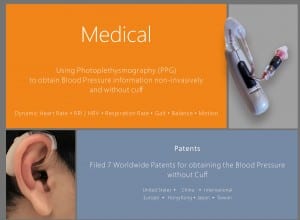 In more advanced PPG sensing technologies, such as from Well Being Digital (WBD101), placing sensors into the ear nozzle instead of the outer ear canal provides a way to minimize the overall physical size of a sensing earbud.  Using multiple in-ear sensors in the canal, WBD101 coined the Optical Fusion™ approach to achieve very high accuracy when tested against traditional ECG chest straps. The technology has been employed by many heart-rate sports hearables, including the JBL Reflect Fit, Pioneer S801BT, Cleer Edge Pulse and BeemUnited BeActiv, and Hera Leto into its lifestyle hearable for stress relaxation.
While parallel technologies are in development, as announced at the 2019 CES Show, the Well Being Digital device is very small, currently available for implementation in hearing aids, and was demonstrated to all global hearing aid manufacturers in October 2018 at the EUHA Congress held in Hannover, Germany. At EUHA 2018, WBD101 was able to demonstrate this "world's smallest heart rate sensing design" with a functional RIC hearing aid prototype to key industrial players. Well Being Digital is now demonstrating these heart-rate sensing hearing aids at the 2019 Las Vegas Consumer Electronics Show (Sands #45637).
So, What Will Hearing Aids Look Like?
Currently, a hearing aid cannot be called a consumer product; technically, it is defined by the FDA as a medical device. However, the convergence of ear-worn sensor technologies—particularly those catering to middle-aged and older adults—with the public healthcare necessity of treating presbycusis is creating a growing "wish list" for a multifunctional total-communication earworn device. The new Over-The-Counter Hearing Aid Act signed into law in 2017, as well as the self-fit hearing aid category recently created by Bose and its FDA de novo status, almost guarantees that some new players will emerge and attempt to corner the sizable market segment of people with mild-to-moderate hearing loss. Where it all will lead is still uncertain, but it's a good guess that future amplification devices will look more like wireless earbuds than medical grade devices. And hearing care professionals can still play a vital role in the selection and programming of these devices, as well as aftercare, for the unique lifestyles and needs of individuals.
Let's face it, we all want to look smart, stay healthy, and be cool. And if a device provides us with seamless health-, communication-, and fitness-related data—all while providing quality amplification to hear better—most people really won't care what it's called. They'll just want one.
About the author: Kow Ping is the founder and director of Well Being Digital (WBD101), headquartered in Hong Kong. He holds a degree in computer science engineering from Nanyang Technological University and a master's degree in International Management from the University of London.
Correspondence can be addressed to Kow Ping at [email protected].