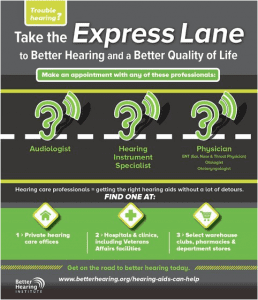 The Better Hearing Institute (BHI) is offering a free infographic that guides consumers on entry points of care for addressing hearing loss, the institute announced. The infographic, "Take the Express Lane to Better Hearing and a Better Quality of Life," provides easy-to-follow information, identifying types of hearing care professionals and where to find them. Research links untreated hearing loss to other serious health concerns.
The infographic is part of BHI's ongoing educational outreach to raise awareness of the importance of hearing health and treating hearing loss. BHI reportedly works to inspire people to appropriately address hearing loss so they can stay fully engaged in their lives and enjoy greater quality of life.
Unaddressed hearing loss has long been known to have a negative impact on quality of life. But in recent years, studies also show a link between hearing loss and dementia, depression, diabetes, cardiovascular disease, moderate chronic kidney disease, rheumatoid arthritis, sleep apnea, as well as an increased risk of falls, hospitalization, and even mortality in certain populations.
Because most physicians don't screen for hearing loss as a routine part of adult annual exams (3 out of 4 don't), it's important for people to go to a hearing care professional to have their hearing tested, according to BHI. A comprehensive exam by a hearing care professional not only will provide an accurate diagnosis of hearing loss, but it also will identify baseline hearing levels so people can better monitor their hearing health.
BHI reminds consumers that hearing loss affects all age groups. In fact, nearly 60 percent of the one in ten adults in the U.S. who say they have hearing difficulty are still working age (18 to 67 years), according to BHI research. And as many as 10 percent of people in their forties already have hearing loss.
Research conducted by BHI also shows that appropriately treating hearing loss has a positive impact on quality of life. For example, people with hearing difficulty who use hearing aids are less likely to feel down or depressed and are more likely to feel engaged in life, optimistic, and get pleasure in doing things.
BHI invites consumers, educators, and healthcare providers to view and download the infographic here.
Find more information on hearing loss at BetterHearing.org. Follow BHI on Twitter @better_hearing, and like BHI on Facebook at www.facebook.com/betterhearinginstitute.
Source: Better Hearing Institute