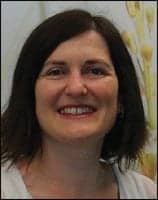 Ear Gear's Mark Rosal with daughter Shameera, who was the inspiration for the device he developed to protect her hearing aid–and now thousands of others.
When Mark Rosal, a native Canadian, left his Toronto birthplace 20 years ago and eventually settled with his family at their rural home in Lake Country, British Columbia, he surely never imagined that one day he would be running a business from that home manufacturing hearing aid protection and security devices.
Located near the city of Kelowna, about halfway between Vancouver and Calgary, Alberta, the Rosal residence overlooks a horse farm and picturesque Okanagan Lake. No one would guess that this bucolic setting conceals 1,000 square feet of office space within the house, the site of his increasingly busy company, Ear Gear, a venture Rosal began because of his third and youngest child, daughter Shameera.
Unlike his two older children, Shameera was born with a condition called partial trisomy 18, a chromosome abnormality resulting in a condition that Rosal describes as similar to Down syndrome. There's a broad range of disabilities associated with the condition, says Rosal. "Some people are seriously disabled and may even struggle to survive, while a few others have actually gone on to university."
In Shameera's case, the now 13-year-old "may never have a high IQ—at 6, she had the cognitive abilities of a 2-year old," Rosal says. But she is an otherwise happy and very functional child. "She walks, she talks, she reads, she's quite a character, really."
One result, however, of Shameera's affliction is hearing loss that resulted in the need for hearing aids before she turned 3. "She wouldn't wear them much then, but her loss at that point was moderate, and we had so many other battles to fight with her, getting her walking, toilet trained, etc, that we decided to wait a while. By the time she reached 6 and about to start school, it became necessary to get them on her, and we got her first digital instrument," Rosal says.
"At that age, however, she still didn't really understand about hearing aids. It was ridiculous … we'd turn around and they'd be off her ears; she was throwing them, hiding them. There was no way of fully communicating to her the value of the instruments. When she'd take them off, she never really remembered where they were; she just didn't care. They chafed, buzzed, and were uncomfortable for her."
Rosal recalls one visit to Shameera's grandmother. "We realized that she wasn't wearing them. We searched everywhere and asked Shameera numerous times what she'd done with them, but she couldn't tell us. Three weeks later, just when we'd given up, we found them. Shameera was going through her 'pirate stage' at that time and she had decided to bury the hearing aids in a treasure box and hide them under a cushion on the sofa."
Rosal notes that unlike her initial analog hearing aids, which cost about a thousand dollars, "the Widex digital aids were four times that much." So the need to protect them from loss and damage was naturally greater. "She still was hiding them, taking them off, doing all sorts of stuff. We went to see our audiologist who recommended a child's clip that was the market standard security device at the time."
Well, that didn't work very well, Rosal explains, because "within 5 minutes she had bit those rings, ripped them apart, had her hearing aid off, and the thing was garbage. It didn't work right, didn't feel good, had sharp edges. So they said to use tape, use this, use that—I was going nuts, saying, 'Is this all there is to protect a $4,000 instrument?' "
"Well, they said, 'We don't have anything else, this is the limit of what we have.' "
At this point in his life, Rosal had no experience whatsoever in hearing aid security and protection devices, or in business in general, having tried his hand at journalism and a few other things in what he modestly describes as a "checkered past." But motivated by his daughter, he set out to solve the problem, beginning with some sketches he made that he showed to his audiologist and to Nicole Sorenson of Expert Hearing Solutions, a "well-regarded chain up here in British Columbia, the owner being Rob Reiter, who has a very good reputation among audiologists.
"It felt like a good thing. My wife and I like to help people, so we looked at each other and decided to give it a go. Our company is very strong in terms of customer relations … if they're not happy, I'm not happy."
The next step for Rosal was to go to a local seamstress with his drawings and explain what he wanted. "She said to get her the material I wanted to use and she'd make me one."
And how did that first Ear Gear turn out? "Not bad. Pretty nice," says Rosal. "I still have it."
Rosal showed the prototype to the people at Expert Hearing Solutions and went from there, finding a way to manufacture it and bring it to market. The end result was a colorful pair of spandex boots that would cover his daughter's hearing aids and, when attached to a cord and clip, keep them secure and safe.
Going on a shoestring budget, it took about a year and a half to develop the device, "buying a few meters at a time of spandex and a little cord."
A big step along the way was taking the product to the AAA Convention in Washington in 2005, showing it and getting industry reaction. Rosal was fortunate enough to get an endorsement from Randy Morgan of Westone, who said that his company would seriously consider distributing it.
"Randy and Ed Lockwood worked with us and helped us quite a bit with our first brochure, and marketed us to their buying group. At the same conference, we met Maureen Doty Tomasula, the marketing manager of pediatrics at Oticon, who immediately saw the value of Ear Gear and was another major endorsement for us. Westone and Oticon took our product and gave us credibility, and Westone was our first major order. Because of them, audiologists were not likely to view Ear Gear as merely some kind of gizmo."
The actual manufacturing process went through a couple of stages. "First," says Rosal, "we were manufactured locally. We found a fellow here in Canada who made them for us and that lasted for a while, and from there we were fortunate enough through our connections in the industry to find a manufacturer in Taiwan, which gives us the capacity we need to grow."
A distinct advantage of the Taiwan factory, says Rosal, is that it is able to work with spandex in small sizes, which is not an easy thing to do. "Some of our products have a sleeve only an inch long; most manufacturers won't even touch it. We tried a few companies in the United States and even others in Asia that couldn't handle it—it was just a nightmare; they made a mess of it. But with the help of our American partner, we were very lucky to find a factory in Taiwan that could do it right."
After 4 years in the business, Rosal is confident in the future growth of his company because "We know that 10% of all BTE wearers should have hearing aid security and protection devices. With BTE hearing aid sales of more than 1 million annually, you're looking at a minimum of about 120,000 protection/security units per year sold in the United States alone to meet the need, and that's just for new hearing aids. There are another 3 to 4 million hearing aids already out there that will also need their share of the hearing instrument protection and security device market."
And, Rosal continues, "We think there's another 10% out there—a softer market of people who need these devices for sports, for working in dirty environments. We think a full 20% of the BTE market could be tapped, easily a few hundred thousand units a year of these types of devices that audiologists should be and could be selling to their clients."
"Every time," Rosal believ
es, "that something breaks down in the hearing instrument, there's a huge problem. The client is dissatisfied, the audiologist has to deal with an upset customer who doesn't have his hearing instrument. It has to go back to the company. Everybody's incurring cost and irritation all the way along the line."
Rosal agrees that the available insurance and warranties for hearing instruments are commendable, "but the fact is that people wear their hearing aids all day and need protection on them while they're wearing them. We have clients who within 5 minutes of going outside on a hot day find that their hearing aids are shorting out. The audiologists can't have them coming back to their office every week or two with a problem, taking time away from seeing new clients.
"So we see it as a win-win situation all the way. The problem is that the hearing professionals haven't fully recognized that these devices are an important part of their practice. We're trying to get them to see that if you have a $5,000 to $6,000 instrument on somebody, you better make sure they get protection if they need it. And those one out of 10 who need it shouldn't be leaving the audiologist's office without it."
Rosal strongly believes that this area has been overlooked because traditionally these devices have been lower quality, and have been aimed largely at young children. "With Ear Gear, we want to raise the bar on quality and applicability for hearing aid users of all ages."
In its relatively brief history, Ear Gear has created an impressive array of products, ranging from the Original Ear Gear that fits all BTEs measuring 1.5-2.5 inches (available with or without cords, as with all the models), to units that accommodate hearing aids with FM units and are larger than 2.75 inches, to Ear Gear-C, which is designed to provide protection and security for cochlear processors. All models can be modified for eyeglass wearers, and a plethora of colors and designer patterns are available to suit any taste.
"One thing that separates us from our competitors is our 1-year guarantee.: He also states that his company will send multiple samples to any hearing professional, and does so on a regular basis. "We're very strong in support for hearing professionals."
Most importantly, he feels, is that "at this time Ear Gear is the only HIPS (Hearing Instrument Protection and Security) device that is endorsed and carried by two major hearing aid companies, Widex in Canada and Oticon in the United States, and Oticon distributes it free with all their pediatric kits. I think that in terms of credibility, that says a lot about our product."
---
Alan Ruskin is a writer for Hearing Review Products. He can be reached via Editor Will Campbell at [email protected].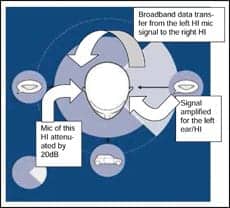 Raycare Solutions' The Deflector hearing aid moisture guard.
A Ray Of Light
Another player in this niche field, Raycare Solutions, Lincoln, Neb, also created their hearing instrument protection device as a result of a personal relationship.
The Deflector, a hearing aid moisture guard, got started, as cofounder Carey Cook recounts, "when my business partner, Ray Rosenow, who has worn hearing aids since he was a child, and is an avid gardener, had a problem wearing them outdoors because of sweating. The perspiration was constantly damaging his hearing instrument, so we went to the lab and designed this product, which has turned out to be very successful."
The design of The Deflector provides a clear plastic, awning-like shell cover that slips over the ear and rests between the ear and the hearing aid, deflecting moisture away from the instrument without affecting sound or directional quality (one size fits all, for BTE instruments only). The Deflector is not put on the hearing aid itself, so it can be worn or removed at any time, and is meant to be used only in moisture situations. "Also," says the company Web site, "it helps to prevent against damage from dust, such as in farming or construction areas, since dirt is not attracted to dry areas.
"We developed The Deflector about 3 years ago," says Cook, "got the patent finalized a few months ago, and the product has been very well received. It's already being distributed by Adco, Oaktree Hearing Products, and Westone. We're also looking at developing a softer memory mold model."